Pretoria, South Africa
South Africa's capital was gripped by anger on Friday (Feb. 24) as a march against illegal immigration stoked fear, violence and xenophobia.
A group calling themselves the Mamelodi Concerned Residents from a township in Pretoria staged a march against what they see as South Africa's lax immigration policies, distributing an inflammatory flyer that stated:
"Zimbabweans, Nigerians, Pakistanis etc. are not our countrymen. Zimbabweans, Nigerians, Pakistanis etc. bring nothing but destruction; hijack our buildings sell drugs, inject young south African ladies with drugs and sell them as prostitutes. How is that helping us? They have destroyed beloved Johannesburg and now they are destroying Pretoria."
Despite the group's purported focus on immigration policy, the demonstration had far more sinister undertones that erupted onto the streets as open hatred for African migrants. All month, there were sporadic attacks on the homes and businesses of Malawians, Nigerians and Somalis. Many feared this was a precursor to the deadly violence seen in 2008 and 2015.
The marchers said they were against all illegal immigrants, yet their route targeted Somalis while their rhetoric targeted Nigerians and Zimbabweans.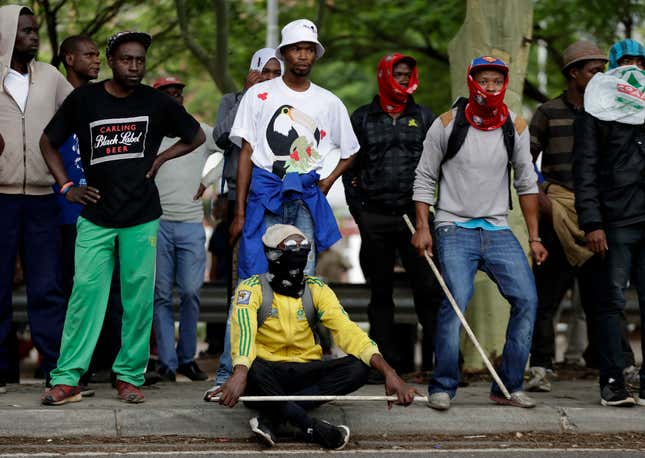 The signs were eerily similar to 2015. By Friday morning, residents in Atteridgeville, another township in Pretoria, blockaded streets. Somali shop-owners in the area had anticipated the violence with the announcement of the march and gathered in the Somali enclave in a rundown corner of the inner city.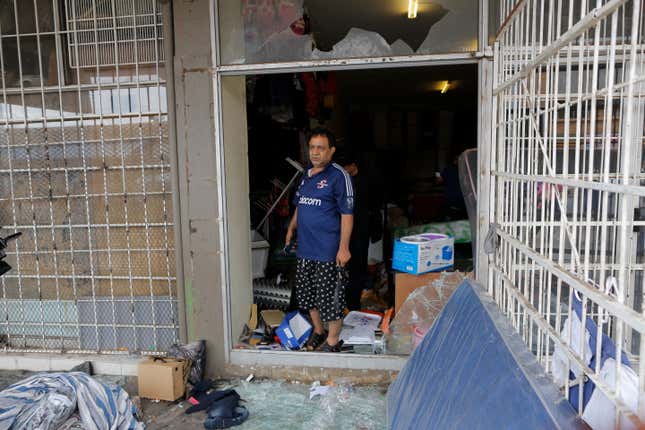 As the march moved from the outer townships to the city, looters still went after the Somali shops and homes, but this time the immigrants were ready. Shops like Bismilla Chicken Wholesalers and Retailers and Makkah Electronics were protected by groups of Somali men who parked their chairs outside on the sidewalk, waiting. When a looter was spotted they chased them down with sticks, alerting the whole neighborhood with shouts and whistles. The South African police intervened in the running battles, firing teargas at the attackers.
"We have been trying to endure the challenges we face in this country but it seems the people are running out of patience and have decided to fight back," said Abdirazak Osman of the Somali Community Board of South Africa.
Somalia does not hold the same diplomatic and economic sway as Nigeria, he said. Nigeria has spoken out on behalf of Nigerians living in South Africa, taking the matter to the African Union for regional intervention. The consulate in South Africa set up a hotline for affected expatriates. Meanwhile, in Nigeria, demonstrators looted the Abuja office of South African phone operator, MTN, in retaliation.
The Somali community did not have similar tactics. Instead, the community board has pleaded with local authorities and joined forces with the Bangladeshi, Pakistani, Ethiopian and other immigrant business associations suffering under anti-immigrant attacks. Still, Osman claims as many as 100 Somalis are killed each year in South Africa, especially in their shops, with little repercussion.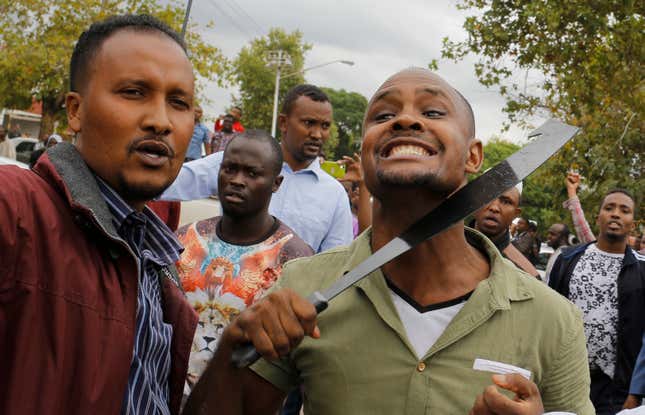 The Somalis' courage didn't deter the dozens of South Africans who regrouped in a field nearby. They then began to make their way through the central business district, brandishing sticks, bicycle chains and pipes. They succeeded in shutting parts of the city down as businesses closed and people stayed inside, a small group terrorizing the many.
Their aim was to get to Sunnyside, a high-rise neighborhood in Pretoria known for its large immigrant community. Only when they were a block away from their target did the South African police block them.
"You want to shoot us?! I am not dealing drugs!" one of the men screamed at police carrying rubber bullet rifles. This refrain about crime has become an excuse to target foreigners. Their aim was to clean up Sunnyside, accusing police of taking bribes from foreigners.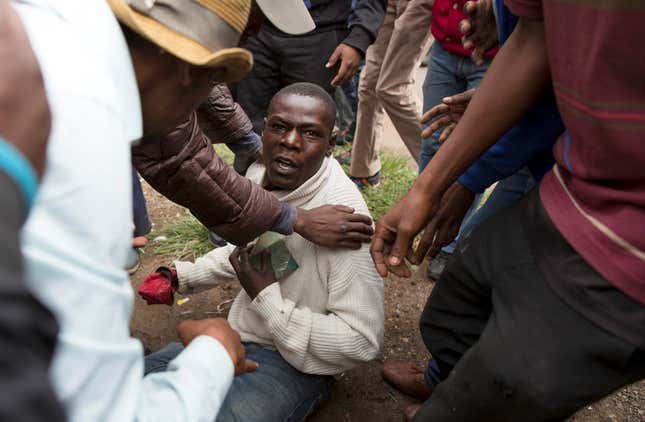 Only when they dispersed after the tense standoff did police act decisively. Police vehicles blocked off a narrow street street, cornering the group. Chaos erupted as police fired rubber bullets and chased down the marchers who'd lost all their bluster from moments before. More than a dozen were caught, forced onto the ground and arrested. One of the protestors was found with a bag full of syringes.
March organizer Makgoka Lekganyane said the Mamelodi Concerned Residents left had nothing to do with the violence. Their aim was to deliver a memorandum to the department of home affairs. He emphasized that their gripe was with illegal immigration and the increasing number of migrants in the country.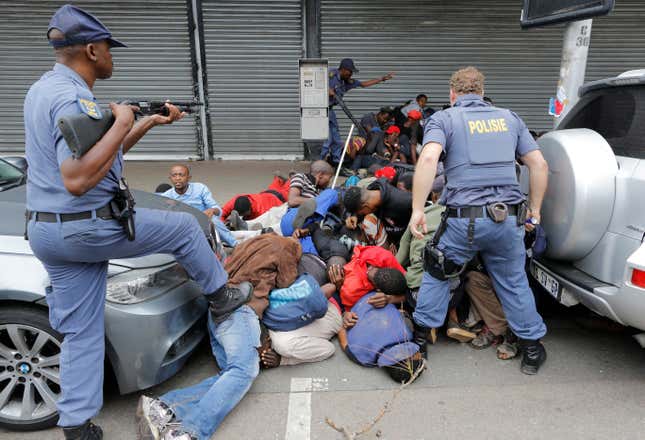 "We just had democracy, we were the first of a generation," said Lekganyane. "Now you have second-, third-generation Nigerians and Zimbabweans coming here before we even had a chance."
Lekganyane would much rather welcome African Americans, like Oprah Winfrey who opened a school for girls or rapper Mos Def who tried to help develop the music industry before he was deported. Skilled Africans are welcome too, provided they are vetted by stricter immigration rules.
"You take a South African to any country and we humble ourselves," he told Quartz. "Yet when other countries come here they insult us, they say we're stupid, especially Nigerians."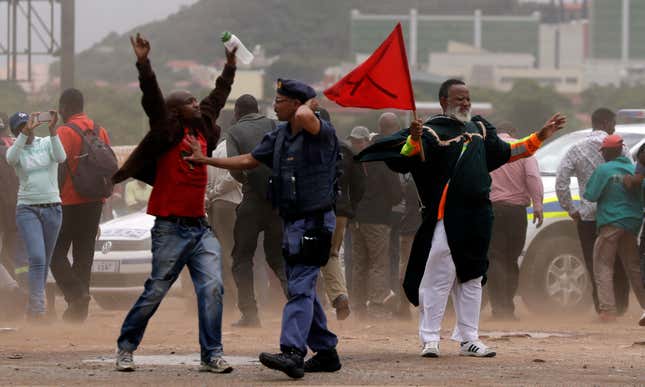 He also wants his government to stop giving the impression the country has enough jobs by taking in more immigrants and asylum seekers when one in four South Africans are unemployed. Africa, he says, has enough economic opportunity, just look at how well South African businesses like Shoprite and MTN have done expanded across the continent.
It's worth noting that some of the African nations, whose nationals are targeted in these attacks, were instrumental in leading the international struggle against apartheid. Over the last 48 hours Nigerians on Twitter have shared tweet threads about the country's role in standing up to apartheid governments.
The South African government, long accused of inaction on anti-immigrant violence, condemned the violence. Minister of Home Affairs, Malusi Gigaba said his department was diligently working to fortify the country's borders, deporting 33,339 people in the 2015/2016 financial year. Within the country, he appealed to the citizens' humanity and dedication to the country's progressive constitution.