Nigeria's president Buhari's absence from the country is finally about to end.
The country's presidency announced, via Twitter, that Buhari will return to the country tomorrow, March 10. Buhari's absence, which began as a simple 10-day vacation, has been down to an undisclosed ailment. With doctors recommending the president extend his stay to conclude tests, Buhari would have spent 51 days out of the country when he returns.
In his absence, having formally handed over powers before departing, Yemi Osinbajo, Nigeria's vice-president has been at the helm of affairs. His stint running the country may have been short, but Osinbajo has won plaudits for his proactive, hands-on approach in contrast to Buhari's slow and deliberate style of leadership.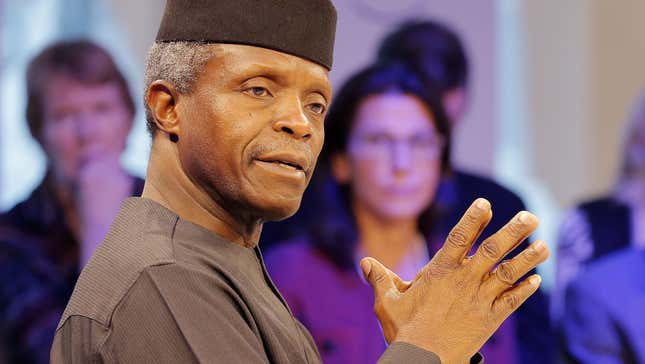 While he's been in charge for just short of two months, Osinbajo has overseen a new currency policy which, while not as definitive as investors may have hoped, has had the desired effect of slowing down the naira's slide against the dollar. Osinbajo has also visited major oil-producing communities in Nigeria's volatile south. With militancy resuming last year and hobbling productivity as well as government revenues, Osinbajo's visits were seen as an important move to maintain a fragile peace.
Just as importantly, Osinbajo also launched a 60-day action plan aimed at making it easier to do business in Nigeria given the country's lack of improvement in recent World Bank Doing Business reports. As part of the plan, Nigeria has relaxed entry visa rules for investors and tourists.