Lagos
Around midnight on Nov. 10 last year, Celestine  Ahisu, a resident of Otodo Gbame, a waterfront slum on the Lagos lagoon, was woken up by noise as panic broke out around him. He came out of his home to find bulldozers, escorted by policemen, demolishing homes in the community and Ahisu says some residents, scared and confused, ran out of their homes. Some jumped into the surrounding waters and ended up drowning in the lagoon. By the time dawn broke, amid the ruins and rubble, 30,000 people had been rendered homeless and 15 of their neighbors were dead.
The demolitions, believed to have been on the orders of the Lagos state government, were part of a state-wide crackdown on waterfront slums. But Lagos state itself has denied it gave such orders. It said the destruction at Otodo Gbame was down to a fire.
Following the high-profile November incident, Justice and Empowerment Initiatives (JEI), a legal campaign group working with Otodo Gbame residents, successfully got a landmark injunction on Jan. 26 from a Lagos court to halt the demolitions. The Lagos State High Court ruled that such evictions were "inhuman and degrading" and also asked the state government to enter into mediation talks with the affected residents to reach mutual solutions.
But on Friday (Mar. 17), Ahisu and other Otodo Gbame residents woke up to a law enforcement task force once again demolishing homes, despite the court injunction. "Nearly all of the community has been demolished and they promised to return to finalize it," Ahisu told Quartz. Left homeless, Ahisu, 39, says "children and women are now sleeping in boats and on open fields."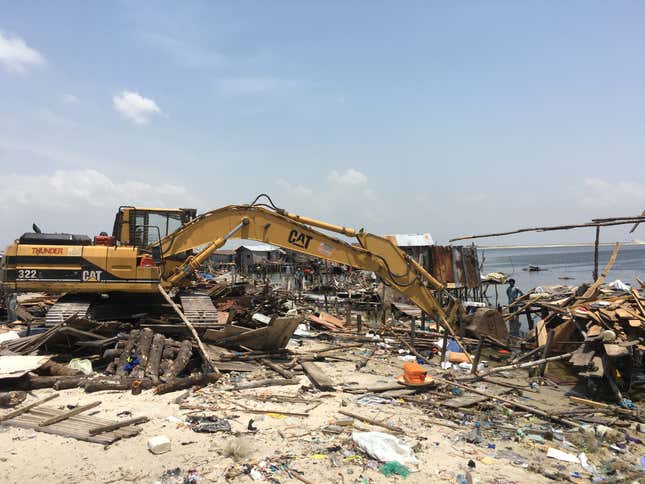 Andrew Maki, co-director of JEI says the demolitions are a flagrant disregard for the law. "When the task force arrived, as legal representatives of the community, we provided them with the court injunction but they said they were not interested. Some members of task force members told us they were ordered by the state governor," Maki told Quartz. "It's a violation of rule of law and the constitution but they seemingly don't care. There have been no public statements and no responses to our attempts to engage them."
Prime real estate
As Lagos has grown rapidly over the last few decades to become Africa's fifth largest economy, it has also seemingly grappled with its push to achieve the status of a 21st century mega-city. One of its key limitations is land space as it's Nigeria's smallest state with more 21 million people squeezed into 3,345 square kilometers.
The state's poorest people, who make up 70% of the population, often find themselves the victims of Lagos' progress. Over the decades, as hundreds of thousands of Nigerians move to Lagos every year in search of jobs, house builds have not kept up with population growth. So even in some of Lagos' most underserved neighborhoods, accommodation is incredibly crowded and expensive for those that have to resort to living there.
This is in part why slum communities have mushroomed over the decades along the lagoon which shapes Lagos' landscape. But now, as Lagos' economy has expanded, those once undesirable water-based locations are now seen as prime "waterfront" real estate opportunities. The government and private developers likely see the prospect of luxury homes, a money-spinning shopping mall or high-rise office complex. The slum dwellers are now at much higher risk of being evicted, without notice or compensation. The state government is often accused of being elitist and eager to push grand plans focused only on its richer 1%.
The Lagos state government has maintained its silence on the recent evictions. State government officials did not reply Quartz's email queries at the time of publishing. However, Akinwunmi Ambode, the Lagos state governor, has alleged that the waterfront communities harbor kidnappers and other criminals. "Most of the issues we have with kidnapping are perpetrated by illegal settlers by the waterfront," he said, back in October. "All shanties along the waterfront of the state must go because the safety of Lagosians is paramount in this administration."
Ahisu says that's not the case. "Our community is made up of people who are majorly fishermen. We have settled here for over 100 years and we know ourselves. We have voter cards and we pay tax. There has never been an incident of kidnapping around here," Ahisu told Quartz.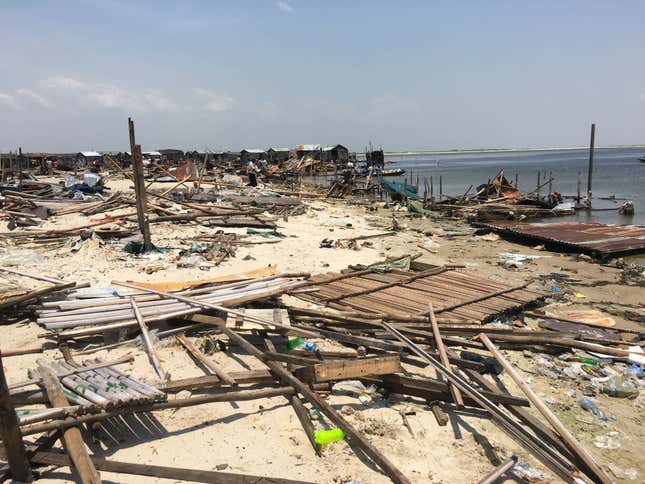 Maki  shares the sentiment that despite the public altruistic rhetoric, the forceful evictions are more about land-grabbing than keeping Lagosians safe. "Land is incredibly valuable and in Lagos, there is so little of it," says Maki.
"These slums are on waterfronts which are now being recognized as prime areas for redevelopment. Broadly, we've seen a pattern of evictions in the past year, where increasingly land that has been occupied by the urban poor, sometimes for decades, is being acquired by the government," Maki told Quartz. These acquisitions, Maki says are masked "under the guise of public interest."
Ilubirin, a waterfront area also on the Lagos lagoon, which has also had slums demolished, is an example. In 2014, after the demolition, the state government launched a project to build affordable housing for Lagosians in Ilubirin, but there's since been a change of plans: a new developer, in partnership with the state government, now plans to build luxury condos in the area, Maki says. "It's about  consolidating power and money in a few influential people and families."
Eko Atlantic, an ongoing futuristic Dubai-style project which is being built by dredging up and filling in 10 square kilometers of land, is another example of how Lagos prioritizes its rich over the poor. To protect the  island from the effects of the surrounding sea, developers constructed a sea wall, dubbed "The Great Wall of Lagos." But while the wall protects the new city, it could also effectively leave neighboring areas, mainly occupied by slums like Otodo Gbame, even more vulnerable to rising sea levels. Eko Atlantic is privately funded, but has the backing of the Lagos government.
Damaged truce
The demolition of homes in Otodo Gbame happened without any notice to residents, despite the ongoing court-ordered mediation between the state government and the residents. JEI estimates that around 4,700 people were rendered homeless on Mar. 17 alone, in addition to the 30,000 evicted last November. In total, JEI estimates that 300,000 people across 40 waterfront communities on the Lagos lagoon could lose their homes if demolitions continue.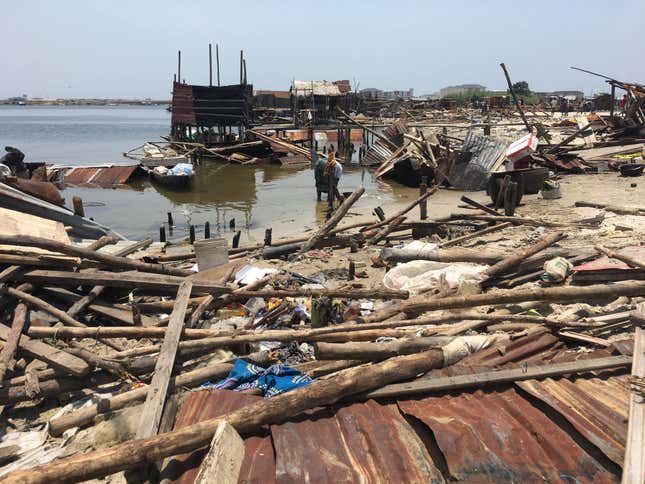 As part of the mediation process, community members are asking the state government for relocation arrangements to be made but Maki says the process has not been very fruitful. "The process of mediation has been slow. There have only been two preliminary meetings thus far," he told Quartz.
But following the demolitions, which Maki describes as "a sign of total lack good faith,"  the mediation process is now in jeopardy. "The mediation gave us some sense of confidence that we were making progress and we could discuss a solution that didn't involve making people homeless and didn't push them deeper into poverty," Maki told Quartz.
_________________________________________________________________________________