Marine Le Pen, the leader of France's far-right National Front party, will this week visit the Republic of Chad and the 3,500 French troops based out of its capital, N'Djamena. In her presidential campaign, Le Pen has pushed controversial anti-European Union and anti-immigrant stances, claiming globalization and "Islamic fundamentalism" were threatening French values.
But in Chad, Le Pen will be going against her own inward-looking and populist sloganeering. Her visit comes a few weeks after a major foreign policy speech in which she said she wanted to forge a new relationship with Africa based on "frankness, respect, and mutual cooperation." In her self-described new approach, Le Pen called for a policy of "non-interference, which doesn't mean indifference," providing development aid to Africa, and maintaining French military presence in countries like Cameroon and Chad.
During a presidential debate on Monday (Mar. 20) ahead of her trip, Le Pen stressed the importance of French economic and political security. She categorically pointed out that she wants "to put an end to immigration" and blamed the centrist candidate Emmanuel Macron, who is leading in the polls, for his pro-European stances.
Africa has featured in the presidential campaign as candidates addressed France's colonial past. Francis Fillon, the former frontrunner who's now trailing, said in August France should not "be blamed just for wanting to share and spread its culture to the people of Africa."
Last month, Macron caused uproar by suggesting France's colonization of Algeria was a "crime against humanity."
As former president François Mitterrand wrote in 1953 (p. 80), French people like Le Pen will come to learn that 'the France of the 21st century will be African or nothing at all.' Despite the isolationist wishes of her voter base, France still reaps big from its strategic web of political, economic, and military ties with African nations. From Djibouti in the east, Mauritania in the north, to Burkina Faso, Mali, and Niger in the west, French troops are spread all over Africa, conducting counter-terrorism and emergency interventions. These military campaigns are largely undertaken in former French colonies to protect national interests or to combat jihadist militancy and secure the stability of southern Europe.
Bankrolling these military outposts—Le Pen wants to hike defense spending—have become crucial as terrorists have struck several French cities, killing hundreds of people. As the Sahel has turned into a hotbed of terror, France has also had to deal with the increased number of kidnappings of its citizens and the hefty demands of ransom.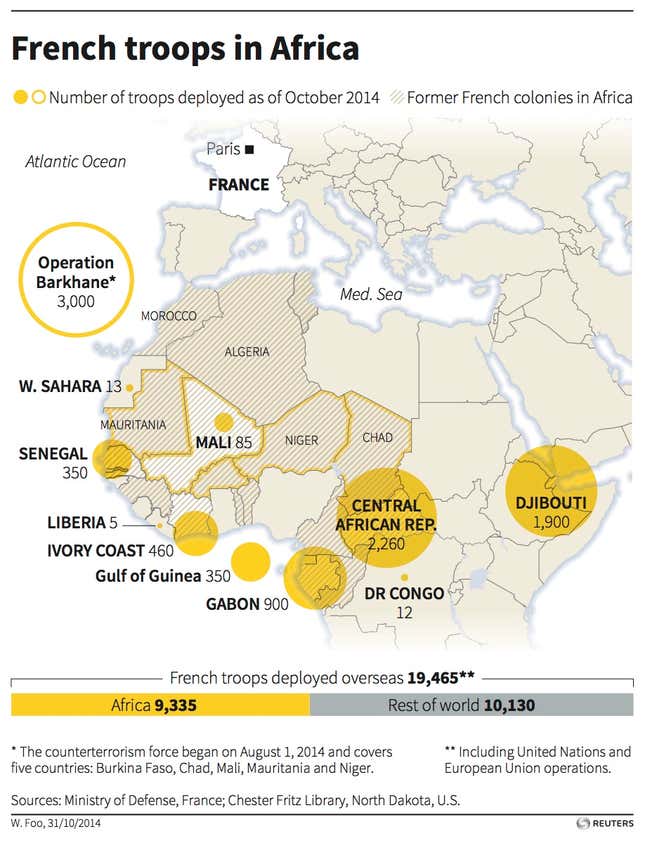 Economically, France's share of the African market has been weakened by the continent's trade with China, India, and Brazil. But that hasn't stopped current president Françoise Hollande from championing an activist policy, urging French business leaders to double trade with Africa to boost employment opportunities. The 150 companies which are part of the French Council for Investment in Africa have a turnover of €60 billion, about 80% of French economic activity in Africa.