Durban, South Africa
As long as technology is seen as a separate industry, rather than a tool to industrialize, innovation in Africa won't reach its full potential.
That's the experience of several innovators on the continent, who said on a panel at the World Economic Forum in Durban that technology continues to be siloed or isolated from many of Africa's economies.
Innovators who have been featured on the 2015, 2016 and 2017 Quartz Africa Innovators' list voiced their frustrations during a discussion on creating Africa's unicorn companies.
"The biggest problem is that ministers of state, leaders, even business leaders, don't understand that fundamental and integral nature that technology will play," said Bright Simons, a tech entrepreneur and a 2015 honoree.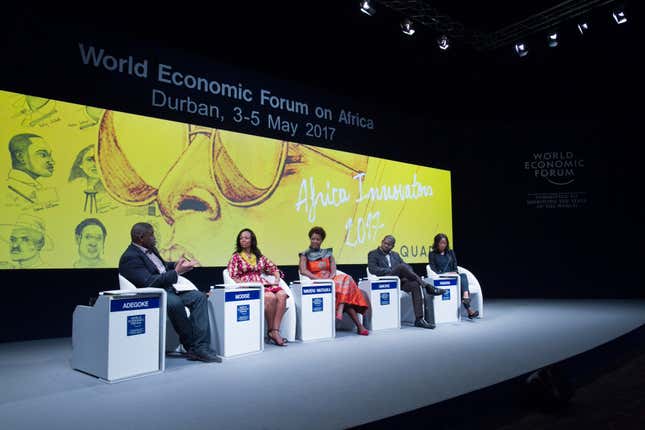 African governments have created many buzzwords to describe the visions of progress they want on the continent, like "the fourth industrial revolution," or "radical economic transformation," said Simons, but they have failed to recognize how technology could bring these visions to life.
In Kenya, 2016 honoree Ciiru Waweru Waithaka has created a revolutionary flatpack range of children's furniture that is playful and safe. Her company is going beyond being the Ikea of Africa, and yet finds itself frustrated by Kenya's business environment.
FunKidz is frustratingly considered as a small to medium enterprise that is locally categorized as "jua kali"—Swahili for working in the sun, or in the informal sector—said Waweru Waithaka. That means any engagement on expansion or regulation happens within these constraints.
"They put us in a bracket," she said on stage. "They say 'you creative types,' and they dismiss us."
Perhaps it is up to innovators to explain to policymakers the practicalities of what their industries need to succeed and meaningfully contribute to the economy, said Rapelang Rabana, the founder of the Rekindle Learning platform and a 2017 honoree.
"We need to be translating what a 5% increase in bandwidth translates into in these industries and what kind of opportunities manifest," said Rabana.
This challenge, said Simons, should encourage innovators to build industrial innovations to show just how an economy should be built on the tech industry, not beside it.