Kampala
It seems whoever can just about afford it wants to buy their own car to get around the congested roads of Kampala; typically, a 10-year old Japanese import.
"Your net pay is 750,000 shillings you rent a 500,000 shillings apartment and drive a small Toyota (on loan) to work. That's the Ugandan middle class," observes Frank Walusimbi, a well-known local journalist. Indeed, over the past four years alone, Ugandans spent more than $620 million on importing used cars, according to data from the country's tax collector, Uganda Revenue Authority.
However, a secondhand Toyota of one's own isn't merely a middle class goal. Kampala, doesn't have a metro rail or bus transport system. Commuters cram into privately-owned vans and it is the Wild West in those barely regulated derelicts. "The public transport system is simply too much trouble and having a car would be a solution. So, when I can afford it, I shall buy myself a car," Ophelia Kemigisha, a human rights lawyer says.
Yet, owning and driving your own car in Kampala is itself a rankling experience. With 1.5 million residents sharing just 190 sq kilometers of space and insufficient well-maintained roads, gridlock traffic is a city-wide problem. In Kampala, the sorry state of the roads compounds the traffic congestion. Jacob Byamukama, the city deputy director of roads management, rates only 5% of the road network as good paved road. Even when traffic is clear, frustrated motorists are forced to slow down to navigate roads that are either pothole-ridden or completely unpaved.
You could hack around the traffic nightmare with a boda boda (motorcycles which take a passenger at the back) but those two-wheel, low engine power vehicles, whose riders weave in and out of traffic treating road rules as optional, are predictably accident-prone. Mulago, the city's biggest hospital, attends to 10-20 victims of motorcycle accidents a day, with most of them presenting head injuries. Enter SafeBoda.
Back in 2014, two economists who were working in development across East Africa, Maxim Dieudonne, a Belgian and Alastair Sussock, a British citizen, partnered with their regular boda boda rider Richie Rapa, to set up "Uber, but for boda bodas." Damalie Wasukira, a business growth officer with SafeBoda, says they recruited some 1,000 riders, trained them on safety, gave each two helmets, and a reflector jacket and built an app to connect them to customers. The business had raised more than $1 million dollars to roll out their service.
Some 3,000 people downloaded the app but far fewer regularly used it. "We had problems with the app like force closing," Wasukira explains. It also didn't offer a huge benefit to the customer, seeing as it was simply a registry of the 1,000 riders and when you requested a ride, it typically routed you to a person who asked you to hold the line while they got in touch with a rider near you. Meanwhile, ready to go boda bodas, would zoom past you on the street. In any event, while Rapa and his partners; Maxim Dieudonne and Alastair Sussock, were tinkering with their Uber for boda bodas, the real Uber came to town.
Uber had sensed the same latent demand for a transport alternative that the 3000 early downloads of the SafeBoda app represented. "A lot of individuals in Kampala were trying to download the Uber app," Alon Litts, the company's general manager for Sub-Saharan Africa, explains the company's entry last June.
By the end of July, the company says, 15,000 people in Kampala were using the app. That is, in large part, thanks to, Uber's deep pockets and extensive experience in disrupting markets. Between last June and October, Uber drivers got paid merely for keeping the app online, whether or not they got clients. Lits declines to update Quartz on how many people are using the app now.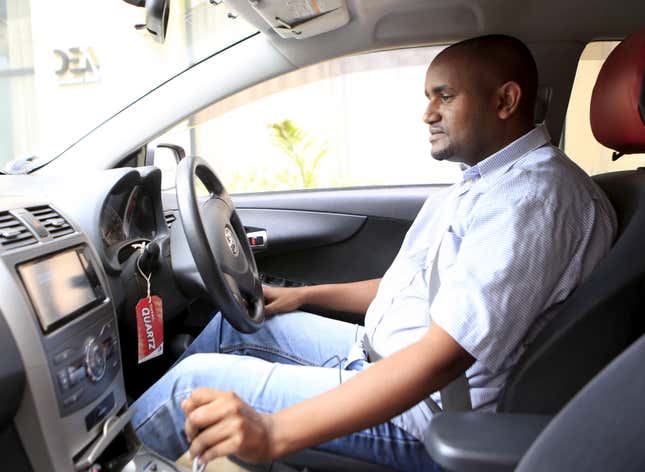 To date, Uber fares are about one third of what regular cabbies would charge. "Of course it is too bad for us but for the customer, it is a win. It is easy and cheap. Some of the conservative drivers are saying, they won't join Uber. They don't know it but they are out of business already. It has come. It has come. We just have to find a way of fitting into their system," Ronald Batalaze who used to be a regular cabbie but now rides for Uber says.
Since Uber's entry, two more competitors have joined the market. Friendship Taxi, a Chinese company, owns a fleet of green taxis. Quick Taxi, a competitor who launched in February 2017, has a fleet of yellow cabs and an Uber-like app for e-hailing. Soon after entry of rivals, the Uber slashed its prices, a tactic it has used to stave of rivals in other markets in Africa and around the world.
Meanwhile, SafeBoda, the pioneering ride-app service has also re-invented itself; with a new, improved, very Uber-like app. "You enter your pickup location and all the riders within 1.5 kilometers are pinged. The first rider to accept the ride, gets it. We want to make sure you get a ride in under five minutes," Wakisura says. The company is even offering its motorcyclists a daily incentive, like Uber did in June, to stay online, on top of giving them hire purchase deals on smartphones (which a typical boda boda motorist wouldn't use). For customers, the company is selling safety. The passenger is offered a helmet (but 63% turn them down) and SafeBoda motorists typically go slower than their off-app peers.
Kampala commuters should now be spoilt for choice but all these options still fall to the left of what both customer and app companies want.
For the companies, private car ownership is the competition as Uber's Lits says. "We are trying to get people into the mindset of shared transportation, instead of a one car for one person." Customers however don't appear to be moving in that direction. "What would convince me to not buy a car would be a proper public transport system. Uber and SafeBoda are both expensive for an everyday commute. I would still need a cheaper option," Kemigisha says.