Moving around Africa is notoriously difficult for travelers with African passports. Only 10 out of 55 countries on the continent waive visas for all African visitors or grant visas on arrival. Meanwhile, Americans can travel to at least 20 African countries without restrictions.
This is slowly changing. African Union officials and governments like Rwanda are pushing for more open borders to encourage intra-regional trade and tourism. As part of those efforts, the African Development Bank has been measuring the openness of countries based on visa restrictions for other African citizens for the past few years. According to its latest index, 21 countries have loosened visa rules over the past two years, pushing up the average "visa openness" score for the continent.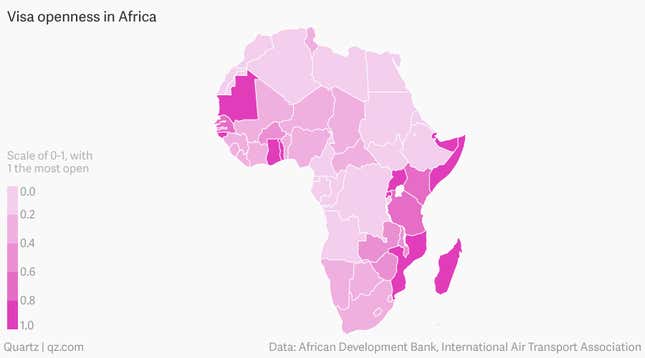 Take Senegal, which now grants visa-free access to citizens of 42 African countries, up from just 16 in 2015. Tunisia has lifted requirements for visas on arrival for 21 African countries, and Malawi is waiving visa requirements for citizens from certain regional blocs. São Tomé et Príncipe now allows visitors from 13 African countries to enter visa free; two years ago, all Africans visitors needed a visa to visit.
Still, progress is uneven and not everyone is ready for a borderless African continent. The majority of the most open countries are in East or West Africa. Small, landlocked, or island countries tend to be more open and bigger, wealthier countries are among the most closed. South Africa, the continent's most industrialized economy, ranks 34th and requires a visa for more than half of countries on the continent.
As part of the push for a more integrated Africa, the African Union launched an AU passport last year that would grant holders access to all 55 AU members. So far, it's only been issued for heads of state, foreign ministers, and other top-level officials.