Ethiopia shut down the internet on Tuesday (May 30) ahead of a scheduled national examination that was due to take place in the country on Wednesday.
Social media users noted that the internet service was interrupted from around 7 pm on Tuesday—reportedly to prevent exam leaks. About 1.2 million students are taking the grade 10 national exams, with another 288,000 preparing for the grade 12 university entrance exams that will take place next week.
Sources in the Ethiopian capital Addis Ababa told Quartz the internet was reinstituted on Wednesday morning after more than a 12-hour shutdown. Others, however, said that the connection was still being interrupted, and was going on and off. "No connection at all. Everything was blocked," Biniam Alemayehu said. Alemayehu told Quartz that his 4G phone connection didn't start working until 9.30 am.
A review of Google's Transparency Report also indicates a drop in traffic from around 3 pm yesterday.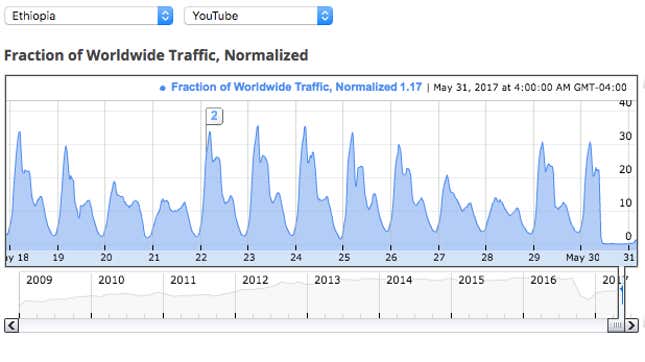 This is not the first time the Horn of Africa nation shut down social media outlets to prevent exam leakages. In July 2016, the government blocked social networking sites like Facebook, Twitter, and Viber after university entrance exam questions were posted online. Getachew Reda, the government spokesperson at the time, said the blockade was a "temporary measure" given that social networks served as "a distraction" to students.
Ethiopia, which has one of the lowest internet and mobile connectivity rates in the world, was among the first countries to censor the internet to curtail political protests.
Since Nov. 2015, more than 500 anti-government protestors have been killed and thousands of others arrested while demanding land reform and an end to human rights violations. The government responded by declaring a state of emergency, shutting down the mobile internet, and banned the use of social media networks to document the ongoing unrest in the country. A Brookings Institution report showed that the shutdown cost the country's booming economy millions of dollars in revenue.
Julie Owono, the executive director of the advocacy group Internet Sans Frontières said the latest shutdown was "unnecessary" and violated the digital rights of Ethiopians.
Just this month, an Ethiopian court sentenced opposition politician Yonatan Tesfaye to six and half years in prison for Facebook posts he wrote criticizing the government.
Algeria's government also took similar steps to Ethiopia's in June 2016, when it blocked social media networks in order to fight cheating in secondary school exams.