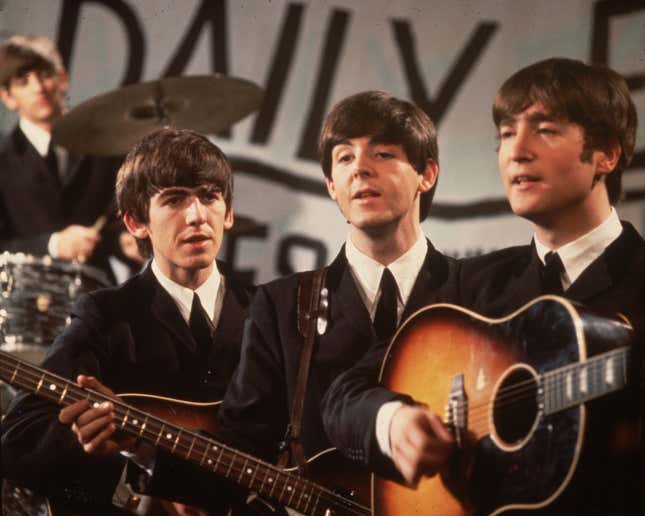 The Fab Four are getting back together for one last song, with a little help from AI.

In an interview on BBC Radio 4 program Today, Paul McCartney said that John Lennon's vocals were lifted from an old demo and used to finish a previously incomplete song. The track is slated for release later in 2023 in what McCartney called "the last Beatles' record."
Mark Savage, the BBC's music correspondent, suspects the song could be "Now and Then," which John Lennon recorded in the late 1970s in his New York City apartment, a few years before his murder on December 8, 1980. Speculation around an eventual release of the track, which has also been called "Miss You" and "I Don't Want to Lose You," has been around for decades.
The unfinished ballad was included on a cassette tape labeled "For Paul," which Yoko Ono gave to McCartney in 1994, the year Lennon was posthumously inducted into the Rock and Roll Hall of Fame.
Two other songs from Lennon's cassette tapes, "Free As A Bird" and "Real Love," were released in 1995 and 1996, respectively, for the Beatles' Anthology albums.
McCartney's last words to Lennon were reportedly: "Think about me every now and then, old friend," adding an extra layer of meaning should "Now and Then" be the revived track.
John Lennon's unfinished piano demo for "Now and Then"
Quotable: Yoko Ono's thoughts on "Now and Then"
"I thought, this was a song which would release people from their sorrow of losing John. By listening to the song, they will eventually be able to release their sorrow and arrive at an understanding that, actually, John is not lost to them. . . Paul, George, and Ringo lost a great friend as well. If they sung this song from their hearts it would have helped many people around the world who felt the same." —A quote from a 2005 Washington Post article about the unfinished demo songs
Fan-made Beatles AI covers are already all over YouTube
Enterprising fans have been applying AI to Beatles songs, breathing new life into old, sometimes unreleased tracks. A YouTuber named "Dae Lims" used the technology to "de-age" McCartney's voice from his 2013 song "New," and Lennon's voice in the 1980 song "Grow Old With Me" to sound as if they were recorded during the height of the Beatles' career. Both AI-altered songs, however, have been taken down due to copyright claims from Universal Music Group.
That hasn't stopped others from following suit. Another YouTuber, John Winston Lennon, used AI on the unreleased song "Watching Rainbows," which the Beatles recorded in 1969 during the Get Back sessions at Twickenham Studios. Previously, fans could only listen to bootleg tracks.
Related stories
🎹 How The Beatles became a self-managing team
🎶 Spotify and Apple Music removed an AI-generated fake song by Drake and The Weeknd