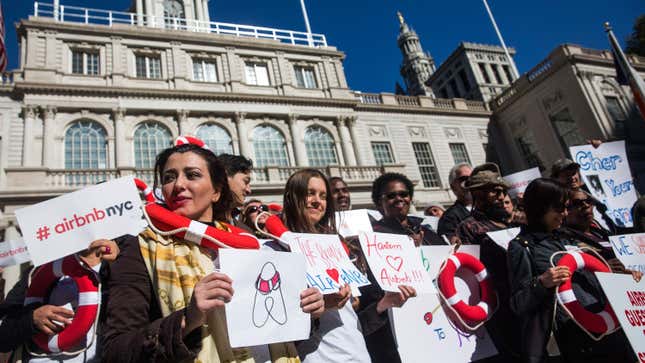 New York City has put controversial short-term rental rules on hold after Airbnb sued.

What sectors may be affected by the 'dramatic' growth of AI
Local Law 18 is a short-term rental registration law that requires hosts be permanent occupants of the units being rented and that they register with the Mayor's Office of Special Enforcement (OSE) before posting rentals. It was passed in January 2022 and was due to become effective stating July 1 this year.
A month before the law was due to enter into force, Airbnb and three local hosts in New York separately filed lawsuits in the Supreme Court of the State of New York. The complaints argued the municipal law that would drastically decrease the number of listings in New York City and represent a "de facto ban" on short-term rentals, Airbnb said on June 1.
A Friday (June 9) court filing shows the office will not issue fines against hosts or booking services until Sept. 5.
"Both parties agreed to a temporary stay of enforcement to afford them the opportunity to fully brief the issues before the court," said Jonah Allon, deputy press secretary for the office of New York City Mayor Eric Adams, quoted by Reuters on June 12.
Charted: Optimism for Airbnb's New York win showed up in its stock
Airbnb's problem with New York's Local Law 1
In a June 1 email to Airbnb hosts, Theo Yedinsky, Airbnb global policy director, called out the "punitive and burdensome" OSE guidance, which includes a ban on installing internal locks on bedroom doors.
The registration process is cumbersome, requiring hosts to "understand a complicated web of city codes," according to Yedinsky. The Airbnb executive noted it would be near impossible to put in a foolproof registration application and get approved. He also argued the guidance violates the right to privacy by requiring hosts to "share sensitive information about their household." (Data is a sticking point: In August 2018, Airbnb sued the city over an attempt to force short-term-rental platforms to share more data about hosts, settling with the promise of more transparency from both sides two years later.)
Airbnb in New York, by the digits
5,500+: Short-term rentals reserved to host...
...10,000+: guests in New York City in the first week of July
20,000: New York apartments and homes listed on Airbnb
$85 million: Size of Airbnb's New York City market
1%: New York City's contribution to the company's $8.4 billion annual revenue
$5,000: Civil penalty per violation for those who skirt the New York City Local Law 18
30 days: The minimum threshold for advertising an "entire place" on Airbnb in New York. Anything less than that is illegal
$1,000 to $7,500: Fine for host who advertises an apartment in violation of the rules
9: Registrations for short-term rentals that the city had approved as of a month ago
Quotable: Airbnb is seeking a "sensible alternative solution" from New York City
"While we are happy on behalf of guests and hosts whose summer plans and rentals will no longer be ruined by these rules, we hope the city will use the extra time to collaborate with us on a sensible alternative solution that will benefit hosts, tourism, and the local economy."—June 12 statement from Airbnb's attorney, Karen Dunn
A non-exhaustive list of recent Airbnb crackdowns around the world
🇲🇾 In May 2023, the popular Malaysian island of Penang banned Airbnb-style accommodation in a bid to curb antisocial tourist behavious.

🇮🇹 Italian tourist hub Florence banned vacation rentals like Airbnbs in the city's historic center at the start of June.
🇫🇷 Hosts in Paris can only rent their space out for a maximum of 120 days in the year.
Related stories
💸 Brian Chesky wants Airbnb to feel affordable again
💼 Airbnb is betting that the future of travel is work

🏘️ Airbnb is giving homeowners $100,000 to build wacky rentals