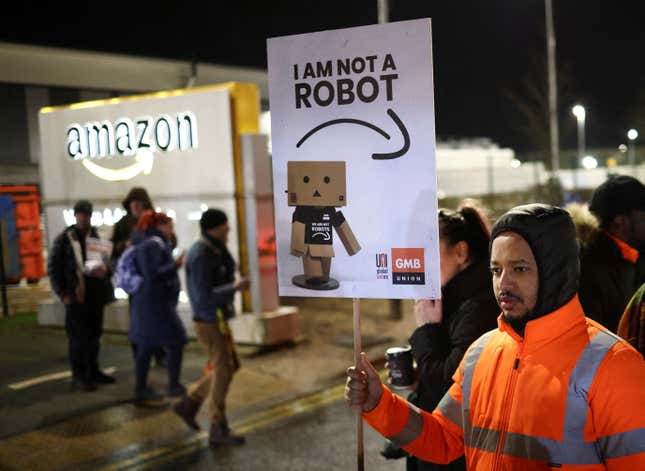 Workers staged the second-ever strike at Amazon UK today (Feb. 28) in a fight for higher pay. As many as 380 workers joined the picket line at a Coventry warehouse where the e-commerce giant employs about 1,500 people.

Don't expect the Fed to help your investment in Amazon
Workers at the Coventry site currently make anywhere from £10.50 to £11.45 ($12.66 to $13.81) per hour, but are asking for £15 ($18.09) as the UK weathers a cost-of-living crisis that has fueled historic levels of industrial action nationwide.
According to the GMB trade union, the lack of a pay raise in line with inflation last year resulted in an equivalent 8% pay cut for Amazon UK workers, even as Amazon UK Services generated more than £6 billion ($7.2 billion) in revenue.
Last summer, workers were offered a pay raise of 50 pence ($0.61) per hour amid record-high consumer prices, which triggered the first, landmark strike at Amazon UK this year on Jan. 25.
Christian Smalls, who organized Amazon's first unionized warehouse in New York in April 2022, has flown out to the UK to join the strikers in Coventry. It's the first time the Amazon Labor Union leader has gone abroad to support an international organizing effort against Amazon.
More Amazon UK strikes are on the way
Organizers from the GMB union have planned additional walk outs on March 2, and for five consecutive days from March 13-17.
When asked for comment on the strikes from Quartz, an Amazon spokesperson responded in a statement: "A tiny proportion of our workforce are involved." The statement further emphasized that less than 1% of Amazon UK employees voted in the ballot to strike, including those opposed.
That may not be the case for long, according to GMB senior organizer Stuart Richards, who explained in an interview with Quartz that Amazon has declined the union's submitted pay claim and request to meet.
"Amazon has refused to engage," said Richards. "It's really simple," he continued, "We want Amazon to have a discussion with us. If they don't, these strikes will continue to escalate. Amazon's in a real danger that if it doesn't address these issues, it's going to find itself with industrial action spreading right across the UK."
Another concern of the GMB union is Amazon's workplace conditions. Richards says the company's work targets, set by algorithm, generate a "culture of fear" and have driven up workplace injuries as employees strive to meet opaque measures of performance—or risk losing their jobs.
Amazon has an anti-safety, anti-union track record
Amazon's workplace safety has come under scrutiny in the past. The US Occupational Safety and Health Administration fined the company $60,269 in January of this year for putting workers at risk.
The biggest independent survey of Amazon workers to-date, conducted by UNI Union Global, an international union federation, finds that a lack of workplace safety at Amazon is a widespread issue. In the survey, 52% of respondents (pdf) agreed Amazon's performance monitoring negatively impacts their physical health, while 57% agreed it negatively impacts their mental health.
Workers at JFK8, the Staten Island, New York warehouse that was first to unionize at Amazon, alleged last year that the company had ignored an earlier court injunction against anti-union retaliation. The order, issued in November 2022, required Amazon to "cease and desist" from firing employees engaged in their right to organize.
Unionization in the US has faced some recent setbacks, but organizing across the pond could add a decisive push in the fight for Amazon workers' rights.