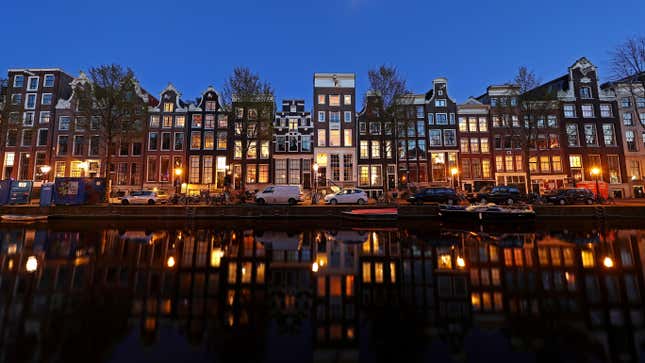 Amsterdam has begun spreading the message that rowdy tourists aren't welcome in the Dutch city.

Starting this week, the municipality of Amsterdam rolled out an online campaign called "Stay Away," targeting "nuisance tourists" whose primary reason to travel to the city is to drink, do drugs, and visit the Red Light district.
The ads will be targeted to people searching for terms like "stag party Amsterdam," "cheap hotel Amsterdam," and "pub crawl Amsterdam."
The Dutch city has been trying to shrug off its reputation as a place where anything goes because of the country's relatively liberal laws regulating sex work and marijuana consumption. "Visitors will remain welcome, but not if they misbehave and cause nuisance. In that case we as a city will say: rather not, stay away," deputy mayor Sofyan Mbarki, who overlooks economic affairs and inner city approach, said.
The campaign's end goal is to make the city more sustainable for residents, business visits, family-friendly travel, and more. "Amsterdam is a metropole and crowds and bustle are inherent features, but to keep our city liveable we now have to choose for restriction instead of irresponsible growth," said Mbarki.
What is Amsterdam's Stay Away campaign?
The campaign will comprise warning ads, which will show the risks and consequences of antisocial behavior and excessive drug and alcohol— being fined, being arrested by the police, getting a criminal record, hospitalization and health damage—to discourage such visitors.
The first targets of this campaign are British males between the ages of 18 to 35—the subject of one of the video ads is an intoxicated young Brit. The campaign however is expected to be expanded to potential nuisance-causing visitors from the Netherlands and other EU nations.

One big number: Overtourism in Amsterdam
20 million: Visitors the city gets annually. In contrast, the residential population is under a million. As a result, housing availability, employment makeup, prices, and more are all skewed. 20 million is also the cap on number of visitors set in a 2021 ordinance called "Amsterdam Tourism in Balance" adopted by the city. If visitors already surpass 18 million, "the municipal executive is obliged to take action."
Another campaign of interest: 'How to Amsterdam'
For visitors who've already arrived, another campaign is underway. Through posters plastered across the city, screens in hotel lobbies, social media posts, and hosts on the streets, "How to Amsterdam" seeks to warn tourists against "urinating in public, drunkenness, noise nuisance, and buying drugs from street dealers."
Quotable: Is Amsterdam going too far in telling tourists to "stay away"?
"You could show people that they will get in trouble with certain behaviour, with a bit of humour, but you shouldn't act like everyone who comes here for a wedding is a criminal! You should read what the Dutch get up to on the Costa Brava in Spain! Has Amsterdam even thought of the potential collateral damage for the Netherlands as a destination as a whole?" —Marco Lemmers, chief executive of Conscious Hotels, quoted in the Guardian.
A non-exhaustive list of Amsterdam's broader "Visitor Economy 2035 Vision" measures
Amsterdam lawmakers have proposed other measures to counter mass tourism, but ideas such as banning non-residents from cannabis cafés or banning Airbnb rentals in the city center eventually went nowhere. However, Amsterdam has several other measures lined up over the next decade, according to the "Visitor Economy Vision" the city etched out in December 2022. These include:
🍻 Earlier closing for brothels and bars, and limited alcohol sales in certain areas
🚬 A ban on cannabis smoking in public in central Amsterdam from May
🚦 A controversial plan to move some of the sex workers from the Red Light district to an "erotic center" in a location yet to be determined
👥 Talking to the travel sector about limiting private group bookings
🚲 A continued ban on beer bikes
📝 Researching the effectiveness of tourist taxes
Related stories
🇳🇱 Amsterdam looks to shake off its image as Europe's sex and drugs capital
✈️ The tourist attractions on top of your bucket list might not actually want you there