Within the corporate network of India's Adani group, the names of some people pop up again and again, linked to multiple offshore entities of unclear purpose or labyrinthine structure. In the wake of Hindenburg Research's accusations of fraud in the Adani group, these people and entities invite questions. Who are they? And, within the group, what precisely do they do?

For instance, Chang Chung-Ling, a Chinese executive, figured in the Hindenburg report as a director of several Adani firms. (One of them, a Singaporean company, came under scrutiny by Indian authorities in 2018 for its part in a corruption scandal involving helicopter procurement.) Quartz wrote earlier about Sanjay Newatia, an ex-banker in London who, according to the Pandora Papers, used to help a wealthy Indian lobbyist conduct offshore transactions, and who is now the sole director in 57 Adani companies registered in the UK.

Another such Adani regular is Nasser Ali Shaban Ahli, a businessman who runs Al Jawda Trade & Services, a consultancy in Dubai. Ahli's name has appeared in at least two Indian investigations into alleged money laundering by the Adani group. He also crops up in the British Virgin Islands corporate registry, as an officer in a securities investment firm linked to the Adani group.

Additionally, Ahli is listed in Chinese records as the director of Beijing Basile, a company that exports industrial parts exclusively to Adani Power in India. Beijing Basile is so closely connected to the Adani group that one of its Shanghai-based employees, on LinkedIn, says he has worked for the Adani group for the last 15 years. Yet Beijing Basile doesn't show up as a related party in filings by Adani Power.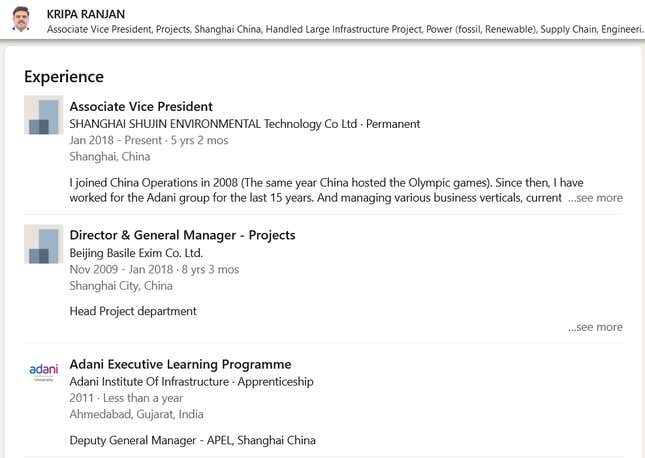 The Adani group and Ahli did not respond to requests for comment from Quartz.

The Adani group's man in Dubai
In 2004 and 2005, India's Directorate of Revenue Intelligence (DRI) investigated the Adani group's flagship company, Adani Enterprises, for conducting a "circular trade" in diamonds. The company was essentially importing diamonds, then exporting them to known firms overseas at an artificially inflated value, so as to make use of cheap credit from a government incentive scheme. According to a DRI report, a Dubai firm named Daboul Trading Company was responsible for procuring diamonds for Adani Enterprises to import into India—the first arc of the circular trade. Ahli was Daboul's representative in Dubai.
In the 2010s, the DRI investigated Adani Enterprises again, this time for allegedly exaggerating the invoice value of imported power equipment. (The case is still winding its way through India's maze of tribunals and courts.) The purpose, the DRI claimed, was to siphon funds out of the country, to an account in Mauritius. Once again, a Dubai company served as an intermediary—Electrogen Infra FZE, founded in 2009 by Ahli. In March 2010, records show, Ahli transfered Electrogen's ownership to Vinod Adani, brother of the Adani group's chairman, Gautam Adani. Electrogen's parent, a company in Mauritius, had only one shareholder: Vinod Adani.

Additionally, another Dubai firm named Powergen Infrastructure had, according to the DRI, awarded a power project contract to PMC Projects, an Indian company that served as a "dummy firm" for the Adani group. (PMC makes all its revenue from Adani contracts, but it is not named as a "related party" in Adani disclosures.) In corporate registry records seen by Quartz, Powergen has three directors; two of them name Ahli as their agent.

Adani's offshore web
Ahli serves the Adanis outside Dubai as well. One firm, EZY Global, appears in Adani filings (pdf) as a related party. Registered in the British Virgin Islands—a popular tax haven—EZY Global lists, among its shareholders, Pranav Vora, a director (pdf) of Adani Shipping. In 2011, EZY Global merged into another company, Gulf Asia Trade & Investment, according to documents from the British Virgin Islands financial commission as seen by Quartz. Ahli was a shareholder in both companies.

A now-defunct company website describes Gulf Asia's activities as "investing in long-term investments in shares, funds, bonds, and other marketable securities." The company's registered address in the British Virgin Islands is in the care of Trident Trust. In the Pandora Papers documents, Trident was named as one of several major providers of offshore services, such as setting up bank accounts or shell companies, or organizing tax avoidance schemes.

In connection with the Adanis, Ahli appears in one other filing, and it's on the Adani group's website. In 2009-10, Adani Enterprises declared a dividend on its shares; seven years later, as per Indian law, unclaimed dividends were transferred to a state-run fund. Among the 71 investors (pdf) who did not claim their dividends was Ahli. The filing records these investors' shareholdings. Most of those listed had shares numbering in the single or double digits. Ahli held 10,000 shares.