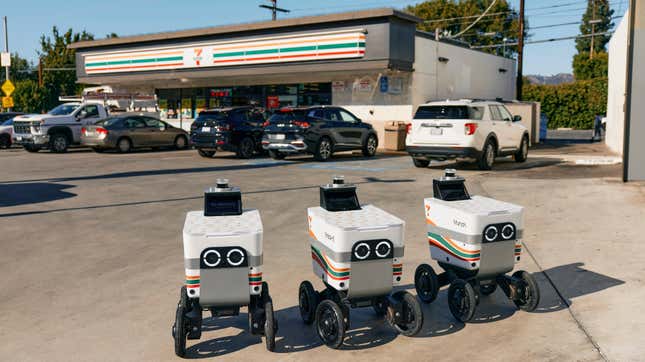 Serve Robotics needs a lot of money to grow its fleet of robots. On Aug. 10, the autonomous delivery robot company announced that it raised $30 million and went public in a reverse merger with Patricia Acquisition Corp.
Making money investing in Japanese robotics companies like FANUC
Serve, which says it has over $56 million in new funding, will expand to new markets and deploy up to 2,000 sidewalk robots with Uber Eats. The latest round of financing was led by investors including Uber and Nvidia.
"We're thrilled that our core strategic partners Uber and NVIDIA continue to back Serve as we work to bring sustainable, autonomous delivery to every doorstep in the next five years," Ali Kashani, co-founder and CEO of Serve, said in a statement. The company's delivery volume grew to over 30% month-over-month on average for the past 18 months, Kashani said.
The robot-delivery industry is still very much in its infancy. Developing and operating robots is costly; Serve revealed in its 8-K filing that its operational expenses are about $1.4 million per month. The idea is that the cost per delivery will go down when there are more robots deployed on the streets serving more customers, but in order to make that a reality, the company needs to raise additional rounds of financing after this transaction, Aduke Thelwell, head of communications at Serve, wrote in an email to Quartz.
When asked how many additional rounds of financing will be needed or where the stock will trade, the company said, "That's not disclosed. But we will have more to share in the future."
To date, Serve has deployed just over 100 of its robots.
The big promise of autonomous delivery is that, at scale, robots can complete deliveries at a lower cost than human workers. At the same time, the thinking goes, delivery robots reduce carbon emissions from fossil-fueled trucks and traffic congestion.
Serve was founded in 2017 as the robotics division of Postmates, which Uber acquired in 2020, before being spun out as an independent company in February 2021.
The pandemic accelerated the demand for robot delivery
The pandemic was a boon for deliveries—and an opportunity for robot deliveries. Robot-delivery companies like Serve and Starship Technologies emerged to partner with retail businesses and restaurants. In 2021, Starship said its delivery numbers had quadrupled globally since the beginning of covid-19.
But it was hard to fulfill the demand. "There was an opportunity…beyond what we were able to meet at that time," Ryan Tuohy, Starship's senior vice president of business development and sales, told The Mercury News in 2022. "The issue is you can't just wave a wand and magically produce 10,000 more robots."

In 2020, Serve launched its robots in Los Angeles to carry out restaurant deliveries, according to its 8-K filing. By the end of that year, Serve completed over 10,000 commercial deliveries for Postmates in California. Serve has partnered with Uber Eats and convenience store chain 7-Eleven; the company also partnered before with Walmart and a "major pizza quick service restaurant," according to its filing.
The limitation of robot delivery
In January, Serve said that its robots are capable of Level 4 autonomy, which means the vehicle can operate without a human. But part of the limitations in the industry is that deliveries are often limited to certain areas like suburbs or within controlled environments, like colleges and hospital campuses. The robot-delivery company's partnerships with businesses are also limited.
Serve currently depends on Uber Eats for half of its revenue, according to its 8-K, so it may not be as independent of Uber as this deal might suggest.