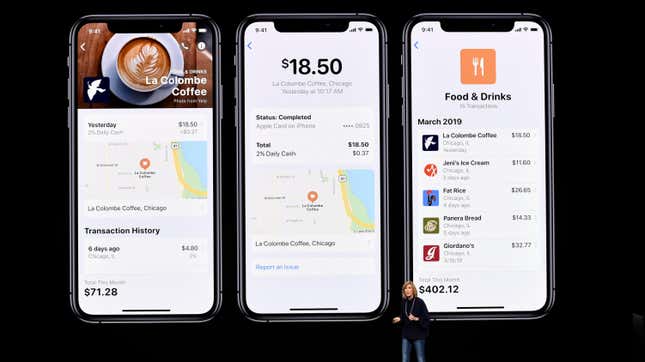 Apple is finally ready to hand out loans to its users, nine months since first teasing the service.

Apple Pay Later, which Apple introduced in a limited release in the US yesterday (Mar. 28), lets users split purchases into four payments, spread over six weeks, for no additional fees or interest.
The so-called Buy Now Pay Later (BNPL) service allows users to "easily track, manage, and repay their Apple Pay Later loans in one convenient location in Apple Wallet," the Cupertino company said in its announcement.
The only requirement is that users put a debit card on file for the loan repayment method. "To help prevent users from taking on more debt to pay back loans, credit cards will not be accepted," Apple said. The offering has nothing to do with the Apple Card, the credit card the company launched in the US in August 2019. Users don't need one to use Apple Pay Later.
A prerelease version of the feature is being rolled out to select users by invite, with plans to offer it to all eligible users in the coming months.
Quotable: Fee- and interest-free Apple Pay Later
"There's no one-size-fits-all approach when it comes to how people manage their finances…Apple Pay Later was designed with our users' financial health in mind, so it has no fees and no interest, and can be used and managed within Wallet, making it easier for consumers to make informed and responsible borrowing decisions."—Jennifer Bailey, Apple's vice president of Apple Pay and Apple Wallet, in a statement announcing the feature's release on March 28, 2023.
Apple Pay Later service, by the digits
$50 to $1,000: Apple Pay Later loans users can apply for, which can be used for online and in-app purchases made on iPhone and iPad with merchants that accept Apple Pay.
150 million: Active iPhone units in the US as of 2022
85%: Share of US retailers that accept Apple Pay, including fashion brands, restaurants, gas stations, pharmacies, and more.
75%: US BNPL users that are Gen-Z or millennials
5%: BNPL as a share of US e-commerce. It's less than half a percent of overall retail in the country.
Charted: Affirm's stock dips more than 7% on Apple Pay Later release
Should BNPL players Affirm and Klarna worry about Apple Pay Later?
Apps like Affirm and Klarna offer interest-free BNPL options (although Klarna will charge late fees), and loans with varying annual percentage rate (APR). Affirm, founded by PayPal co-founder Max Levchin, lets users take out multiple loans, with the maximum value of one loan capped at $17,500. Klarna, which shows users their estimated purchasing power, has no predetermined limit and makes decisions on a case-by-case basis.
Apple's biggest advantage in this space is locking users in its ecosystem, integrating the new service as part of an existing, popular feature. While Apple Pay Later in itself may not win the Cupertino company new customers, the convenience of using Apple Pay might convince existing BNPL users to switch services, decreasing sign ups or volume of transactions for other apps. At the same time, Apple Pay Later could introduce new customers to the BNPL environment, potentially expanding the user base for the industry overall.
The jolt to Affirm's stock on the news of Apple Pay Later's launch indicates that the news was perceived as a threat more than a boon to BNPL players. However, Mizuho analysts argue that there shouldn't be much cause for concern for Affirm, given its "more modest customer overlap with Apple Pay (20% vs. 20-30% for others) and a higher AOV (several hundred dollars AOV ex. Peloton vs. <$100 for Apple Pay." Levchin has also shrugged off concerns. He said Apple's service "creates a really nice tailwind for us" by letting more people know about BNPL.
How will Apple make money from Pay Later?
The 0% financing scheme seems to be a great deal for users—but how will the company make money? The answer is merchant fees, which retailers pay Apple in exchange for adding Apple Pay as a payment option.
Plus, "Apple will also gain valuable insight into consumers' purchase behaviors, which will allow the company to predict future consumption and spending behavior," according to Rajat Roy, associate professor at Bond University's business school.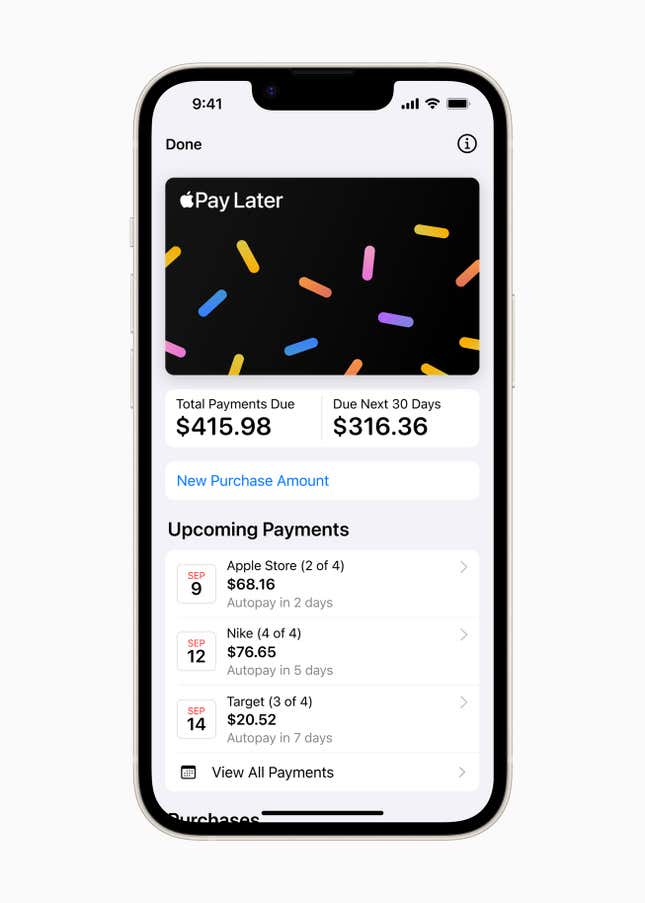 How does Apple Pay Later work?
A user can apply for a loan within the Apple Wallet, where they'll share the loan amount they're requesting and agree to the Apple Pay Later terms. The firm will then perform a soft credit pull—review the user's credit report and credit score to assess financial limits—before approving them.
Once set up, users can apply for a loan directly in the checkout flow when making a purchase. Any transaction needs confirmation through Face ID, Touch ID, or passcode.
Related stories
💳 Why executives are suddenly talking about "buy now pay later"
💥 How the pursuit of creditworthiness drives the economy
💸 As costs rise, buy now pay later plans are increasingly attractive