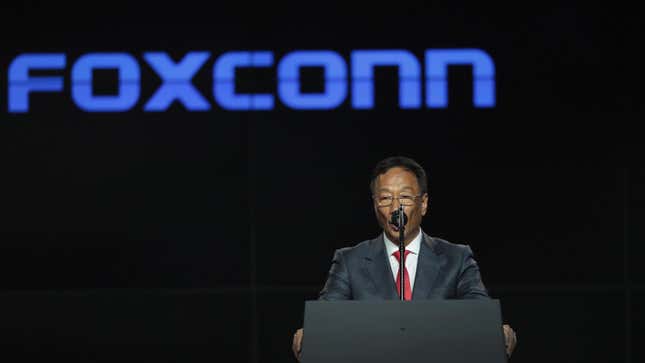 Billionaire Terry Gou is running for president—again.
The founder of one of Apple's biggest suppliers, Foxconn, Gou said he would seek the presidential nomination for Taiwan's main opposition party, the Kuomintang (KMT), on Wednesday (Apr. 5).
Carin Pai, Part 2: Reasons to de-risk your portfolio
This is Gou's second bid for the post. In 2019, Gou stepped down as chairman of the iPhone manufacturer and threw his hat in the proverbial presidential ring. He dropped out after he failed to win the nomination for the KMT.
Taiwan's ruling party Democratic Progressive Party (DPP) is openly pro-independence. KMT denies being pro-Beijing but is a proponent of maintaining favorable relations with China.
Gou agrees with that line, telling reporters: "We must honestly tell young people that it is dangerous to vote for the DPP, which 'exalts Taiwan independence and hates and opposes China'." He said improving trade relations with China was the only way to maintain peace in Taiwan.
Person of interest: Hou Yu-ih
Guo isn't confirmed as KMT's candidate—and he's not even the frontrunner. Hou Yu-ih, the mayor of New Taipei City who has not yet officially announced his run, is currently considered to be the favorite to win the KMT nomination.
After Guo announced his part in the race, KMT legislator Lin Weizhou still backed Yu-ih, saying he's "stable and pragmatic, and will not explode."
Guo too pledged to back Yu-ih should he win the nomination. The business magnate said, "We can't let the DPP continue to govern, we can't let our children live in a forest of guns and the hail of bullets," he said.
Whoever KMT chooses, they already know who they're up against: DPP has chosen party chairman and Taiwan's vice president, William Lai, as its candidate for the 2024 presidential election.
One big number: Terry Gou's net worth
$6.8 billion: Gou's net worth, making him the sixth-richest person in Taiwan. When he ran in 2019, Gou was the richest person on the island.
Quotable: Gou went back to Foxconn between his presidential bids
"I will become the tiger that leads Hon Hai." -Gou to more than 30,000 people at a company gala in Taipei on Jan. 22, 2020, when Gou returned as Foxconn's investor-in-chief after shelving his first presidential bid. (Hon Hai Precision Industry is Foxconn's official name.)
One more thing: Taiwan-US-China tensions are mounting
Gou's announcement comes as Taiwanese president Tsai Ing-wen journeys to the US as she returns home from visits to Guatemala and Belize—Taiwan's two remaining formal diplomatic allies in Central America.
Tsai, Taiwan's first female president, is scheduled to meet US House of Representatives Speaker Kevin McCarthy in California today (Apr. 5). The largely symbolic meeting has drawn ire from China. China, which regularly stages military exercises near the land, could plan more in retaliation.
Related stories
💰 An Asian tech billionaire's presidential bid comes with a promise to soak the rich

💭 Taiwan's iPhone billionaire is running for president after a goddess appeared in his dreams