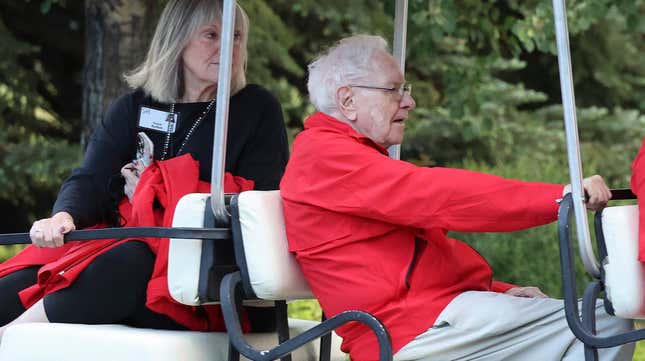 Berkshire Hathaway posted its highest-ever operating profit, of just over $10 billion, in the second quarter of 2023, the company disclosed in its earnings announced Saturday (Aug. 5). The profit marked a 7% rise from the year prior, and 64% above the corresponding quarter in 2019.

Most parts of the Warren Buffet-led conglomerate felt market headwinds, just as he had warned at his annual shareholders meeting in May. But some bright spots—including earnings from rising interest rates, a big stake in the buoyant stock of Apple, and a resilient and growing insurance business—more than made up for these weaknesses.
Overall, the company registered quarterly profits of $35.91 billion, versus $43.62 billion during the same period last year. Buffet, the "oracle of Omaha" who turns 93 on Aug. 30, is worth $117.5 billion.
By the digits: Berkshire Hathaway's business wins and losses
74%: Increase in Berkshire Hathaway's earnings from insurance underwriting, to $1.25 billion. These earnings swelled because Geico, the auto insurer that is part of the Berkshire Hathaway group, was able to slash expenses—and also because of Berkshire Hathaway's October 2022 acquisition of the insurer Alleghany Corp, for $11.6 billion.

38%: The rise in Geico's second-quarter profit, year on year
24%: The fall in second-quarter operating earnings, year on year, registered by Burlington Northern Santa Fe (BNSF) railroad, one of Berkshire Hathaway's biggest businesses. As one of the largest railroads in North America, BNSF suffered from declining shipments of consumer goods and increased price competition from the trucking industry.
$359 million: The loss registered over the past year by Berkshire Hathaway Energy Company (BHE), the conglomerate's utility arm, as a result of the 2020 wildfires in California and Oregon

59.5%: The decline in second-quarter net earnings, as compared to 2022, for Berkshire Hathaway Home Services (BHHS), the largest residential real estate brokerage firm in the country. BHHS's 2023 earnings suffered from lower transaction volumes, and slower mortgage and refinance activity.
21.1%: The increase in earnings, year to date, registered by Berkshire Hathaway Automotive (BHA), which owns more than 80 auto dealerships, courtesy higher volumes of service, repair, and finance operations.
22.8%: The fall in pre-tax earnings registered by Pilot, the largest operator of travel centers in North America. Berkshire Hathaway owns 80% of Pilot
$114 million: Pilot's contribution to Berkshire Hathaway's operating profit in the second quarter of 2023

Company of interest: Geico
Geico's financials, which had struggled throughout last year, are on the mend. The company, whose shares Berkshire Hathaway bought for $2 apiece back in 1976, posted its second consecutive profitable quarter after six straight quarters of losses. The improved business came on the back of:
📄 increased premiums per auto policy
🤏 lower claims frequency
📮 slashes in advertising spending

Whether or not Geico can keep moving upward is uncertain. The value of policies in force have declined, suggesting that pulling back on ads is hurting business. Additionally, Geico is a tech laggard in a fast-burgeoning world of AI-augmented insurers. Geico's tech "has more than 500—actually, more than 600 legacy systems that don't really talk to each other," Ajit Jain, Berkshire Hathaway's head of insurance operations, said on a conference call earlier this year. "And we are trying to compress them to no more than 15, 16 systems that all talk to each other. That's a monumental challenge."
One more thing: Warren Buffett is hoarding cash
Berkshire Hathway is hoarding near-record levels of cash at over $147 billion, suggesting that Buffett, a seasoned investor, would rather hold on to US Treasurys than invest in the current stock market.
In the past, Berkshire Hathaway has used its cash pile to aggressively pursue stock buybacks, but as its share price has risen, that strategy has slowed down as well. In the first quarter, the company bought back $4 billion worth of its stock, but in the second quarter, that figure shrank to $1.4 billion.

Quotable: Buffett will keep holding US Treasurys
"There are some things people shouldn't worry about. This [Fitch downgrading the US] is one. The dollar is the reserve currency of the world, and everybody knows it."

—Warren Buffett to CNBC on Aug. 3
Related stories
📈 Warren Buffett's "buy and hold" rule doesn't seem to apply to tech stocks 
🤖 Warren Buffett backs Taiwanese chipmaker TSMC like a full-fledged tech investor
🩺 Why Jeff Bezos, Warren Buffett, and Jamie Dimon gave up on their venture to disrupt US healthcare