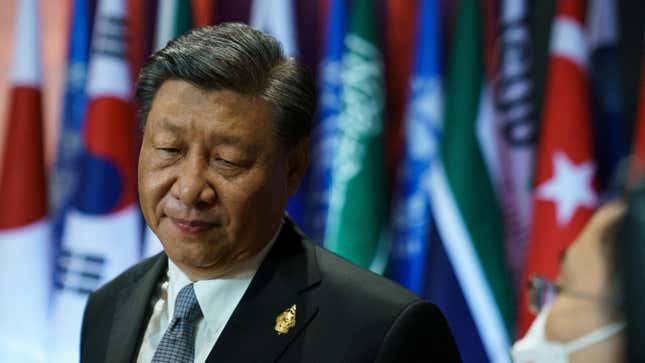 Last week, US President Joe Biden called China a "ticking time bomb" after consumer prices fell there for the first time in two years, and gave an ominous warning about the potential for China to do "bad things" during difficult economic times.

Why a tightening of credit conditions could lead to a weak economy
Biden's warning comes with China-US relations at a low. The US president signed an executive order earlier in the week that blocks US venture capital firms from investing in sensitive Chinese tech like advanced computer chips.
China's economic woes can be partly attributed to the pandemic and its zero covid policy, which persisted long after highly effective covid-19 vaccines were developed. The economic train wreck was caused by a multitude of issues that have been building for more than a decade, argued economist George Magnus in The Guardian. Bad debt, unprofitable infrastructure, vacant real estate, underutilized public transport, and overcapacity in sectors like coal and steel have all slowed down China's economy.
Shares of China's largest private property developer hit new lows on Friday as the company approaches restructuring, along with rivals China Evergrande Group and Sunac China Holdings. China also reported the lowest level of monthly new bank loans in over a decade in July.
To help manage the country's borrowing, the national government in Beijing announced it would allow local governments to issue 1 trillion yuan ($140 billion) of bonds to absorb the debt of local-government financing vehicles. "That consolidation isn't an immediate positive catalyst but could help with general cleanup of debt down the line," wrote analysts at Bespoke.
How could a potential Chinese downturn affect the US economy?
The risk this downturn poses to the US economy depends on who you talk to.
Thierry Wizman, a global foreign exchange and interest rates strategist at Macquarie Group, said in a recent research note that China's slow growth could actually help slow global inflation despite high stock market valuations and a rapid increase in US Treasury issuance. Bill Adams, the chief economist for Comerica Bank, said in an emailed statement that the low growth in China's property sector is depressing prices for steel, nickel, aluminum, and copper. All of this will also help to curb US inflation.
It's possible that China could retaliate against US export restrictions by halting rare earth metal sales to the US, Tom Plumb, CEO of mutual fund Plumb Funds, told Reuters. If China chooses to create a shortage of rare earth metals—provided they are willing to bear the consequences—this would naturally lead to increased prices for products that rely on these metals, like electronics.
But the US is unlikely to see a blow to its economy come directly from China's slowdown, according to David Dollar, an expert on the Chinese economy at the Brookings Institute. The US is not an export dependent country; it sells about $150 billion worth of goods each year to China. If 10% of that gets erased, there won't be much impact to the American economy overall.
China is much more deeply integrated with Asian trading partners like Japan and South Korea, as well as a few European trading partners like Germany. Countries that export copper, iron, oil and natural gas to China would also be hurt.
"You could have spillover effects, [which] partly depends on how serious a recession we're talking about," Dollar said. "If China's growth slows down for a while, that's not going to have a big effect on the US economy. If you really had a serious growth crisis in China and some kind of global financial crisis, you probably wouldn't start with the United States, but we would not be exempt from that."
Things could get much worse if China invades Taiwan
Biden didn't specify what he meant when he said China might do "bad things," but the president might have been referring to been escalating tensions between China and Taiwan. Some analysts argue that China uses nationalism and foreign confrontations to distract from domestic problems.
Biden has said that his administration is willing to stand up against China if it threatens to invade Taiwan. Beijing views Taiwan as part of its territory, but the island nation has been functionally independent since 1949. In the last several year, China's Air Force and Navy have been escalating provocative patrols into Taiwan's national airspace and maritime boundaries, according to the Institute for the Study of War (ISW).
Elina Ribakova, a senior fellow at the Peterson Institute for International Economics, told CNBC that China is observing and learning from Russia's strategies to bypass US sanctions levied due to its war of aggression against Ukraine. If China were to invade Taiwan, the US would be forced to slap much tougher sanctions on it. This could disrupt up to $3 trillion in trade and financial flows according to an analysis by the Atlantic Council and the Rhodium Group.
"This is nearly equivalent to the gross domestic product of the United Kingdom in 2022," Rhodium's Charlie Vest and Agatha Kratz wrote. "Impacts of this scale make them politically difficult outside of an invasion of Taiwan or wartime scenario."