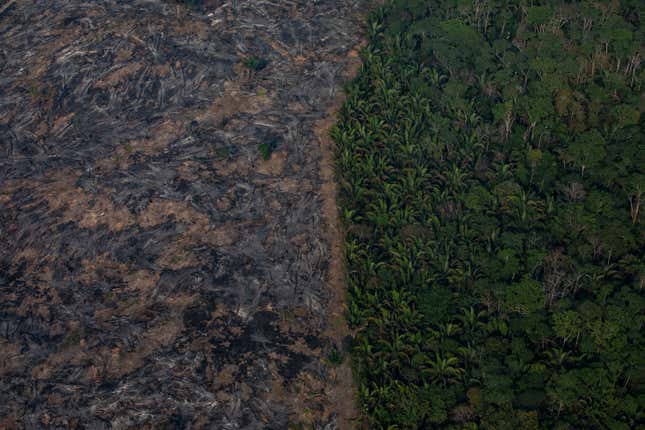 The eight South American countries that share the Amazon met in Brazil on Tuesday (Aug. 8) to outline a conservation strategy for the sprawling rainforest. The two-day summit, held in the city of Belém, marks the first time the Amazon Cooperation Treaty Organization (ACTO) has gathered in 12 years.
Should you keep investing in Big Tech?
The organization's resurgence is tied to the victory of Luiz Inácio Lula da Silva, known as Lula, in last year's Brazilian presidential election. Returning to office after 13 years, the progressive politician replaced Jair Bolsonaro, who undid decades of progress against deforestation during his four-year term.
The ACTO nations—Bolivia, Brazil, Colombia, Ecuador, Guyana, Peru, Suriname, and Venezuela—are expected to join Lula's campaign pledge to halt all deforestation in the Amazon by 2030. They will also negotiate reforms aimed at preventing illegal mining and logging in the region.
The landmark conference comes at a pivotal time for the Amazon, which climate scientists have warned is approaching a "point of no return," where deforestation would result in the destruction of the biome. The forest is the world's largest carbon sink, storing as much as 733 gigatons of carbon, so it's a major factor in the global fight against climate change.
The gathering will also expose rifts between the region's left-wing leaders. Colombian president Gustavo Petro publicly called on Lula to reject a major oil drilling project near the mouth of the Amazon River, despite the potential for economic development in one of Brazil's poorest areas.
In his first stint as president, Lula leveraged resource extraction projects to fund extensive social welfare programs, while still pursuing environmental goals. He has yet to announce his final decision on the oil project.
Quotable: A new era in the Amazon
"Brazil is back" —Lula, in a speech to the COP27 climate conference last year, soon after his election win. Now, with the ACTO conference, he's trying to put his plans into action
Amazon deforestation, by the digits:
33.6%: Decrease in deforestation across the Amazon during Lula's first six months in office.
17%: Share of the Amazon that has already been cleared by loggers. Almost 40% of the region is suffering from some form of environmental degradation, including for mining and agriculture.
2.72 million square miles (7.04 million square kilometers): Size of the Amazon, making it almost as big as the continental US.
Related stories:
🍃 Brazil is foregoing oil wealth in favor of environmental goals
✊ Latin America's pink tide is preparing for the green revolution
🪵 Deforestation in the Amazon dropped by a third since Lula became president