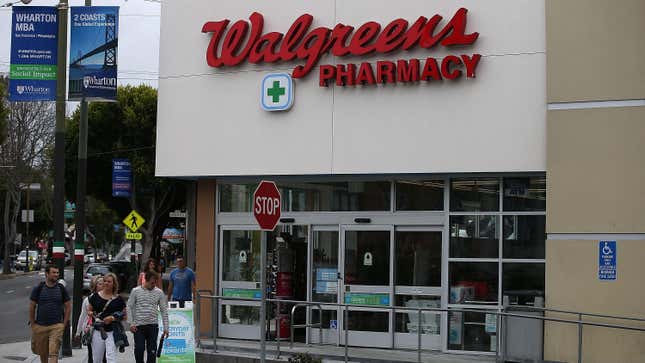 Walgreens' stance on abortion pills is costing it business in one of America's largest states.

Why a tightening of credit conditions could lead to a weak economy
California governor Gavin Newsom tweeted yesterday (Mar. 6) that the Golden State would stop doing business with the pharmacy store chain over its wavering stance on selling mifepristone, an abortive medication that has been in the market for over two decades.
"California won't be doing business with Walgreens—or any company that cowers to the extremists and puts women's lives at risk. We're done," the governor declared. In his tweet, Newsom linked to a CNN article reporting on Walgreens' decision to halt sales of abortion pills in more than 20 Republican-led states.
The Illinois-headquartered company said it decided to stop selling abortion pills after Republican governors and attorneys general warned that it was breaking the law. Walgreens' decision applies not just to states where abortion is illegal, like Kentucky and Texas, but also in states such as Alaska and Florida, where abortion remains legal.
California was one of the states, alongside Michigan and Vermont, that voted to enshrine abortion rights in its constitution during the November 2022 midterm elections. A spokesperson for Newsom told Reuters that "all relationships" between Walgreens and the democratic state were now under review, but declined to detail how business ties might change. There are 586 Walgreens stores in California—the third-highest number after Florida and Texas.
Charted: States where Walgreens is halting abortion pill sales
A brief timeline of Walgreens' stance on selling abortion pills
Jan. 3: The FDA finalizes a rule to allow retail pharmacies to dispense mifepristone pills to those with prescriptions, including by mail, provided they are certified under special safety rules for the drug. Before this, patients had to pick up the medication directly from a doctor's office, hospital, or health center, rather than from a pharmacy or by mail, barring a temporary suspension of the rules for during the pandemic. Medication abortions accounted for more than half US abortions in 2020.
Jan. 5: CVS and Walgreens both say they'll apply to get certified to sell the pill.
Feb. 1: 20 Republican attorneys general send a letter to Walgreens, warning that the pill is illegal under state laws.
Mar. 3: Walgreens says it has responded to all attorneys general, saying it won't sell the pill in their states. Some customers say they're canceling accounts and redirecting prescriptions to other pharmacies in protest.
Mar. 6: California governor Newsom says the state will cut ties with Walgreens. Separately, filmmaker Michael Moore calls for a nationwide boycott of Walgreens on his website, encouraging people to picket at their local Walgreens, among other forms of protest. Meanwhile, Walgreens vows to sell the medication where it's legal to do so.
A brief explainer of what's "illegal" about pharmacies selling abortion pills
Missouri attorney general Andrew Bailey led the coalition of attorneys general directing letters to major pharmacies—Walgreens, CVS, Albertsons, Costco, Kroger, Walmart, and Rite Aid—warning them against distributing abortion pills in the mail. He wrote in a Mar. 2 Facebook post that he is "ensuring that pharmacies throughout the nation aren't subverting state and federal statute to ship abortion pills in the mail."
Bailey and other Republicans are using a 150-year-old law—The Comstock Act of 1873—which outlawed sending through the mail "any obscene items" as a crutch to prevent shipments of abortion pills. However, the Department of Justice (DoJ) has clearly stated that mailing abortion pills is perfectly legal, unless the intent to use them is unlawful.
Quotable: The White House condemns Republican anti-abortion pressure
"Elected officials targeting pharmacies and their ability to provide women with access to safe, effective, and FDA-approved medication is dangerous and just unacceptable…This is all a part of a continued effort by anti-abortion extremists who want to use this arcane law to impose a door—a backdoor ban on abortion." —White House press secretary Karine Jean-Pierre on Mar. 3
One more thing: The lawsuit that could make mifepristone illegal
Despite sufficient evidence that the drug is safe and effective, an anti-abortion group in November 2022 filed a federal lawsuit in Texas seeking to revoke mifepristone's approval, claiming the FDA approved the drug 23 years ago without adequate evidence of safety.
Appointed by former president Donald Trump, US district judge Matthew Kacsmaryk could rule in favor of the plaintiffs. He "has deep ties to the religious right, and he has issued rulings that are based on very, very conservative ideologies", Amanda Allen, an attorney and director of The Lawyering Project, an organization based in New York City that works to improve abortion access, told science journal Nature.
Such a decision would pull the drug off the market, effectively resulting in a nationwide ban. "If FDA approval of mifepristone is revoked, 64.5 million women of reproductive age in the US would lose access to medication abortion care, an exponential increase in harm overnight," non-profit NARAL Pro-Choice America said in a February statement.
Related stories
🗳️ Abortion rights won the US midterms
🏥 Abortion bans don't reduce abortions, they just make them less safe