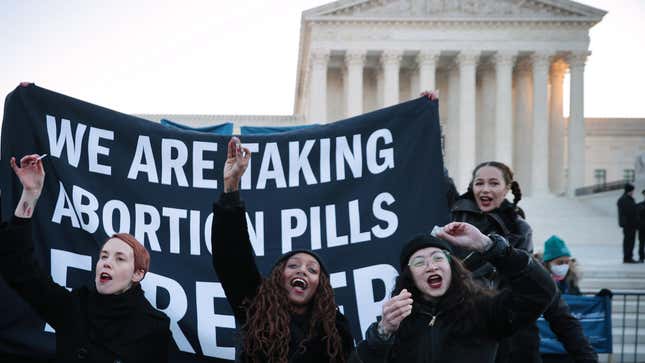 With family planning rights under threat in several US states, the US Food and Drug Administration (FDA) has announced yesterday (Jan. 3) a move to expand access to abortion.
Should you keep investing in Big Tech?
For the first time, retail pharmacies—be it corner drugstores or chains like CVS and Walgreens—will be able to sell abortion pills to those with prescriptions.
The FDA approved mifepristone as a method of medication abortion back in 2000. Taken along with misoprostol, the two-drug combination can terminate pregnancies up to 10 weeks in. But there has been a significant barrier to obtaining the drug: the FDA's Risk Evaluation and Mitigation Strategy (REMS) restrictions introduced in 2011. Since then, patients have had to pick up the medication directly from a doctor's office, hospital, or health center, rather than from a pharmacy or by mail for 20 years, barring a temporary suspension of the rules for during the pandemic.
With the recent tweaks, the FDA has removed the in-person dispensing requirement, and added the requirement for pharmacies who want to stock the drugs to be certified by one of the two manufacturers, GenBioPro and Danco Laboratories. Both CVS and Walgreens said they're reviewing the FDA's regulatory change.
The pill is considered quite effective and safe–it's only been linked to 26 deaths out of 4.9 million people estimated to have taken it since it was approved. In some countries, like Mexico, women don't even need a prescription for it.
Quotable: Improving access to abortion
"By allowing brick-and-mortar pharmacies to dispense medication abortion care, the FDA is treating medication abortion like the safe, effective, time-sensitive care that it is." —Kirsten Moore, director of the Expanding Medication Abortion Access project
Charted: Most US abortions are done using the pill
Not everyone can access mifepristone
The anti-abortion winds have been raging in America ever since the June 2022 Supreme Court decision to overturn the landmark 1973 Roe v Wade ruling awarding women the constitutional right to terminate pregnancies. Several states moved to ban abortion with a handful specifically targeting mifepristone.
Immediately after the court's decision, attorney general Merrick B. Garland clarified that "States may not ban Mifepristone based on disagreement with the FDA's expert judgment about its safety and efficacy." In December, an Office of Legal Counsel opinion in response to a US Postal Service (USPS) query—whether federal law prohibits the mailing of mifepristone and misoprostol—said that the 1873 Comstock Act "does not prohibit the mailing of certain drugs that can be used to perform abortions where the sender lacks the intent that the recipient of the drugs will use them unlawfully."
But these explanations may not be enough to abate fears. The big chains could provide the drug in some states but not others. For smaller, local mom-and-pop stores, the legal implications may not be the only deterrent to stocking the drug. They may not see merit in doing the administrative heavy lifting to acquire the certification and designating an employee to carry out compliance if they don't foresee enough demand.
Abortion pill, by the digits
$800: How much a medication abortion can cost. At Planned Parenthood, the average cost is closer to $580.
32: States that allow only licensed physicians, and not other clinicians such as nurse practitioners, to dispense abortion pills
19: States that require the dispensing be done in hospitals after a specific point in the pregnancy, effectively ruling out telemedicine
16: States that use own funds to sponsor all or most medically necessary abortions under Medicaid
12: States that restrict private insurance from covering abortion, unless it's a life-threatening scenario
17: States mandate counseling before an abortion, including the purported link between abortion and breast cancer (5 states), the ability of a fetus to feel pain (12 states) or long-term mental health consequences for the patient (8 states)
Related stories
🏠 What's a self-managed abortion?
🇲🇽 How Mexico ensures access to safe abortion without legalizing it