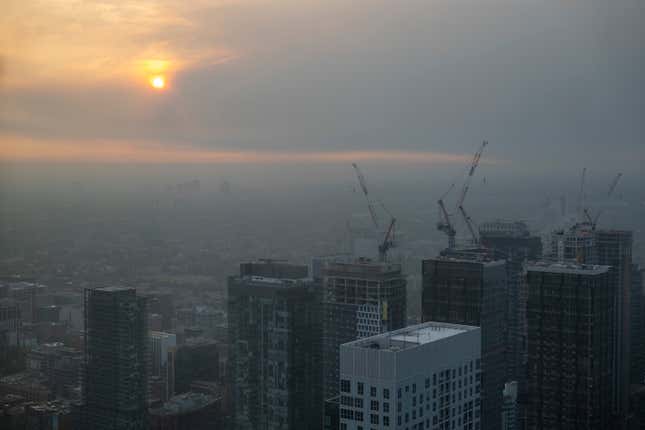 Orange skies in New York City may have faded, but the wildfires in Canada have not. Those blazes keep raging and have worsened over the past month, bringing more smoke to the US—along with more air quality alerts.
The one thing companies should do before a disaster to support their team
There are now 880 wildfires burning across Canada, 580 of them out of control, according to the Canadian Interagency Forest Fire Centre. As smoke crosses the border this week, about 70 million people in the US, including residents of Chicago, Detroit, New York, St. Louis, and Cleveland, will experience decreased visibility and poor air quality. The smoke plume has already reached as far south as Alabama.


How many wildfires has Canada seen this year, and what's causing them?
So far this year in Canada, 4,152 wildfires have burned a total of 10 million hectares (25 million acres), making for the worst fire season on record.
Most of the blazes have been caused by an increase in lightning, the result of a jet stream originating in the Pacific Ocean that pushes winds eastward across North America. The recent arrival of an El Niño weather pattern in the Pacific has added to the problem by creating a warmer-than-normal band of water and air, leading to more heat, storms, lightning, and rain throughout the continent.
Of the 400 wildfires that started in British Columbia over the past week, about half were sparked by some of the 51,000 lightning strikes from thunderstorms. When uncontrollable fires spread, they spark new blazes.
Meanwhile, parts of the northeastern US have seen record rainfall during an unusually dreary and wet summer. Flooding in Vermont, crops rotting in overwatered farmland, and a warmer north Atlantic ocean are just some of the impacts of this season's weather patterns resulting from El Niño so far.