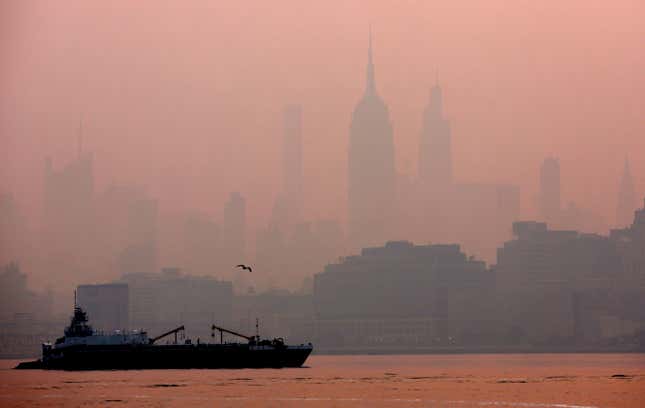 The east coast of the US saw a dramatic increase in asthma-related hospital visits after smoke caused by Canadian wildfires blanketed its skies with an orange haze, according to two new studies published by the Centers for Disease Control (CDC) on Thursday (Aug. 24).
The one thing companies should do before a disaster to support their team
One report—which used data from roughly 4,000 hospitals across the country—showed that visits to the emergency room related to asthma spiked by 17% during the 19 days of above-average wildfire smoke, mostly concentrated in June.
The study found that the increase was disproportionately found in Region 2 and 3 of the US (as defined by the US Department of Health and Human Services) an area that stretches from New York through Virginia. The sharpest uptick was in New York and New Jersey, which saw a 46% increase in total hospital activity.
A second study—which focused solely on New York state—found that asthma-driven hospital visits jumped by 82% on June 7: The day the air quality index in New York City hit a record-high 480. (Any rating above 300 is considered hazardous to human health.)
Quotable: New York Governor says history is here
"I would certainly say we did not deal with this in the years past. If you want to know the effects of climate change, you're going to feel it tomorrow in real time This is not something that we're talking about future generations dealing with. We are truly the first generation to feel the real effects of climate change."

— Gov. Kathy Hochul in a press conference announcing yet another air quality alert caused by Canada's wildfires.
Canada's record-setting wildfire season, by the digits
37 million acres: Square miles that have been burned by wildfires. That's about the size of Wisconsin.
602%: The fire's unprecedented spread is more than six times the 10-year average.
150,000: A rough estimate for the number of people displaced by fires this summer, or one out of every 200 Canadians.
-0.6%: The wildfire's potential impact on Canada's gross domestic product, according to a report by Oxford Economics.
Related stories
🔥 What does the air quality index really mean?
🏝️ Not just Maui: Snapshots of global climate disasters that followed a record-hot July