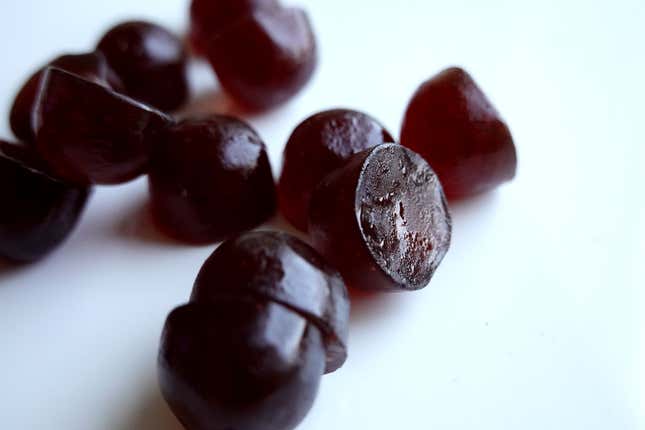 Sleep is a wonderful thing, a fact of which parents, especially those of small children, are all too keenly aware. Studies show that parental sleep deprivation can be so significant that it can have mental health consequences, and continue for the first six years of a child's life.
Ben Emons Part 2: The Fed, Apple shares
It's understandable then, that parents would try almost anything to encourage a regular sleep schedule in their children, including the help of nutritional supplements. Enter: melatonin gummies.
A hormone that helps the body fall asleep, melatonin has become increasingly popular as a sleep aid, with touted benefits ranging from avoiding jet lag to improving insomnia. The positive impact of melatonin is likely less significant than advertised, although some studies show it does help regulate sleep in some people.
Still, the popularity of melatonin is very strong, and the market for supplements containing it is expected to grow more than 10% in the next five years. Pediatric melatonin is no exception. In 2021, 1.3% of children in the US took melatonin supplements, often in the form of gummies.
But how much melatonin is actually in those gummies is anyone's guess: a new study published on April 25 in the Journal of the American Medical Association (JAMA) found that many over-the-counter sleep products had up to nearly 350% the amount of melatonin indicated on the label. Out of 25 gummy products analyzed, 22 were inaccurately labeled, and contained at least 10% more melatonin than indicated.
Mismatched doses between label and product
Melatonin isn't particularly dangerous in adults: its side effects include nausea, dizziness, headache. But it can be harmful to children, who may experience increased concentration of melatonin in blood plasma when takes supplements at doses as small as 0.1 mg, according to the study, and are therefore very sensitive to the amount available in melatonin gummies.

The mislabeled pediatric supplements considered in the study contained between 1.3 mg and 13.1 mg per serving, or between 75% and 350% what they were supposed to contain. This tracks with a dramatic uptick of calls to poison control following pediatric ingestions of melatonin reported by the Centers for Disease Control and Prevention: from 2012 to 2021, the number of calls rose 530%, with more than 260,000 ingestions reported. More than 4,000 children were hospitalized, nearly 300 received intensive care, and two died. The symptoms of the hospitalized children were gastrointestinal, cardiac, or related to the central nervous system. The largest increase in pediatric melatonin ingestion occurred at the beginning of the pandemic.
According to the American Academy of Sleep Medicine (AASM), melatonin is the second most common supplement parents give to their children, after multivitamins. Like vitamins, melatonin is sold as a dietary supplement, so it isn't regulated by the Food and Drug Administration. This makes it easier for makers to get away with formulations that don't match the label, or the safety limits for the quantity of the hormone included in the gummy, or capsule.
Even before the study, in response to increased pediatric consumption of melatonin, the AASM issued a health warning, recommending that parents speak with a pediatrician before giving melatonin to their children, and if possible that they purchase one of the three products on the market produced according manufacturing standards verified by USP (United States Pharmacopeia).
The latest study isn't the first to find important discrepancies between melatonin labels and the product. In 2017, a study published in the Journal of Clinical Sleep Medicine found that the levels of melatonin contained in 31 supplements ranged from 83% less than the declared label amount to 478% more.