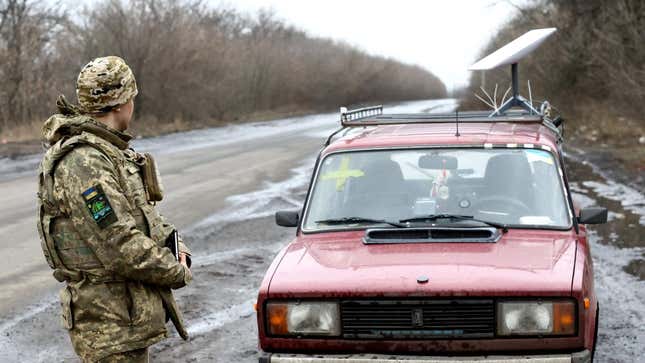 Despite strained relations between China and Taiwan, one thing the two countries can agree on is their profound suspicion of Elon Musk, the CEO of Tesla and SpaceX.

What inspired Elon Musk's design for Tesla's Cybertruck?
In the past, Musk has often waded into the tension-ridden relationship between China and Taiwan. At one point, he invited criticism, particularly in Taiwan, for suggesting "a special administrative zone for Taiwan that is reasonably palatable." Taiwan has been governed independently of China since 1949, but Beijing still views the island as its breakaway province.
China, for its part, is wary of companies and entrepreneurs who might weaken its tight control over its internet. Musk, whose SpaceX controls the Starlink network of low-earth orbit satellites, is at the top of that list.

Musk's Starlink has caused unease in Beijing and Taipei
In December 2021, China raised concerns over Musk's Starlink network after two close encounters between SpaceX satellites and China's then-incomplete space station. The incidents took place on July 1 and Oct. 21 that year, and China had to respond with evasive maneuvers.
China's larger fear is that Musk may offer unmediated Starlink connectivity within the country's territorial borders—a fear prompted by the Chinese state's tight control over its internet. For what it's worth, SpaceX executives have said they are not considering China as a Starlink market, perhaps because of the steep regulatory challenges—or because angering the Chinese government might endanger Tesla's investments there.
Last year, Musk told the Financial Times that Beijing has made it clear to him that it doesn't want Starlink terminals to be sold in the country. And providing satellite connectivity in a country that doesn't want it is technically difficult, if not outright unfeasible. If any low-earth satellite network has to offer services in China at all, it will likely be the one being planned by the state.
Taiwan, meanwhile, is hesitant to use Starlink's services for fear of Musk's close ties with China. A dominant player in the global chips market, Taiwan feels exposed to the constant threat of Chinese invasion. Using Starlink might be one way to bolster its national and data security—especially when Taiwan suspects China of cutting its submarine internet cables. But for Taiwan to rely too heavily on Starlink might prove unwise, in the event that China pressures Musk to limit network access abruptly, as he has done in certain situations in Ukraine.

Musk's erratic decisions can't be trusted
Currently, there are more than 4,500 Starlink satellites in orbit, and more are being launched on a regular schedule. They account for about 53% of all active satellites around the Earth. Musk plans to have as many as 42,000 satellites in orbit in the coming years. China aside, Amazon and the European Space Agency are also planning to build their own equivalents of Starlink.

But the worry, at the moment, stems from the fact that while Musk has virtually total control of the Starlink network, he is often perceived to be erratic and unpredictable in making decisions. Last year, he first volunteered Starlink access to Ukraine, then claimed it was growing too expensive and demanded that the US pay the bill. Musk also denied Ukraine's request for the use of Starlink in Russian-occupied Crimea. Earlier this year, SpaceX president Gwynne Shotwell said the company limited Starlink use with offensive weapons, but reports from Ukraine show its military continues to use the service to direct artillery. In June, the Department of Defense signed a contract with SpaceX to provide Pentagon-controlled Starlink service in Ukraine.
To have one person and his vagaries in charge of a vital communications link must feel increasingly unsettling for militaries and political leaders around the world. To be sure, Musk will end up breaking lucrative contracts if he unilaterally cuts off Starlink access, bearing heavy financial costs in the process. But if anyone can afford these, the world's wealthiest man can.