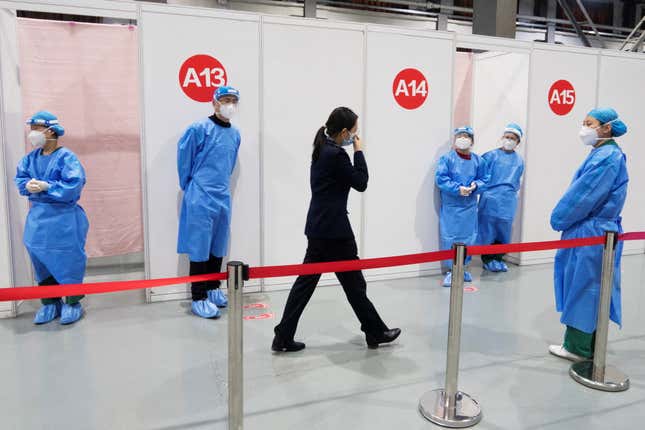 China has approved a Covid-19 vaccine utilizing MRNA technology for the first time ever, as government health officials roll back the country's strict pandemic-era restrictions.
Ben Emons Part 2: The Fed, Apple shares
The new vaccine, which was developed by the CSPC Pharmaceutical Group Ltd in the northern city of Shijiazhuang, was approved by Chinese regulators on Wednesday (March 22), according to a statement by the company. MRNA vaccines for Covid-19 are already widely available in most parts of the world, including the widely administered iterations developed by Modern and Pfizer.
The Chinese government has long held out on using foreign-made vaccines, promoting domestic jabs instead. This policy meant that Chinese residents were only able to receive vaccines developed through more traditional methods, which are less effective than mRNA shots.
It is unclear whether the decision to not approve foreign vaccines by the Chinese government was primarily political or based on security concerns.
The new vaccine comes at a key time for the country, which in December rolled back strict Covid restrictions known as the "zero Covid" policy in order to stimulate a struggling economy. The decision caused a massive surge of positive cases, resulting in an estimated 1.5 million deaths.
China recently opened its borders to foreign travelers for the first time since the onset of the pandemic, a major step in revitalizing the tourism industry.
What is the difference between mRNA and traditional vaccines?
The most common vaccines available in China before this decision were developed by the domestic firms Sinopharm and Sinovac, which create viral resistance by injecting an inactivated version of the virus into the immune system, much like the Johnson & Johnson shot widely available in the US.
Conversely, mRNA vaccines inject a genetic molecule into the body at the cellular level, which directs cells to produce proteins designed to stimulate an immune response to the virus.
While both mRNA vaccines and traditional vaccines have struggled to keep up with the onslaught of new strains of the Covid-19 virus, MRNA technology makes it easier for scientists to adjust the vaccine to adjust to any variants.
Covid vaccinations in China, by the numbers
83,150: Number of Covid-19 related deaths reported by the Chinese government after the end of "zero Covid" restrictions.
1 million: Minimum number of Covid-19-related deaths estimated by epidemiologists using various models after the end of "zero Covid" restrictions.
80%: Percentage of Chinese citizens who have had Covid-19 at any point, according to the Chinese government.
90%: Percentage of Chinese citizens who have received a Covid-19 vaccine, according to the Chinese government.
Related stories:
💉China's vaccine diplomacy has an aggressive anti-vax element
🇨🇳 China has finally backed down from its zero-covid policy 
🦠 China's zero-covid policies led to a near-record slowdown in economic growth