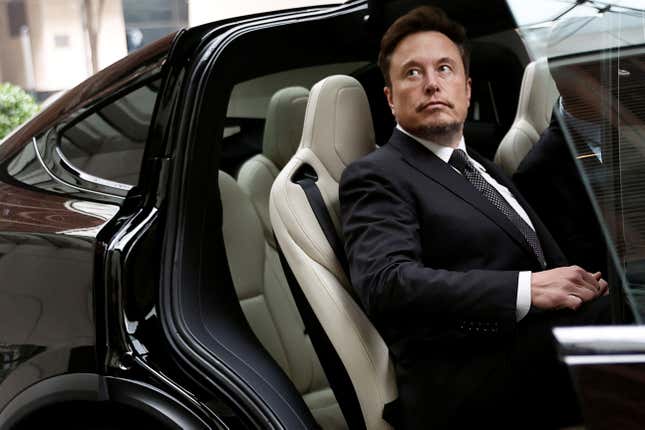 Western companies are increasingly cognizant—and wary—of the risks of doing business in China, especially after recent high-profile raids targeting foreign consultancies. At the same time, big multinationals are looking to shrink their production base in China and move manufacturing elsewhere.
What inspired Elon Musk's design for Tesla's Cybertruck?
Additionally, in the background, governments keep up a steady drumbeat of urging less reliance on China. Whether that's called de-risking or decoupling is merely a difference in semantics.
Enter Elon Musk, whose visit to China this week is being portrayed in local media as a vindication of Beijing's official message: China is open for business.
Elon Musk is China's "ideal foreign investor"
The Tesla founder's visit comes amid a recent influx of foreign CEOs into China. Jamie Dimon, the CEO of JP Morgan, is also in China this week, as is Starbucks' Laxman Narasimhan. Apple's Tim Cook and Pfizer's Albert Bourla visited in March, and GM's Mary Barra visited last week.
"Musk's visit to China is certainly no coincidence," notes Capital News (link in Chinese), a social media account owned by the state-run Beijing News.
"Such high-frequency visits have attracted global attention. The importance China attaches to foreign companies' investment and operations in China is evident," wrote Capital News, adding that the trips of Musk and others are "a severe slap in the face of some Western politicians."
Or, as Reuters puts it, for China, "Elon Musk is Beijing's ideal foreign investor."

Elon Musk and Jamie Dimon don't want to decouple the US from China

So ideal, in fact, that the Chinese government said Musk told officials in Beijing that he opposes the so-called "decoupling" of the US and Chinese economies. The term has been used by Western governments to rely less on China for their supply chains and manufacturing needs, particularly after the covid pandemic. But Musk purportedly described the US and Chinese economies as "conjoined twins."

Not that Musk isn't capable of telling a government exactly what it wants to hear, if it will serve his needs. Even as he has ramped up Tesla production and distribution in China, over the years, he has also made statements supportive of key Chinese government objectives. This includes his suggestion that Beijing be given partial control of Taiwan—which has governed itself as a country and held independent elections for decades, despite Beijing claiming the territory as its own.
Other executives are similarly lured by the massive Chinese market, even as they try to be clear-eyed about risks. In a speech at JP Morgan's conference in Shanghai today (May 31), Dimon called for "real engagement" between Washington and Beijing. He also added that he favors "de-risking" over decoupling.
Can Tesla help make the Chinese EV industry even stronger?
Foreign business sentiment aside, Tesla's continued presence in China is seen as a boon to the domestic electric vehicle industry.
After Musk met Qin Gang, China's foreign minister, a ministry statement said that Tesla is willing to expand his business in China. Not that Tesla has much choice: As a condition of its operating lease arrangement for its Gigafactory in Shanghai, Tesla is obligated to invest $2 billion in the city by the end of this year.
The financial news outlet Wall Street China (link in Chinese) observed that the Chinese auto industry eagerly awaits new ideas and solutions from "catfish Tesla." The term "catfish" refers to the effect in which a strong competitor spurs better performance among weaker players—especially "as the [domestic EV] industry's development enters a bottleneck phase, and involution continues." Involution, a Chinese buzzphrase, describes stagnation and lack of progress.
As much as Beijing needs Musk to bolster its open-for-business image, Tesla is in turn heavily reliant on China's production base and supply chains. A lot of money is at stake in this co-dependency. News of Musk's visit to China helped send Tesla's shares up over 4% on Tuesday (May 29).
"Musk's visit to China is worth 180 billion RMB," blared a headline in Phoenix News (link in Chinese), referring to the cool $25 billion increase in Tesla's market capitalization. Implicit in that headline is just how reliant Tesla's fortunes are on the continued goodwill of the Chinese government.