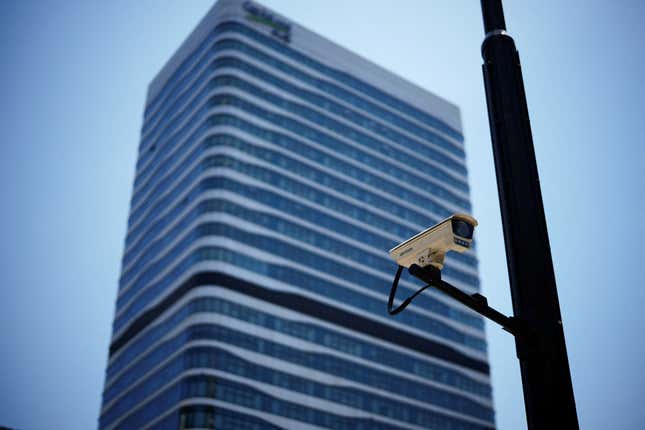 Chinese authorities have raided the offices of consulting firm Capvision as Beijing ramps up its anti-espionage campaign in the consulting sector.

On Monday (May 8), Chinese broadcaster Jiangsu Television reported (link in Chinese) that multiple Capvision offices, including in Shanghai, Beijing, Suzhou, and Shenzhen, were raided after authorities found it "ignored potential national security risks," and failed to "carry out its responsibilities and obligations to prevent espionage." The report did not indicate exactly when the raids occurred.
An unidentified police officer in the broadcast alleged that consulting firms like Capvision hire experts and pay them large salaries to illegally obtain "sensitive data" on China. Quartz has reached out to Capvision for comment regarding the allegations.
In a message posted to its WeChat account (link in Chinese) on Monday, Capvision stated it will resolutely abide by the country's national security policies, set the example of consulting industry standards, and continue to lead the sector's healthy development.
Capvision is the latest US-headquartered consulting firm in China to face scrutiny in recent months. In March, authorities raided Mintz Group's headquarters in Beijing, where five staff were detained. Authorities also visited the Shanghai offices of Bain & Company in April and questioned employees, according to the firm.
The anti-spy campaign's impact on foreign businesses in China
China's recent moves, which have rattled foreign firms in China, could stymy its efforts to spur overseas investment and jump start the economy after lifting its covid restrictions.
Beijing's tightening grip on foreign consulting also follows a two-year crackdown on its tech sector that wiped an estimated $1 trillion in market value. Amid China's increasingly hostile business atmosphere, many foreign companies have looked to diversify their supply chains and shift business abroad.
The launch of China's anti-spy campaign is likely to exacerbate that trend. Today (May 9), the Central Political and Legal Affairs Commission shared a report (link in Chinese) on WeChat that outlines Beijing's mounting concerns about foreign access to domestic data.
"Many overseas institutions with complex backgrounds have used domestic consulting companies and other industries to steal state secrets and intelligence in key areas of our country," the report states. Stolen military, economic, and financial data are cited as examples.
The report adds: "Some domestic consulting companies have weak awareness of national security, and often operate at the border of legality in order to gain economic benefits."
In April, China made changes to its anti-espionage law that could have a further chilling effect on foreign and global companies. The new law defined cyberattacks as an act of espionage, expanded valid reasons to arrest foreigners, and blocked foreign access to several key databases storing China's financial and economic data.
Related stories
🥶 China's freeze on foreign video games is thawing
🤑 Europe's first half-trillion-dollar company couldn't have made it without China
😐 Why global markets are unimpressed with China's economic rebound