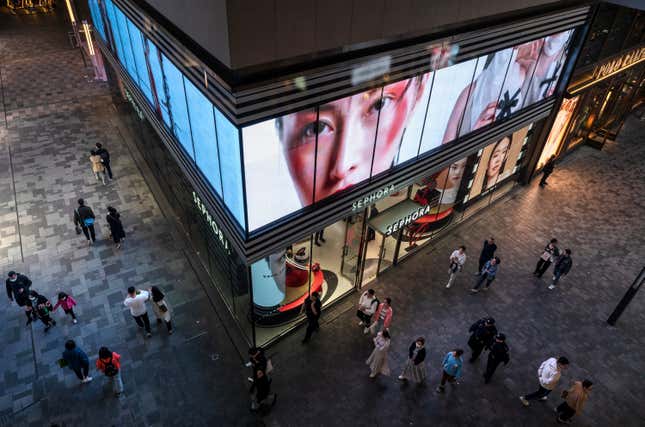 China reported that its economy expanded in the first quarter of this year, performing better than expected. But global markets had a largely muted response as the strength of the country's rebound remains uncertain.

Ben Emons Part 2: The Fed, Apple shares
The world's second-largest economy released an abundance of economic data on April 18 that shows it's on a path to recovery, fueled by a rise in consumer appetite, after scrapping its zero-covid policy in December.
China's GDP grew by 4.5% in the first quarter compared to the previous year, according to the National Bureau of Statistics (NBS), while March retail sales climbed 10.6% versus last year, beating expectations.
Not all numbers were positive, though. Youth unemployment rose for the third straight month, approaching nearly 20% for 16- to 24-year-olds. Industrial output last month grew by 3.9% compared to 2022, falling just short of forecasts, as did fixed-asset investment, which grew 5.1%. Property investment, meanwhile, shrank 5.8%.
The uneven results partly explain the restrained, if positive, reaction to China's growth in the first quarter. Analysts and traders are still waiting to see if its recovery will carry into the second half of 2023, given that first-quarter results may reflect pent-up demand following years of strict covid rules.
China's economic performance in 2022 set a low benchmark
Analysts have noted that low base effects—comparing present activity to depressed numbers from last year's covid lockdown—can explain some of the "eye-catching" figures in this data release.
"While the recovery is on track, I don't think economic growth from what we have seen so far is exceeding expectations too much," said David Chao, global market strategist at Invesco Asia Pacific, to Reuters.
On April 13, the NBS reported an unexpected 14.8% boom in Chinese exports during March, largely driven by the sale of electric cars, but analysts partly attributed that number to a backlog of orders due to pandemic restrictions.
Beijing set a target of 5% growth for 2023 and is on track to hit it, according to the recent numbers. However, concerns remain about whether the country's recovery will be comprehensive or sustainable, even with strong consumer demand.
Factors impacting confidence in China's economic recovery
🏢 China's property sector remains unstable. The industry, which accounts for about 25% of the country's GDP, has taken a steep downturn amid a liquidity crisis.
👔 Private sector confidence is low. The American Chamber of Commerce in China recently found that less than half of US firms ranked China as a top three country for investment, a first in the 25-year history of its business climate survey. Meanwhile, Beijing's yearslong crackdown on private industry and its leaders has only just shown signs of easing.
📈 High unemployment persists. About one in five Chinese youths is unemployed, according to recent data, a problem that could get worse when the next batch of university students graduate in June. An estimated record-high 11.6 million college grads will enter the job market this year.
🏭 Manufacturing demand is down. Chinese manufacturing Chinese manufacturing has slowed amid global recession fears and high inflation, hampering a key industry for economic recovery. Fewer trucks on China's roads also signal a slowdown in industrial activity, according to a Bloomberg report.
🇺🇸🇨🇳US-China trade tensions continue. "Friendshoring"—shifting supply chains to politically aligned countries—has increased amid geopolitical friction between the world's two largest economies. It could lead to a loss of 2% of global GDP, according to the International Monetary Fund.
Related stories
🤷 China's Baidu is shrugging off US chip export restrictions
📉 Beijing's population has fallen for the first time since 2003
👋 Alibaba is prepared to let go of some of the six businesses it's spinning off