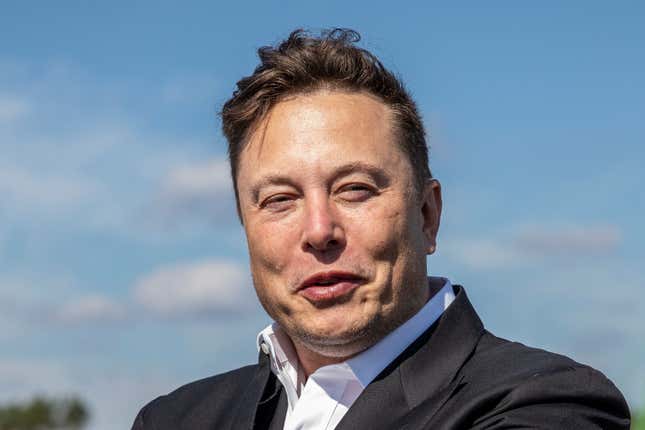 Elon Musk promised the world that he would make Twitter a place for unfettered "free speech." But, of course, he didn't didn't really mean that.

What inspired Elon Musk's design for Tesla's Cybertruck?
Since taking over Twitter in October 2022, a $44 billion deal he failed to get out of in court, Musk has complied with government takedown requests from authoritarian governments, banned journalists and critics for tracking his private jet, and—at times—blocked links to competitor websites.
But he's also removed any barriers to posting transphobic content on Twitter. In April, Twitter quietly edited its policy against "hateful conduct" that banned "misgendering"—intentionally referring to trans people by a gender they do not identify with—and "deadnaming"—using a name a trans person's no longer uses, often their birth name. Both are common forms of harassment against trans individuals. Musk himself often jokes about the use of personal pronouns on his Twitter account—a dig against the trans community.
But now, Musk is railing against a perceived injustice against the majority of people worldwide who do not identify as trans.
Musk responded to a tweet from a user claiming that, after he posted a tweet saying he rejects the term "cis," trans activists sent him messages calling him "cissy" and saying he's "cis" whether or not he likes it. Cisgender is a term for a person whose gender identity matches the one assigned to them at birth—an antonym for transgender. The tweet's author is, by all accounts, a cisgender man who has written derisively about trans issues for UK publications Spiked and The Spectator.
Musk responded, "Repeated, targeted harassment against any account will cause the harassing accounts to receive, at minimum, temporary suspensions. The words 'cis' or 'cisgender' are considered slurs on this platform."
Two executives recently resigned over an anti-trans blowup at Twitter
Twitter has not banned or suspended anyone for calling another user cis or cisgender, but Musk—who has been openly hostile to trans people for years—appears to be setting the table for such actions in the future. Just recently, two of his top executives on the trust and safety team, responsible for content moderation, resigned from Twitter after The Daily Wire, a right-wing website, alleged that Twitter suppressed its 95-minute anti-transgender documentary titled What Is A Woman?
"This was a mistake by many people at Twitter. It is definitely allowed," Musk tweeted, referring both to the video and to misgendering in general. "Whether or not you agree with using someone's preferred pronouns, not doing so is at most rude and certainly breaks no laws."
Musk has an adult daughter who identifies as trans. In a 2022 court filing petitioning to change her legal name, she wrote, "I no longer live with or wish to be related to my biological father in any way, shape or form." In a Financial Times interview, Musk blamed his strained relationship with his daughter on her "full-on communism" and resentment for the wealthy, rather than her gender identity.