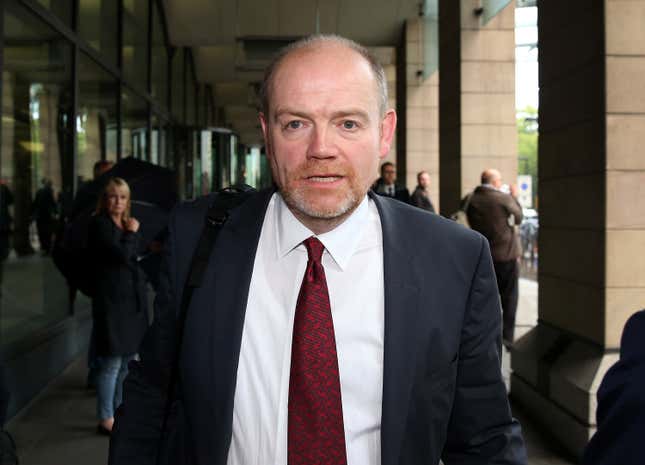 CNN's search for a new chief has come to a close. The network officially named Mark Thompson as its new CEO and chairman on Aug. 30, confirming a report first published by Puck news website on Aug. 29. The appointment ends a tumultuous leadership period at the network, which started with the departure of CEO Jeff Zucker in February 2022 for failing to disclose a consensual relationship with a colleague.

Should you keep investing in Big Tech?
Former CBS executive and producer Chris Licht was then tapped to helm the network. Licht's leadership was marked by layoffs, ratings falling off a cliff, and an ill-advised town hall featuring former president and current presidential hopeful Donald Trump. These moves earned Licht an unsparing write-up in The Atlantic that would ultimately become the epitaph of his 13-month tenure.
David Zaslav, the CEO of CNN's parent company Warner Bros. Discovery (WBD), handed Licht the pink slip in early June, and selected a quadrumvirate to fill the gap. The interim leadership team consisted of three CNN executives—Amy Entelis, Virginia Moseley, and Eric Sherling—as well as Zaslav's WBD buddy David Leavy.
Earlier this week, Semafor reported that James Harding, another BBC alum, was also in the running for CNN chief. But, according to Puck, Zaslav had his eyes set on Thompson. The British media veteran is seen as a safe pair of hands. He was previously chief of the New York Times and director-general of the BBC, boasting a track record of leading news giants into the digital age.
It's a mission Thompson is likely to be tasked with when coming aboard CNN. Amid declining numbers of cable TV subscriptions, the network is now seeking to pivot to livestreaming—and will launch a new CNN channel in that effort, according to an Axios scoop dated Aug. 24.
A timeline of Warner Bros. Discovery's leadership reshuffle
Feb. 2, 2022: Jeff Zucker, CEO of nine years at CNN, announces he is stepping down after failing to disclose a consensual relationship with a colleague at the network.
Feb. 2, 2022: WarnerMedia CEO Jason Kilar names three CNN executives—Michael Bass, Amy Entelis, and Ken Jautz—as interim leaders.
Feb. 26, 2022: Chris Licht, following a successful run as executive producer of CBS's The Late Show With Stephen Colbert, is reported to be the next CEO and is set to take the lead after an April 8 merger between WarnerMedia and Discovery.
May 2, 2022: Licht begins his post as CNN chief under the newly formed Warner Bros. Discovery.
June 7, 2023: Licht is out.
June 7, 2023: CNN senior exec trio Amy Entelis, Virginia Moseley, and Eric Sherling are named interim leaders, with David Leavy as COO.
That is "Sir" Mark Thompson
Thompson's media career extends over four decades. He joined the BBC in 1979 as a production trainee, working his way up to director of television in 2000. He left briefly to become head of Channel 4 in 2002, before returning to the BBC as director-general in 2004. Thompson then moved to the New York Times as president and CEO in 2012, before stepping down in 2020. Thompson was knighted on June 17, as part of King Charles's Birthday Honours, for "services to media."
One more thing: CNN Max is seeking to succeed where CNN+ failed
The next CEO of CNN will likely work on buffing up its streaming presence, especially since the network's previous attempt, CNN+, flopped spectacularly. CNN poured $300 million into the subscription streaming service, only for it to be canceled just three weeks after launching last April. The numbers were the writing on the wall: executives aimed to gain 2 million CNN+ subscribers within a year, but after garnering only 10,000 daily viewers, they cut the cord.
Now the network is taking another stab at a livestreaming product—dubbed CNN Max—that targets the existing streaming audience on Warner Bros.-owned platform Max. CNN announced on Aug. 24 that the 24-hour live news service will launch Sept. 27 in the US.
Related stories
⚔️ HBOMax is becoming Max, as Warner Bros. gets aggressive in the streaming wars
🛡️ Warner Bros. Discovery is killing streaming-only DC films to "protect the brand"
This story has been updated to reflect confirmation that Thompson is the new CNN CEO.