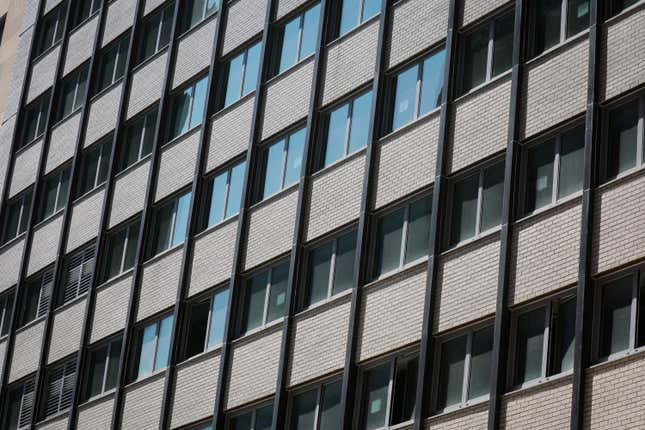 Having the option to work flexibly—whether that's remotely, or on a hybrid schedule that mixes in-person and at-home time—has done a lot for employees. In the US, people who can work where they want say they're more productive (pdf), more independent, and more content with their jobs. Less happy, though, are commercial office owners—and the companies currently leasing their spaces—who are sitting on empty buildings.

3 ways to negotiate your return to the office
This week, a new report from the McKinsey Global Institute looks at how remote and hybrid work are changing real estate in the world's biggest urban centers. Their estimate: In nine global cities, remote work is poised to wipe out up to $800 billion of office value by 2030. And that's just the moderate projection.
McKinsey's report focuses on nine "superstar" cities—Beijing, Houston, London, New York City, Paris, Munich, San Francisco, Shanghai, and Tokyo—with a high share of the world's urban GDP and GDP growth. Among its conclusions: Hybrid work is here for good, and investors need to adjust accordingly, lest they risk bigger losses for cities themselves.

Offices around the world are still pretty empty

It's well-documented that the pandemic unleashed tidal shifts of newly-remote workers who packed up and moved. Released from their commutes, they left cities, often for the suburbs, and urban populations fell as fewer households moved in. In New York City, for example, the number of remote workers leaving the metro area more than quadrupled from pre-pandemic rates. In San Francisco, the number increased fivefold. Now the report puts a number to residential losses overall: From mid-2020 to mid-2022, New York City lost 5% of its urban core population, and San Francisco lost 6%.

Although employers are attempting to call remaining workers back into the office, remote and hybrid work has staying power. Today, urban office attendance is still down by 30% from pre-pandemic levels, although numbers vary by city, industry, and neighborhood. For example, workers come into the office about 3.1 days in London per week, while it's about 3.9 days in Beijing.
How remote work is remaking city buildings
All in all, that isn't good news for global office use, or for the retail or restaurant businesses around them. In the US, commercial real estate company Cushman & Wakefield estimates there will be more than 1.1 billion sq ft of office space sitting empty by the end of the decade. And among the nine cities it studies, McKinsey predicts a 26% drop in office property values from 2019 to 2030, which is in the ballpark of $800 billion when adjusted for inflation. Again, that's just a moderate read: In a severe scenario, the consulting company says the plunge could actually be as steep as 42%.
It's tempting to pull out a tiny violin for the real estate titans watching their profits shrink. But the financial shake-up, the report adds, threatens the economies of cities more broadly. Empty cities will struggle to combat housing crises, care for its most vulnerable people, or build sustainable public transport systems. (One frequently floated solution is office-to-residence conversions, with some major projects already underway. But as critics point out, these developments are typically luxury buildings for the elite, and don't meaningfully address housing needs for everyone else.)
"Real estate in the world's superstar cities has not kept up with shifts in behavior caused by the pandemic," the report writes. What cities need, it suggests, are buildings that serve multiple purposes, mixed-use neighborhoods, and flexible spaces that match flexible work. "The cities' vibrancy is at risk," it adds, "and they will have to adapt."