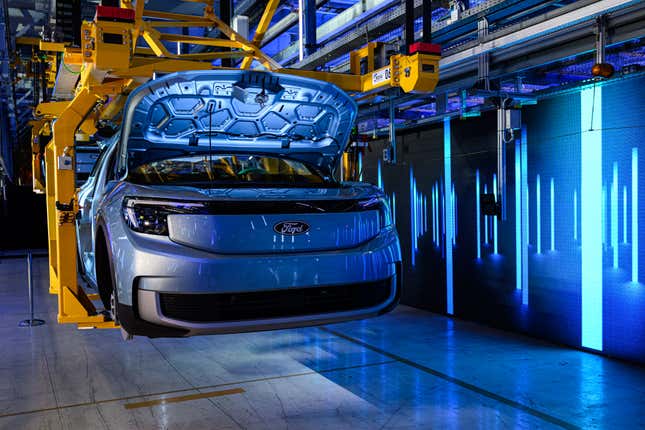 Two separate congressional committees announced investigations into Ford's new EV partnership with Chinese battery company CATL on Friday (July 21), airing concerns that a new manufacturing plant in Michigan could avoid restrictions on Chinese-made EV components.
Why a tightening of credit conditions could lead to a weak economy
In a letter to Ford, congressional representatives Mike Gallagher and Jason Smith—chairs of the Select Committee on China and the Committee on Ways and Means, respectively—questioned the terms of the deal between the companies, which would mean the use of Chinese technology and services to manufacture EVs in the United States.
Gallagher and Smith outlined a number of concerns about the deal, primarily that by importing Chinese technology, the batteries would still qualify for the full federal EV tax credit without using US resources. As part of last year's Inflation Reduction Act, the EV tax credit was revised to penalize car models with components sourced from outside the US and its trading partners.
A press representative for Ford declined to comment on the letter in an email to Quartz, but confirmed they had received it and would respond soon.

Gallagher and Smith also accused Ford of giving a number of the new jobs created by the plant to Chinese nationals, who will work on behalf of CATL to implement and oversee the technology.
"Rather than developing American technology, we are concerned that the deal could simply facilitate the partial onshoring of [China's]-controlled battery technology, raw materials, and employees while collecting tax credits and flowing funds back to CATL through the licensing agreement," the letter said.

Additionally, the lawmakers sharply criticized CATL's connection to companies in the Xinjiang region, accusing CATL of shielding its ownership in companies tied to forced labor practices.
This is not the first criticism of the new Ford plant in Michigan. Earlier this year, Florida senator Marco Rubio introduced legislation— calling out Ford directly—that would ban any tax credits for batteries made using Chinese technology, even if they were manufactured in the US.
Editorial note (7/24, 10am): Story updated after receiving a comment request response from Ford.
Related stories:
🇺🇸The US is reducing tax credits for foreign-made EV models

🔌 BYD profit surged by 400% last year as the electric vehicle market keeps going in China

🚗 Tesla is the latest American manufacturer to invest in Mexico