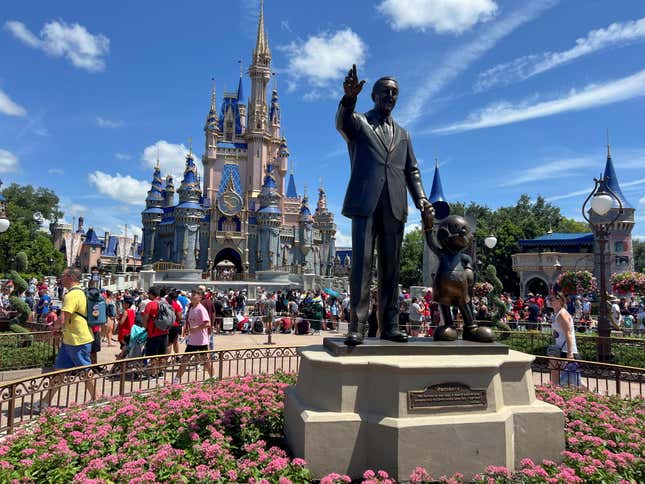 A fresh battlefront has opened in the ongoing war between governor Ron DeSantis-appointed Florida tourism board and multibillion-dollar behemoth Disney. The new point of contention: season passes offered to district workers.

Why a tightening of credit conditions could lead to a weak economy
The Central Florida Tourism Oversight District (CFTOD), formerly the Reedy Creek Improvement District (RCID) before its political takeover in February, announced that it submitted a referral to the state's inspector general yesterday (Aug. 21) claiming it discovered a "scheme" in which Disney granted millions of dollars in "unethical benefits and perks" to district employees and board members.
The board claimed that employees and their families received discounts on tickets, hotels, food, and merchandise that cost taxpayers $2.5 million in 2022. A link to what appears to be a Walt Disney invoice dating from October to December 2021 was included in the release, showing over $533,000 in RCID expenses. The district said it plans to end the benefits, except for those employees who work on Disney grounds.
"The scheme raises significant questions regarding self-dealing as the board members were only permitted a maximum of $100 per month in pay per the Reedy Creek Improvement District Act," the statement reads.
Quartz contacted Disney for comment.
The move is the latest jab in the faceoff between DeSantis and Disney, which dates back to former CEO Bob Chapek's public opposition to the governor's so-called "Don't Say Gay" bill. Since then, the governor and the company have engaged in a tit-for-tat feud over control of the land where Disney sits, and gotten embroiled in two lawsuits. In the latest legal action, Disney filed a countersuit against DeSantis's handpicked CFTOD on Aug. 17, alleging breach of contract.
Disney has highlighted the "world of difference" it has made for Florida's economy
Earlier this year, Disney published an update on its website showcasing its economic contributions to the Sunshine State after DeSantis accused the company of not paying its "fair share" of taxes.
The Mouse House disclosed that it paid a lion's share of state and local taxes in 2022, totaling $1.146 billion, and called itself the "largest single taxpayer in Central Florida." There are around 400 employees within the jurisdiction overseen by the CFTOD, according to the Orlando Sentinel, where Disney contributes to around 86% of property tax revenue.
Disney district administrator Glen Gilzean is at the center of another ethical dispute
DeSantis appointed Glen Gilzean—a defender of Florida's widely-criticized curriculum on Black history—as administrator of the Orlando-area Disney district in May. DeSantis also appointed Gilzean chair of the Florida Commission of Ethics in 2019, and reappointed him last year for a term that ends in June 2024.
Holding both jobs has turned out not only to be a conflict of interest, but also illegal. According to a memo (pdf) published by the commission's legal counsel on Aug. 17, state law forbids public employees from sitting on the board. Gilzean will have to choose between the two. Given the $400,000 salary he makes in the Disney district role, it may not prove a difficult choice.
Related stories
🪄 How did Disney get its own special district in Florida?
🗣️ Disney sues Ron DeSantis on First Amendment grounds
🫳 The Florida board handpicked by DeSantis called its predecessor a "puppet government" in a lawsuit against Disney