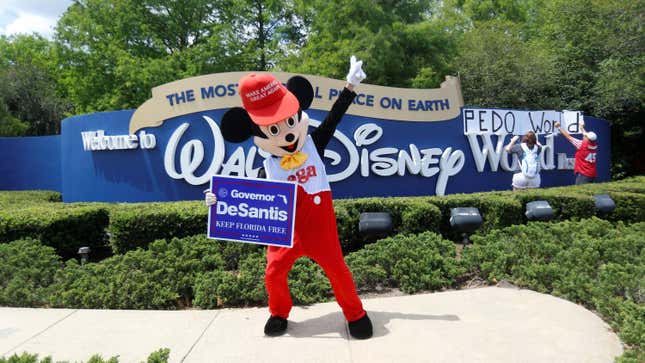 The Reporters Committee for Freedom of the Press (RCFP) is worried that if Ron DeSantis wins Disney's free speech lawsuit against him, it could embolden other governments across the US to take actions against journalists and other media when they exercise their First Amendment rights.

Why the Apple developer conference could signal a Disney stock buying opportunity
In a friend-of-the-court amicus brief filed Friday (July 28), RCFP urged the court toss out the defendants' motion to dismiss the case and unequivocally side with Disney for two reasons: firstly, because the First Amendment explicitly prohibit governments from retaliating against a speaker, as DeSantis and other Florida leaders did against Disney. And secondly, because "Disney has established a prima facie case of retaliation against their protected speech" and the state "has admitted as much."
In April, the Walt Disney Company sued the Republican presidential hopeful and his political allies for discriminating against the company (pdf) and stripping it off its decades-old special status for exercising its constitutionally protected right to free speech in opposing the so-called Don't Say Gay bill. RCFP, in its court filing, cites examples of several Republican lawmakers—DeSantis, his press secretary Christina Pushaw, house reps Spencer Roach and Randy Fine, and senator Joe Gruters—specifically targeting Disney and claiming that the global media company would pay a price for its "woke" ways.
The Washington, DC-based non-profit stepped in to warn of broader implications of leaving the DeSantis brigade's actions unchecked. The 53-year-old advocacy group thinks journalists and news organizations would be "first in the line of fire given the nature of reporting and the press's role in our constitutional system" if DeSantis and his aides, who've sought legislative immunity from the lawsuits, prevail in this case.
Quotable: Chilling effect on media
"[T]he type of retaliatory action alleged here—an attempt to hit a perceived critic in the pocketbook—is particularly dangerous for journalists and news organizations. Without a check on state action of this kind, they will face the untenable, and unconstitutional, risk that watchdog journalism and coverage of public issues will lead to government actions of all kinds designed to punish and deter such reporting, all to the detriment to the free flow of information on matters of public concern that has long been the hallmark of our democratic system of government." —Reporters Committee for Freedom of the Press' July 28 friend-of-the-court amicus brief
A brief timeline of Disney vs DeSantis
March 28, 2022: DeSantis signs a bill prohibiting discussions of gender identity and sexual orientation in classrooms from kindergarten through third grade, which is dubbed Don't Say Gay by critics. Former Disney CEO Bob Chapek criticizes the law after receiving backlash for staying silent
April 28, 2022: The Florida legislature votes to remove Disney's special tax district by July 1, 2023.
Feb. 8, 2023: The outgoing Disney-controlled board, the Reedy Creek Improvement District, quietly approves a long-term development agreement that lets Disney retain maximum developmental power, leaving just the maintenance of the roads and basic infrastructure to DeSantis's new board. Meanwhile, the Florida House votes to put the governor in charge of Disney's special district.
February 10, 2023: The Florida legislature votes to put DeSantis in charge of Disney's special tax district.
February 27, 2023: DeSantis signs legislation removing Disney's control over its special tax district.
Mar. 29: The new board seeks legal representation after realizing Disney has quietly retained control of most developmental processes.
April 3, 2023: DeSantis directs state officials to conduct an investigation into the agreement, apparently signed without the state government's knowledge.
April 26, 2023: Disney files a lawsuit against DeSantis, accusing the governor of waging a "relentless campaign to weaponize government power" over the company.
May 1: The Central Florida Tourism Oversight District votes to countersue in the morning, and files the lawsuit in circuit court in Orange County by afternoon.
May 17, 2023: DeSantis signs a series of extensions to the "Don't Say Gay" bill, including expanding the policy for students though the eighth grade, escalating the conflict.
May 19, 2023: Disney scraps plans to build a new campus in central Florida that would've created 2,000-odd jobs
Related stories
🗣️ Disney sues Ron DeSantis on First Amendment grounds
🚧 Disney canceled plans for a billion-dollar project in Florida following feud with governor Ron DeSantis
👮🏽‍♀️ DeSantis is threatening to build a state prison next to Walt Disney World