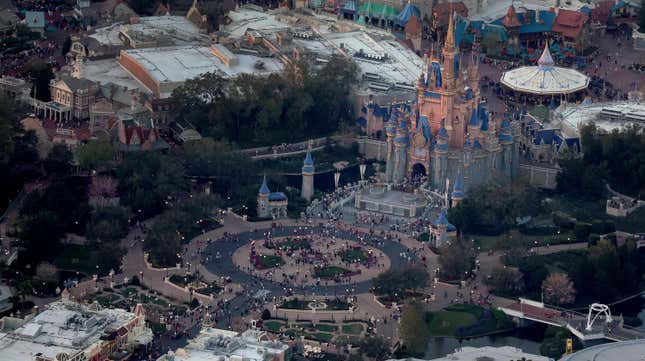 The Florida board handpicked by governor Ron DeSantis to exert control over Disney's district has countersued the company in the latest escalation of a feud originating from a dispute over LGBTQ rights.

Why the Apple developer conference could signal a Disney stock buying opportunity
The lawsuit filed in a Florida court by the Central Florida Tourism Oversight District (CFTOD) on May 1 alleged that its predecessor, the Reedy Creek Improvement District, failed to give proper public notice ahead of approving a development agreement that lets Disney stay in the driver's seat for years to come.
The move comes mere days after Disney sued the governor and his recently formed oversight board, alleging hostile retaliation for the company's stance on a controversial bill that limits conversations about gender and sexuality in schools, dubbed "Don't Say Gay" by its critics.
Quotable: DeSantis' board wants to undo Disney's deal with its "puppet government"
"In an effort to stymie Florida's elected representatives, Disney covertly cobbled together a series of eleventh- hour deals with its soon-to-be-replaced puppet government. [...] But perhaps out of haste or arrogance, Disney's deals violate basic principles of Florida constitutional, statutory, and common law. As a result, they are null and void—not even worth the paper they were printed on." —Central Florida Tourism Oversight District board's lawsuit against Disney
Central Florida Tourism Oversight District's lawsuit against Disney, by the digits
188: Pages in the Central Florida Tourism Oversight District's complaint, where it seeks to render Disney's eleventh-hour development agreement with the Reedy Creek Improvement District as unenforceable, null, and void. They're also trying to erase the royal clause from the agreement, which effectively makes it last in perpetuity.
55: Years Disney has been in charge of levying taxes, administering its own police and fire departments, and running its water and sewage systems, among other things. The arrangement has been in place since 1967, when the Florida legislature created the Reedy Creek Improvement district.
27,000 acres: Land that came under the Disney-affiliated board's purview for all these decades.
70,000+: Jobs Disney creates in Florida, which former the home state of South Carolina governor Nikki Haley, who is also a contender for the Republican presidential nomination, "will happily accept" if Disney wants to leave Florida, according to Haley's April 26 tweet. "SC's not woke, but we're not sanctimonious about it either," she added.
$1.146 billion: How much Disney World paid in state and local taxes in 2022, as Central Florida's "largest single taxpayer."
$17 billion: How much Disney plans to invest in Walt Disney World over the next decade.
Person of interest: Possible Republican presidential contender Ron DeSantis
Picking a fight with Disney, a massive source of economic growth and job creation in the state, is not a good look for DeSantis. The Republican who is rumored to declare his presidency run any day now is facing criticism for his own party over it.
Former president Donald Trump—who still remains a favorite presidential candidate even as he faces criminal charges over a hush money case—labeled the feud a "political stunt."
Trump isn't the only critic. Former New Jersey governor Chris Christie of New Jersey, at a recent event hosted by news outlet Semafor, said that DeSantis's actions towards Disney went against conservative ideology. "Where are we headed here now that, if you express disagreement in this country, the government is now going to punish you? To me, that's what I always thought liberals did, and now all of a sudden here we are participating in this with a Republican governor," he said.
A brief timeline of the tussle between Disney and DeSantis's board
Mar. 2022: Florida passes the so-called "Don't Say Gay" bill, which then-Disney CEO Bob Chapek condemns after facing backlash for his silence on the matter.
Apr. 2022: Florida legislation passes a bill that would dissolve Disney's special tax district by June 1, 2023, if DeSantis signs it into law. The idea is shelved because it would burden local governments in central Florida with more than $1 billion in bond debt.
Feb. 8, 2023: The outgoing Disney-controlled board, the Reedy Creek Improvement District, approves a long-term development agreement that lets Disney retain maximum developmental power. It will leave just the maintenance of the roads and basic infrastructure to DeSantis's new board.
Also Feb. 8: The Florida House votes to put the governor in charge of Disney's special district.
Feb. 27: DeSantis replaces Disney-allied board members with five Republicans he handpicked on Feb. 27.
Mar. 29: The new board seeks legal representation after realizing Disney has quietly retained control of most developmental processes.
Apr. 3: In a letter to Florida's chief inspector general Melina Miguel, DeSantis accuses the Reedy Creek Improvement District board of "collusive and self-dealing arrangements," asking Miguel to kickstart a "thorough review and investigation" into the development agreement reached earlier this year by the outgoing Disney board.
Apr. 26: Disney sues DeSantis, board chair Martin Garcia and other board members, acting secretary of the Florida Department of Economic Opportunity Meredith Ivey, and the district's administrator. The entertainment giant said it "regrets that it has come to this, but having exhausted efforts to seek a resolution, the company is left with no choice but to file this lawsuit to protect its cast members, guests, and local development partners from a relentless campaign to weaponize government power against Disney in retaliation for expressing a political viewpoint unpopular with certain State officials."
May 1: The Central Florida Tourism Oversight District votes to countersue in the morning, and files the lawsuit in circuit court in Orange County by afternoon.
Related stories
🗣️ Disney sues Ron DeSantis on First Amendment grounds
🎢 Disney's feud with Florida's Ron DeSantis keeps escalating