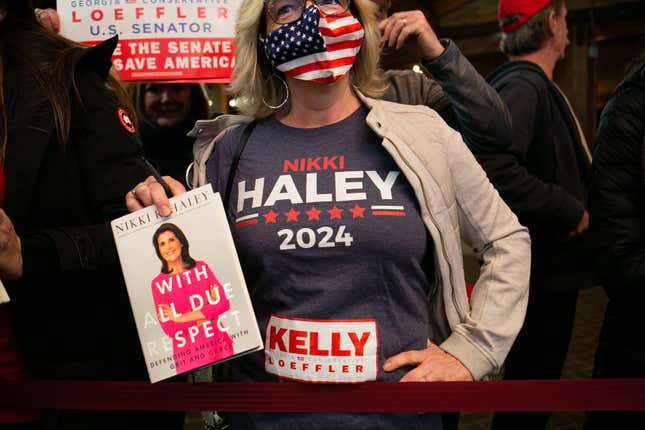 Nikki Haley has thrown the proverbial hat in the presidential ring.

The former South Carolina Republican governor announced Tuesday (Feb. 14) in a video that she will run for president in 2024. Haley, a former US ambassador to the UN, is the first challenger taking on former president Donald Trump in the Republican presidential primary.
Should you keep investing in Big Tech?
Haley is scheduled to deliver remarks Wednesday (Feb. 15) in Charleston at a campaign launch event. The 51-year-old teased a "big announcement" on Twitter days ago. And she's been busy putting together he campaign teams.
It's a good time for Haley to fundraise from donors like the Koch Group, who are actively gunning to keep Donald Trump away from winning his comeback bid. An early presidential bid could earn her a head start before others possible challengers like South Carolina senator Tim Scott or Florida governor Ron DeSantis mount their own presidential campaigns.
Nikki Haley on her 2024 presidential run
"You should know this about me: I don't put up with bullies. And when you kick back, it hurts them more if you're wearing heels" —Nikki Haley in her announcement video
A brief history of Nikki Haley's political career
Nov. 2004: Haley wins a seat in the South Carolina House of Representatives representing District 87 in Lexington County. She's the first Indian-American woman to hold office in the state. She secures reelection in 2006 and 2008.
Nov. 2010: Haley is elected South Carolina governor. She wins a second term in 2014.
Jan. 2017: Haley is sworn in as US Ambassador to the United Nations, appointed by president Donald Trump. She stayed in the role until the end of 2018.
Feb. 2019: Boeing nominates Haley to its board of directors, a position she resigned in 2020 after opposing the company's plan to seek government aid to stay afloat during the pandemic
Charted: The Republican primary electorate's views
The perils of running for president as a woman
In the history of US politics, a few dozen women have run for president, either nominated by small parties or seeking nomination by a major party—the latter is a feat only ever achieved by Hillary Clinton for the Democratic Party in 2016. Haley has said Clinton, who won the election for New York senator in 2000 while still serving as first lady, is the reason she decided to seek political office.
Sexist vitriol directed at women running for office is well documented, particularly in presidential campaigns. As a woman of colour, Haley is statistically more likely to be the target of online abuse and disinformation.
Haley is also up against Trump, an enabler of anti-immigrant and sexist commentary, who is likely to remind her she once said she wouldn't run against him in 2024. Former Trump campaign adviser and right-wing TV commentator Steve Cortes already branded Haley a "political weather vane" who is not to be trusted: "Haley gushes over Trump, then betrays him, then gushes again, and then … betrays again. She's the worst kind of political snake."
The Indian-American vote
Haley, whose full name is Nimrata "Nikki" Randhawa Haley, described herself as the "proud daughter of Indian immigrants" in her campaign announcement.
As such, she represents a big cohort of Americans: At 2.7 million strong, Indians are the second largest US immigrant group, after Mexicans and ahead of the Chinese and Filipinos. They make up 6% of the total foreign-born population, and their numbers continue to grow.
Nikki Haley's political views in a snapshot
Related stories
⏪ As UN ambassador, Nikki Haley hugged refugees, then turned her back
🤝 Nikki Haley can thank Hillary Clinton for her career as a "key player" in US politics
🇺🇳 The unbearable lightness of being Donald Trump's UN ambassador