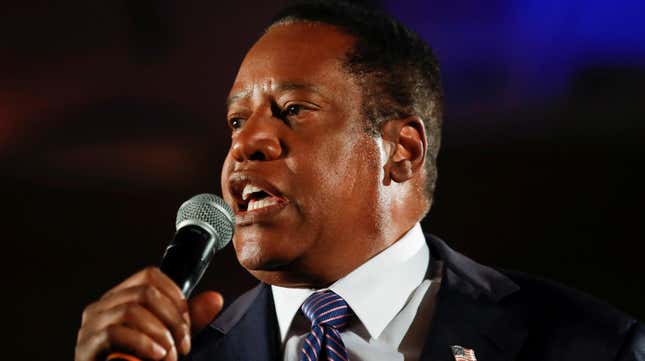 Conservative radio talk show host Larry Elder has entered the 2024 presidential stage from the Republican party.

Paulina Porizkova on being an Estee Lauder model
The 70-year-old made the announcement on Fox News show Tucker Carlson Tonight yesterday (Apr. 20). Elder said that he has a "moral, religious, and a patriotic duty" to run for president, citing his family's history serving in the armed forces—something the lawyer never did.
His prospects don't appear so bright. Elder, a Black man, has over the years made disparaging comments about minorities including women and his own Black community. He also faces stiff competition in the Republican race, where contenders like ex-president Donald Trump and ex-governor Nikki Haley have already thrown their hats in the ring, and other well known figures like Florida governor Ron DeSantis and former vice president Mike Pence are expected to follow.
Quotable: Why Larry Elder is running
"America is in decline, but this decline is not inevitable. It is a choice made by detached and cynical politicians. As a California resident, I've seen firsthand how decades of Democrat rule have turned the Golden State, for many, into an unaffordable dystopia. I won't let them do the same to America. We can enter a new American Golden Age, but we must choose a leader who can bring us there. That's why I'm running for President."—Larry Elder on his campaign website
A brief timeline of Larry Elder's political endeavors
August-September 2021: Elder is the frontrunner in a bid to unseat California governor Gavin Newsom during a special recall vote. The vote was called because Newsom was blamed for covid-19 mismanagement, as well as for rising rates of homicide, homelessness and other quality-of-life issues in the Golden State. The majority of Californians end up rejecting the recall.
January 2022: Elder announces he will not run against California governor Gavin Newsom next year.
April 2022: Elder leaves his long-running radio show, The Larry Elder Show, which got its start at a Los Angeles radio station back in 1993. He also launches a political action committee in an effort to support Republican candidates in federal and local races.
April 2023: Elder announces his presidential bid.
What we know about Larry Elder's political views
🔫 Elder is anti-gun control. (And he's been accused of wielding one at his former wife—an accusation he denies.)
💸 The Brown University and University of Michigan law school graduate believes the ideal minimum wage is $0.
👩 He has a history of sexist comments. Rejecting gender pay gap as a myth, "What glass ceiling?," he questioned in a 1996 ad for his radio show. In 1997, he shared an article comparing single mothers on welfare to stray cats and, separately, expanded the acronym PMS—premenstrual syndrome—to "Punish My Spouse (or Significant Other)." In a 2000 column, he wrote, "Women know less than men about political issues, economics, and current events." In his books, he criticizes working moms. More recently, in 2017, he suggested that a group of women protesting Trump were "safe" from sexual assault because they were unattractive.
🤰🏻Elder is vehemently against abortion—which he calls "murder"—and has made several promises to anti-abortion activities, including cutting all abortion funding, vetoing any legislation that expands rights or access to abortion, appointing anti-abortion judges and regulators, and dropping the charges against the people behind the fake company that secretly recorded Planned Parenthood employees.
🚫 A climate change skeptic, he's labeled global warming "crock" and "myth"
🏥 Elder didn't think young people needed the Covid-19 vaccines. (Science says they did.)
✊🏿 He says absent fathers are to blame for the problems in Black communities—not systemic racism.
🤑 Elder has argued slave owners could be owed reparations in the aftermath of the US Civil War because slavery was legal then and their "property" was taken.
👮‍♂️ He doesn't really think America has a police brutality problem, according to his opinion pieces.
🗳️ The avid Trump supporter called foul on the 2020 election results and said he feared the same with the California recall vote.
Republican candidates running for president in 2024 so far
Person of interest: Joe Biden
President Joe Biden has made it clear that he wants to run for re-election in every way—except officially announcing his nomination. But that could be coming as soon as next week, according to a report in the Associated Press. The oldest person to run for office—once again—is widely expected to win Democrats' backing. The competition—featuring political scion Robert F. Kennedy Jr and self-help guru Marianne Williamson so far—isn't so stiff.
Related stories
🐎 A fourth member of the Kennedy family is running for US president
👨‍⚖️ What's next for Donald Trump after his indictment?
🙃 Biotech entrepreneur Vivek Ramaswamy launched his 2024 GOP presidential bid with an "anti-woke" pitch