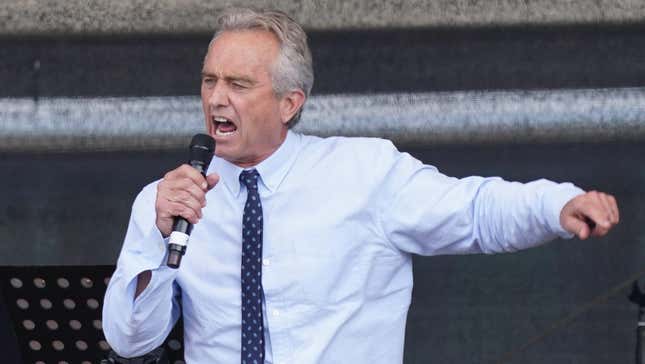 Robert F. Kennedy Jr, the son of assassinated former US attorney general and senator Robert F. (Bobby) Kennedy and nephew of slain president John F. Kennedy, intends to run for the White House in 2024 as a Democrat.

Paulina Porizkova on being an Estee Lauder model
The 69-year-old scion of one of America's most famous political families filed a statement of candidacy with the Federal Election Commission Wednesday (April 5). After John's assassination, his two brothers Bobby and Ted also ran for the White House in 1968 and 1980 respectively. Kennedy Jr becomes the forth member of his family to seek a presidential nomination, but unlike his other relatives, he does not have experience in holding public office.
A successful environmental lawyer, Kennedy has emerged in the past 15 years as a leading voice in the anti-vaccine movement, spreading conspiracy theories about their effects on children.
Quotable: RFK Jr.'s political platform
"If I run, my top priority will be to end the corrupt merger between state and corporate power that has ruined our economy, shattered the middle class, polluted our landscapes and waters, poisoned our children, and robbed us of our values and freedoms. Together we can restore America's democracy." —RFK Jr.'s tweet on Mar. 11, 2023
A non-exhaustive timeline of RFK Jr's anti-vaccine advocacy
May 2019: Three members of RFK Jr.'s family—sister Kathleen Kennedy Townsend, brother Joseph P. Kennedy II, and niece Maeve Kennedy McKean—denounce his anti-vaccine views in a Politico Magazine op-ed, arguing that "he is part of a misinformation campaign that's having heartbreaking—and deadly—consequences."
February 2021: Instagram takes down RFK Jr's account for repeatedly sharing debunked claims about covid-19 in violation of its policies on the pandemic.
January 2022: RFK Jr invoked Nazi Germany in an anti-vaccine speech at the Lincoln Memorial in Washington, DC. (He later apologizes for the anti-semitic incident, but continues to make comments in the same vein.)
August 2022: Children's Health Defense, the anti-vaccine group chaired by RFK Jr. that posts articles opposing covid vaccine mandates and questioning the health experts, is "deplatformed" on Facebook and Instagram. The social networks' parent company Meta said the company does not allow "false information about covid-19 that could contribute to physical harm."
Will Joe Biden run for president in 2024?
US president Joe Biden has stopped short of announcing he's running for re-election, but word is that it will happen. He's likely waiting for the spotlight to be off Trump's indictment and for his low approval ratings to pick up.
Apart from Kennedy Jr, self-help guru Marianne Williamson is the only other contender in the primary race to pick the next Democratic candidate. Both seem like long shots because the Democratic National Committee (DNC) is steadfastly backing Biden. Last August, when asked by Politico about how they might deal with a primary challenge, DNC executive director Sam Cornale said, "We're with Biden. Period."

A list of Republican presidential contenders in the 2024 race
Former president Donald Trump
Biotech entrepreneur Vivek Ramaswamy
Former UN ambassador Nikki Haley
Former Arkansas governor Asa Hutchinson 
Likely contenders who're still waiting in the wings: Florida governor Ron DeSantis and former vice president Mike Pence.
Related stories
👨‍⚖️ What's next for Donald Trump after his indictment?
🗳️ Nikki Haley is the first Republican candidate to challenge Trump's 2024 presidential bid
🙃 Biotech entrepreneur Vivek Ramaswamy launched his 2024 GOP presidential bid with an "anti-woke" pitch