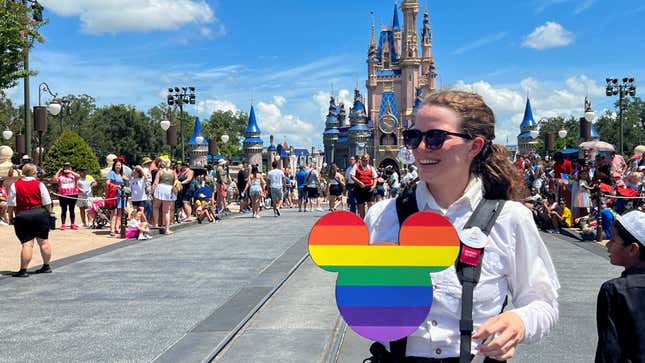 When Florida governor Ron DeSantis' newly-elected board took control of Disney's special tax district, they were in for a rude awakening: The Mouse House had only surrendered control of roads and basic infrastructure maintenance, and nothing else.

Eric Beiley Part II: Where rates are heading
The board then mounted a legal challenge against Disney's agreement, and yesterday (Apr. 3), DeSantis ordered a state investigation into the previous Disney-controlled board. At Disney's annual shareholder meeting the same day, CEO Bob Iger criticized the state's repeated attacks on the entertainment giant.
"Any action that thwarts those efforts simply to retaliate for a position the company took sounds not just anti-business, but it sounds anti-Florida," Iger told shareholders.
The "position" Disney took was opposing Florida's so-called "Don't Say Gay" law, which curbs classroom discussions on sexual orientation and gender identity in public schools before fourth grade. Iger admitted that Disney, which at first appeared reluctant to criticize the law, could have handled its response better, but defended the company's constitutional right to take a stand.
Quotable: Florida won't let Disney "operate outside the bounds of Florida law"
"While a company has First Amendment rights, it does not have the right to run its own government and operate outside the bounds of Florida law. The Florida Legislature and Gov. DeSantis worked to put Disney on an even playing field, and Disney got caught attempting to undermine Florida's duly-enacted legislation in the 11th hour." —DeSantis spokeswoman Taryn Fenske in response to Iger's comments.
A brief timeline of Disney's tussle for control in Florida
1967: An arrangement allows Disney to levy taxes, administer its own police and fire departments, and run its water and sewage systems, among other things.
March 2022: Florida passes the controversial bill, officially called the Parental Rights in Education Act. Disney's then-CEO Bob Chapek faces immense backlash for his stoic silence and ultimately speaks out against it.
April 2022: Florida legislation passes a bill that would dissolve Disney's special tax district by June 1, 2023, if DeSantis signs it into law. The idea is shelved because it would burden local governments in central Florida with more than $1 billion in bond debt.
July 2022: DeSantis signs the notorious "Don't Say Gay" bill into law, prohibiting classroom discussions around gender identity and sexual orientation from kindergarten through third grade.
Feb. 8, 2023: The outgoing Disney-controlled board, the Reedy Creek Improvement District, signs a long-lasting development agreement that gives Disney maximum developmental power over the theme park resort's 27,000 acres territory in central Florida so it can build projects at the highest density and the right to sell or assign those development rights to other district landowners without the board's approval. The agreement includes a "royal clause" that essentially makes it valid indefinitely. Just road maintenance and basic infrastructure is left to the new board.
Also Feb. 8, 2023: The Florida House votes to put the governor in charge of Disney's special district.
Feb. 27, 2023: DeSantis signs legislation that ends Walt Disney World's control over its special tax district. He replaces Disney-allied board members with five Republicans he handpicks.
Mar. 16, 2023: DeSantis proposes to expand the "Don't Say Gay" bill to all grades. The vote is scheduled for the following month.
Mar. 29, 2023: The new board, re-named Orange County Tourism Oversight District, seeks legal representation after realizing Disney has quietly retained control of most developmental processes.
Apr.3, 2023: In a letter to Florida's Chief Inspector General Melina Miguel, DeSantis accuses the Reedy Creek Improvement District board of "collusive and self-dealing arrangements," asking Miguel to kickstart a "thorough review and investigation" into the development agreement reached earlier this year by the outgoing Disney board.
Disney's contribution to Florida's economy, by the digits
$1.146 billion: Walt Disney Resort's contribution in total state and local taxes paid and collected for 2022. It's the largest single taxpayer in Central Florida
More than 75,000: Cast members employed by Walt Disney Resort, the largest single-site employer in the US
$15 to $18: The raise in minimum wage by the end of the year according to a deal Disney stuck with unions. It could set the ball rolling for lifting base pay across Central Florida's tourism industry.
Related stories
🎢 Disney lost control of its Florida kingdom for opposing the "Don't Say Gay" bill