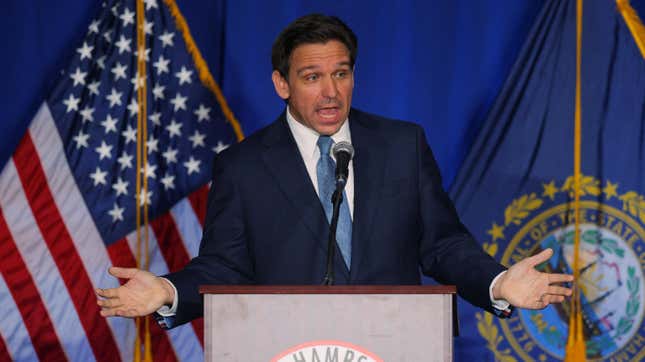 Ron DeSantis has made his next move in his tit-for-tat with Disney.

The Florida governor's efforts to control Disney's special district by appointing a new board initially failed due to a clever multi-decade development agreement signed off by the previous board, which left the new committee with virtually no power. DeSantis is now trying to find a way to nullify that agreement, announcing on Monday (Apr. 17) that the state's Republican legislature will push a bill to allow his board to reassert broader control of Disney's district.
Eric Beiley Part II: Where rates are heading
DeSantis is considering various options to get back at the company, which first fell foul of the governor for speaking out against the so-called Don't Say Gay bill. During his latest attack, DeSantis floated the idea of building a state park, a rival amusement park, or even a new state prison next to the company's central Florida theme parks. "The possibilities are endless," he smirked.
The suggestion was, in the words of Brandon Wolf of political advocacy group Equality Florida, "a truly unhinged display of ego."
Tomorrow (Apr. 19), DeSantis's Central Florida Tourism Oversight District board is set to meet to discuss Resolution No. 639. As reported last week by the Orlando Business Journal, the resolution seeks to assert "superior authority and control" over planning, zoning and other land use in the cities of Bay Lake and Lake Buena Vista—the property in and around Walt Disney's major theme parks. Experts consulted by the publication doubt the resolution alone will be enough to supersede the previous agreement.
What's the deal with Disney's development agreement
Right before DeSantis stripped Disney of its self-governing status and replaced the board with his picks, the previous Reedy Creek Improvement District board quietly signed a development agreement that gives the company maximum developmental power over the theme park resort's 27,000 acres territory in central Florida. The deal gives Disney the power to build projects at the highest density and sell or assign those development rights to other district landowners without the board's approval.
Plus, the agreement prevents DeSantis' board from using Disney's name, symbols associated with it and the theme park, and the likeness of Disney characters without the company's permission. The company reserves the right to sue for damages for violations.
The agreement included a "royal clause" that essentially makes it valid until perpetuity. The new board was left with just basic road and infrastructure maintenance.
What's in DeSantis' bill to revoke Disney's control
🎢 End a carveout that exempted the company from state inspections on its theme parks rides. That would be a callous move, according to Richard Foglesong, a Rollins College professor and author of Married to the Mouse: Walt Disney World and Orlando, which dives into Disney's governance. "Inspections for the kind of rides at Disney go well beyond county fairs," he said. "You need inspectors with the kind of expertise I think they [Disney] have."
🚝 Get state inspectors to oversee its monorail system. It specifically targets special districts, and therefore Disney.
⚡ Urge the selling of the district's utility in order to pay down the district's $1 billion debts
😷 Make sure Disney never again implements a mask mandate in Disney World, as it did after shutting and reopening in the first year of the covid pandemic.
Quotable: Florida has bigger problems than Disney

"Hey @GovRonDeSantis, my district is still underwater. My constituents are asking for their Governor. Instead of fighting with Mickey Mouse in Orlando, come down & do some real work. Where's FEMA? Floridians are in desperate need of relief. You can even wear your white boots!"—Apr. 17 tweet by attorney and Florida House representative Hillary Cassel, calling out DeSantis for still not having visited Ft. Lauderdale after massive flooding. (FEMA refers to Federal Emergency Management Agency.) 
Fun fact: Disney is hosting Pride Nite
The whole tussle between Disney and DeSantis started over disparate views on LGBTQ+ issues. The dispute hasn't stopped the company from finding new ways to appeal to LGBTQ+ visitors. In June, Disney is set to host its first-ever After Dark: Pride Nite at its Disneyland Resort in California.
A brief timeline of DeSantis's feud with Disney
1967: Florida's legislature established the Reedy Creek Improvement District, a private government controlled by Disney World, which can administer its own police and fire departments, and run its water and sewage systems, among other things.
March 2022: Florida passes the controversial "Don't Say Gay" bill—officially called the Parental Rights in Education Act–which prohibits classroom discussions around gender identity and sexual orientation from kindergarten through third grade. Disney's then-CEO Bob Chapek eventually speaks out against it.
April 2022: Florida legislation passes a bill to dissolve Disney's special tax district by June 1, 2023. DeSantis doesn't sign it into law because it would burden local governments with debt upwards of $1 billion.
July 2022: DeSantis signs the notorious "Don't Say Gay" bill into law.
Feb. 8, 2023: The outgoing Disney-controlled board signs the development agreement that lets it retain most of its power for the foreseeable future. The Florida House votes to put the governor in charge of Disney's special district.
Feb. 27, 2023: DeSantis signs legislation that ends Walt Disney World's control over its special tax district. He replaces Disney-allied board members with five Republicans he handpicks.
March 8, 2023: The new board meets for the first time.
Mar. 16, 2023: DeSantis proposes to expand the "Don't Say Gay" bill to all grades. The vote is scheduled for the following month.
Mar. 29, 2023: The new board, re-named Orange County Tourism Oversight District, seeks legal representation after realizing Disney has quietly retained control of most developmental processes. Disney says all its dealings were public and legal.
April 3, 2023: DeSantis asks Florida's Chief Inspector General Melina Miguel to start a "thorough review and investigation" into the agreement. At Disney's annual shareholder meeting, CEO Bob Iger tells shareholders, "Any action that thwarts those efforts simply to retaliate for a position the company took sounds not just anti-business, but it sounds anti-Florida."
Related stories
🧗‍♂️Disney's feud with Florida's Ron DeSantis keeps escalating
🎡 Disney lost control of its Florida kingdom for opposing the "Don't Say Gay" bill