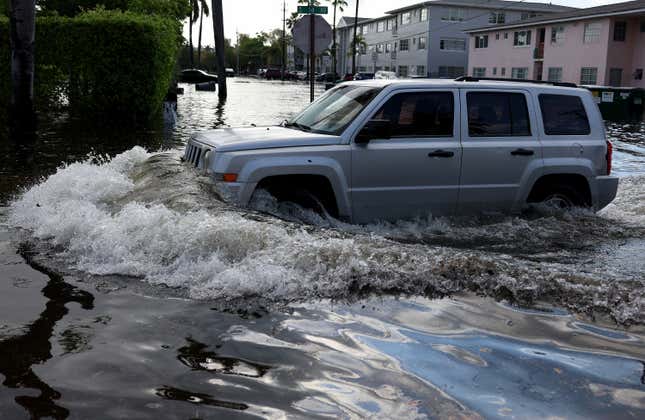 South Florida has been inundated with record levels of rainfall over the past 24 hours, forcing public schools to close and the state's third largest airport to grind to a halt.

Eric Beiley Part II: Where rates are heading
The National Weather Service (NWS) recorded over 25 inches of rain hitting Fort Lauderdale yesterday (Apr. 12), with most of the downpour concentrated over a six-hour period. Near midnight on Wednesday (Apr. 12), Fort Lauderdale mayor Dean Trantalis signed an order declaring a state of emergency as swaths of the city, as well as the Fort Lauderdale-Hollywood International Airport, were flooded.
"Based on climatology, the amount of rain seen in that six-hour period had a 0.1% chance, or one in 1,000 chance, of occurring on any given year," said George Rizzuto, a meteorologist at the National Weather Service forecast office in Miami.
According to figures provided by chief meteorologist Jeff George at the Florida Public Radio Emergency Network, University of Florida, the volume of rain Fort Lauderdale saw in one day was equal to almost 40% of the average for an entire year. "This is definitely a freakish event," George told Quartz.
Videos uploaded to social media show water filling Fort Lauderdale airport tarmac and roadways, and nearly engulfing immobilized cars. A passenger stranded at the airport told ABC News the level of rain was "biblical."
Quotable: "This wasn't even a tropical storm"
"Southeast Florida, on the average, picked up four to eight inches of rain... because of the nature of the geography, four or five inches of rain is still a lot for that area, but nothing it normally can't handle. But when you go over eight, 10, 15 inches of rain, no one's built for that kind of thing. Hurricane Ian dumped up to 20 inches of rain. This wasn't even a tropical storm, this was just a stationary boundary—and it dumped over 25 inches of rain." —Jeff George, chief meteorologist at the Florida Public Radio Emergency Network, University of Florida in an interview with Quartz
Flooding has forced Fort Lauderdale to grind to a standstill
Broward County Public Schools were closed today (Apr. 13) in addition to the district's offices, while residents and visitors have been warned to stay off the roads, as many remain impassable. Over 1,000 people lacked power in Broward County as of this morning, according to the Palm Beach Post.
Fort Lauderdale has deployed vacuum trucks and crews to clear storm drains and help lower water levels, but stated "most areas will need to drain naturally."
Climate change is expected to increase Florida's coastal flooding
While the singular rainfall this week might be best explained as a freakish event, Florida is a state that will be increasingly vulnerable to extreme weather events due to climate change.
A NASA and National Oceanic and Atmospheric Administration (NOAA) task force found that the Sunshine State will see a rapid increase in coastal flooding over the next 30 years as the sea levels continue to rise. NOAA projects that by 2050 the US coastline will have risen an average of 10-12 inches, meaning parts along Florida's coast could be submerged within decades.
Dr. Harold Wanless at the University of Miami projects that 60% of Miami-Dade County will be underwater by 2060. Meanwhile, two recent studies conducted at the University of Arizona and Tulane University have found that sea levels are rising at a faster rate than originally projected, indicating that preparedness to handle floods and extreme weather in coastal areas is more urgent than ever.
Related stories
🏜️ Even after California's rain and snow, the state's drought has not been sated
🌨️ A "once-in-a-generation" winter storm caused thousands of flight cancellations

🧯 The world is burning. Can Silicon Valley put out megafires?