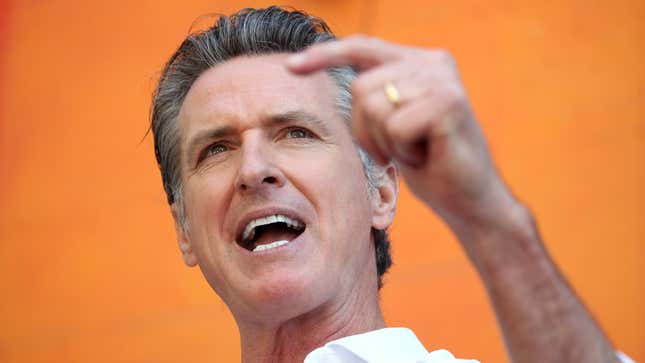 Sixteen South American migrants were brought to Sacramento by private plane—and Ron DeSantis, the Florida governor and presidential hopeful, may have something to do with it.
Should you keep investing in Big Tech?
The migrants, from Venezuela and Colombia, were transported from the El Paso border in Texas to New Mexico, "before being flown by private chartered jet to Sacramento and dumped on the doorstep of a local church without any advance warning," Gavin Newsom, the California governor, said in a statement on June 3.
The migrants turned up "with no prior arrangement or care in place," Rob Bonta, the California attorney general, said in a separate press release on the same day. Officials are investigating how the individuals reached California, and "evaluating potential criminal or civil action against those who transported or arranged for the transport of these vulnerable immigrants," Bonta added.
The signs point to Ron DeSantis, the Florida governor—and the most obvious of these signs is that the migrants were "carrying documentation purported to be from the State of Florida," Bonta's office noted, without elaborating on the nature of this paperwork. A feeling of déjà vu is inescapable; DeSantis, a 2024 Republican presidential hopeful, has done this before.
DeSantis's infamous migrant relocation flights

Last September, DeSantis paid to charter two planes to fly nearly 50 migrants from Texas to Martha's Vineyard. At the time, Newsom had suggested that the event amounted to "kidnapping." This time, too, he used similar language.
In his statement announcing that his administration is investigating the flight to Sacramento, Newsom said they're looking into "whether the individuals orchestrating this trip misled anyone with false promises or have violated any criminal laws, including kidnapping."
Florida's state lawmakers expanded its "relocation" program in February to allow DeSantis to fly migrants from anywhere—not just Florida—to Democratic-led cities and states. In May, Florida handpicked a number of companies to execute this phase of DeSantis's plan to deal with migrants.
Quotable: California condemns "state-sanctioned kidnapping"
"While we continue to collect evidence, I want to say this very clearly: State-sanctioned kidnapping is not a public policy choice, it is immoral and disgusting. We are a nation built by immigrants and we must condemn the cruelty and hateful rhetoric of those, whether they are state leaders or private parties, who refuse to recognize humanity and who turn their backs on extending dignity and care to fellow human beings."
What will happen to the migrants flown to California?
The 16 passengers on the plane to California had already been assigned court dates for their asylum cases when a person representing a private contactor approached them outside a migrant center in Texas, according to Eddie Carmona, the campaign director at PICO California, a faith-based community organizing group. Carmona told the Associated Press that the migrants were "lied to and intentionally deceived."
Now California authorities are working with local and nonprofit partners to ensure that the migrants are "treated with respect and dignity, and get to their intended destination as they pursue their immigration cases," Newsom explained.
People of interest: Texas' Greg Abbott, New York's Eric Adams
DeSantis isn't the only enthusiast of shuttling migrants off to left-leaning states. In April 2022, Greg Abbott of Texas launched a program to bus migrants to major cities led by Democrats, such as Washington DC, Chicago, New York, and, most recently, Denver.
"Texas' overwhelmed and overrun border communities should not have to shoulder the flood of illegal immigration due to President Biden's reckless open border policies, like his mass catch and release without court dates or any way to track them," Abbott said on May 18. "Until the president and his administration step up and fulfill their constitutional duty to secure the border, the state of Texas will continue busing migrants to self-declared sanctuary cities like Denver to provide much-needed relief to our small border towns."
Meanwhile, unable to handle the influx, New York City has been shuttling migrants to northern suburbs in the state. Other states like Washington and Chicago are also finding funding and resources stretched thin.
Rabbit hole: Gavin Newsom's beef with Florida's Ron DeSantis
The migrant crisis is only one point of contention between Newsom and DeSantis. Newsom has said DeSantis will "get smoked by Trump" in the 2024 elections, and the two have butted heads on various topics.
🇺🇸 On the last Fourth of July holiday, Newsom took out advertisements in Florida, declaring: "Freedom is under attack in your state."
📚 Newsom has warned Californian K-12 educators against restricting content à la red states. His response to a book ban suggestion was: "This isn't Texas or Florida. In the Golden State, our kids have the freedom to learn."
🏫 Newsom called DeSantis out on "bullying and intimidating vulnerable communities" for trying to give New College of Florida in Sarasota a conservative makeover.
🤰 Newsom has criticized Florida's strict abortion law, which doesn't have exceptions for pregnancies that originate as a result of rape or incest.
🚨 Newsom has bemoaned Florida's election police.
🔫 Newsom has slammed DeSantis for signing a bill allowing permitless carry of guns.
Related stories
⏰ The covid-era rule that lets the US expel refugees before they can seek asylum is reaching its expiration date
🚧 The Biden administration is preparing for the end of Title 42
🏃 Ron DeSantis's 2024 presidential race got off to a glitchy start