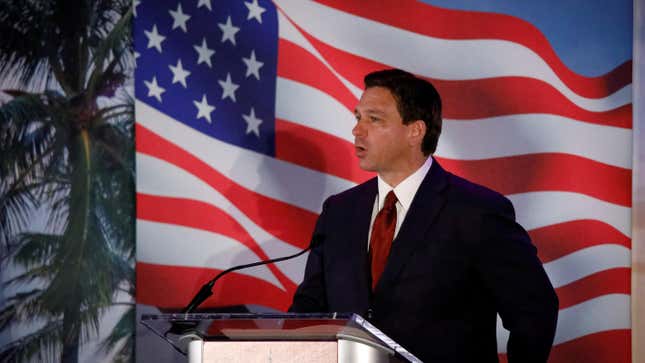 One of the most anticipated Republican presidential announcement of the 2024 electoral cycle has finally landed.

Why a tightening of credit conditions could lead to a weak economy
Republican governor Ron DeSantis officially filed paperwork to run for president on May 24, hours before launching his campaign in an audio-only Twitter Spaces event at 6pm eastern time along with Elon Musk. Relentless glitches marred the event as more than 500,000 people tried to join the conference call. Ultimately, DeSantis's much-anticipated announcement was not more than a scripted speech that was followed by a Q&A that largely focused on Musk's leadership of Twitter.
DeSantis follow up the announcement with a more traditional round of prime-time appearances on conservative programs, including Fox News, where he brushed off the Twitter fiasco. "It did break the Twitter Spaces and we're really excited about the enthusiasm," he said.
That the candidacy was imminent was common knowledge for months but DeSantis had recently been dropping several hints. For instance, last month, DeSantis signed a bill to exempt him from the "resign-to-run" Florida law, meaning that he can remain governor while running for president. In a bid to shield the 2024 campaign from scrutiny, he also signed a bill allowing him to shield all of his travel from media and the public.
Quotable: A campaign long in the making
"Inside DeSantis's insular orbit, his campaign is largely on schedule. His allies spent the spring raising money, launching a super PAC, building out a national campaign and enlisting supporters so that when he enters the race, it won't be from a traditional day one."—CNN's Steve Contorno, who is based in Florida and covers DeSantis
One small number: Americans on Twitter
23%: The share of US adults that use Twitter, according to a 2022 Pew Research Center survey. At the time, more of them were Democrats than Republicans.
A mini-biography for Ron DeSantis
Full name: Ronald Dion DeSantis
Place of birth: Jacksonville, Florida
Age: 44 (32 and 36 years younger than Trump and Biden respectively)
Education: DeSantis graduated from Yale University in 2001 and Harvard Law School in 2005—both with honors.
Marriage and kids: He married Casey DeSantis, an Emmy Award-winning television host, at the Walt Disney World Resort in 2009. They have three young children aged 5, 4, and 2.
Work experience: After serving in the US Navy's JAG Corps—a team of attorneys that are knowledgeable about both civilian and military law—in the mid-2000s, DeSantis became a federal prosecutor. In 2012, he was first elected to Congress as the US Representative for Florida's Sixth District, where "he fought for term limits, the No Budget/No Pay Act, and to cut taxes," according to the Florida department of state. DeSantis became Florida's governor in 2019 and won re-election last year.
A non-exhaustive list of DeSantis's aggressively conservative political agenda points
In the last year, DeSantis has signed a spate of conservative laws just this year, picked fights with major corporations like Disney for being "woke," and more. Here's a brief recap of the moves he's made, that reveal his stance on several issues:
🤰 Banning abortions after six weeks—an extremely restrictive timeline considering most women only learn of pregnancies between week four and seven.
🔫 Eliminating permits—and therefore training and background checks—for concealed carry in Florida. "You don't need a permission slip from the government to be able to exercise your constitutional rights," DeSantis said about loosening gun laws in the state.
🛬 Dedicating millions of dollars to a controversial migrant relocation program.
🇨🇳 Banning Chinese nationals from buying property in Florida.
🏳️‍🌈 Levying new restrictions that will alter the lives of transgender people, including targeting drag shows and pride parades by banning "adult live performances" for anyone under the age of 18, restricting bathroom usage, and curbing conversations around personal pronouns.
📕 Allowing parents to challenge the types of books that are in school libraries, and even going after teachers and schools he believes are "indoctrinating" students.
⚖️ In contrast to US Supreme Court ruling banning capital punishment in such cases, DeSantis signed into law the death penalty in child rape convictions. The legislation, which goes into effect Oct. 1, would authorize the state to pursue capital punishment when an adult is convicted of sexually battering a child under 12.

Fun fact: DeSantis was an author before he became a politician
This spring, DeSantis is due to release a new non-fiction book—specifically, a memoir—titled The Courage to Be Free: Florida's Blueprint for America's Revival. Back in 2011, a year before he joined Congress, he had authored another book: Dreams from Our Founding Fathers: First Principles in the Age of Obama.
Once readily available as an e-book, that book has since disappeared, barring a used hard copy that's selling for $1,950 on the internet. The Washington Post, which had the foresight to purchase a copy last year in anticipation of DeSantis's presidential run, described the book as "a troll of former president Barack Obama's 1995 memoir, Dreams From My Father."
In his book, DeSantis says AP African American Studies "lack educational values," and dismisses slavery as a "fact of life" and a "personal flaw" of the Founding Fathers, alongside calling out Obama's supposedly anti-American power grab.
Person of interest: Donald Trump
DeSantis is a favorite among those who won't back Donald Trump, but the former president has been the clear primary front-runner for months. While DeSantis's anticipated entry kept getting pushed back, Trump widened his lead.
At the end of last year, Trump was polling in the low 40s while DeSantis was in the low 30s. Now, the first ex-president to face criminal charges is averaging over 50% nationally among GOP voters, and DeSantis has dropped below 20%.
Of course, DeSantis's dropping popularity may have been a result of him refraining from the race. Now that he's in it, the polls could pick right back up. While historical polling trends suggest Trump will come out on top, DeSantis has a fighting chance, given that his coffer to mount a campaign can more than rival Trump's. At the end of 2022, he was sitting on $110 million heap of donor cash versus $55 million for Trump's campaign, and the wealthy have been pumping in more this year. DeSantis is reportedly planning to assemble top financiers this week to beef up his war chest further.
Ahead of his announcement, a pro-DeSantis super PAC was already "securing endorsements in early primary states, sending mailers, organizing on campuses, running television ads, raising small donations for the campaign in an escrow account and working behind the scenes to build crowds for the governor's events," according to the New York Times.
DeSantis hasn't explicitly commented on Trump much, except saying that the only person who can really rival current president Joe Biden is DeSantis himself.
Trump, who once endorsed DeSantis for governor, came out all guns blazing even before the competitor officially entered the race. The former president attacked the Florida governor, touting his abortion ban as "too harsh," calling him out on the feud with Disney sparked by the so-called Don't Say Gay Bill, and also nicknaming him "Ron DeSalesTax" in an ad condemning his fair tax policy that proposed levying a 23% sales tax instead of the current income and corporate income tax, employment and self-employment taxes, and estate and gift taxes.
Place of interest: Iowa

Earlier in May, DeSantis made an unannounced visit to Des Moines, Iowa–the first state in the Republican nomination process—the very day Trump had a rally planned nearby. (Trump canceled due to tornado threat.)
One more thing: The Republican race is a crowded space
Other candidates who've already announced their runs, like Nikki Haley and Vivek Ramaswamy, are too far down in the polls to pose a real threat. But that doesn't mean there are no challengers to Trump and DeSantis. South Carolina Senator Tim Scott made his announcement on Monday (May 22), and Mike Pence's allies have mounted a Super PAC to back him. Plus, around half a dozen other potential candidates are apparently waiting in the wings.
Related stories
💃 A Florida restaurant is suing DeSantis to keep hosting family-friendly drag shows
🏳️‍🌈 The other battle brewing in Florida over Disney and the "Don't Say Gay" bill