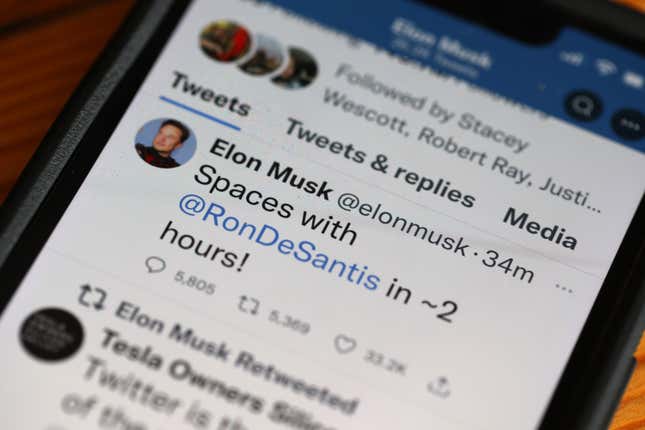 Florida governor Ron DeSantis announced his US presidential campaign during a Twitter Spaces audio call hosted by Elon Musk and the venture capitalist David Sacks. The event was billed as a launch party for DeSantis, who is generally considered the top contender to challenge former president Donald Trump in the Republican primary. But instead the focus kept drifting back to Twitter, and how Musk has restored "free speech" to the platform.

Paulina Porizkova on being an Estee Lauder model
After 25 minutes of relentless glitches as close to 600,000 people tried joining the conference call, DeSantis was finally able to make his much-anticipated announcement—a scripted speech that would have fit right in at a traditional campaign rally or televised press conference.
After the speech, Sacks thanked the governor for bearing with the technical difficulties and started off with the most important question of the hour: Why did he want to make this announcement on Twitter Spaces?

DeSantis sprung into a wide-ranging criticism of Twitter's old management and its efforts to remove misinformation about covid, pandemic protocols, and the covid-19 vaccine. "The truth was censored repeatedly, and now that Twitter is in the hands of a free speech advocate, that would not be able to happen again," said DeSantis, who gained a national reputation for taking early steps to remove mask mandates and send students back to in-person school.
Musk was gracious about the governor's praise. "We're absolutely committed to freedom of speech and a level playing field and vigorous debate," Musk said. "Hopefully this can be a platform that brings people of divergent political views to exchange those views."
Never mind that there was no vigorous debate nor divergent views present for the next hour and change. Instead, Sacks invited a litany of right-wing personalities sympathetic to DeSantis's stances—including Kentucky congressional representative Thomas Massie, Manhattan Institute fellow and critical race theory obsessive Christopher Rufo, and former National Rifle Association spokesperson Dana Loesch—to ask questions draped in praise for DeSantis, and for Twitter.
Elon Musk didn't say much on the Twitter Spaces for DeSantis
Since taking over Twitter in October, the culmination of $44 billion deal that Musk sued to get out of, the world's second-richest man has rolled back content rules about misinformation and hate speech, and restored the accounts of white supremacists, neo-Nazis, and Donald Trump, though the former president has yet to tweet.
Musk was unusually quiet during the event—except to talk about Twitter and accept praise from the invited speakers. ("Twitter was indeed expensive but free speech is priceless," he said, after DeSantis referenced the high price Musk paid for the platform.) He also made a one-off dogecoin joke. But left all of the questioning and moderating to Sacks and didn't formally endorse DeSantis.
The conversation meandered, addressing diversity initiatives, gender identity, DeSantis' fight with the Walt Disney Company, The Atlantic and Vanity Fair's coverage of the event itself, the NAACP's travel advisory for Florida, the "woke mind virus," bitcoin, and central bank digital currencies, among many other topics.
Practically every point of discussion circled back somehow to praise for Musk and Twitter.
Thomas Massie and Steve Deace are grateful for Elon Musk
"Let me say thank you to Elon Musk for buying Twitter and exposing all of this," Massie said when he was invited to ask a question of DeSantis. "All this" alluded to information from the so-called Twitter Files disclosing Twitter's history of cooperating with government requests under its former ownership. "By the way, I have never met Elon Musk but I'm one of your biggest fans," the congressman said.

Conservative radio host Steve Deace drenched Musk in gratitude. "Elon, if I had put down money on January 1, 2022, that Twitter was gonna be the last bastion of free speech on Earth, I'd be as rich as you on that bet right now," he said. "I mean, it's incredible what you have done here."
In concluding the call, even DeSantis focused less on recapping his political ambitions than his praise for Twitter. "This is a great platform," he said. "I'd like to see other platforms going in the same direction, but a healthy democratic society needs a robust debate."
If only it had gotten one here.