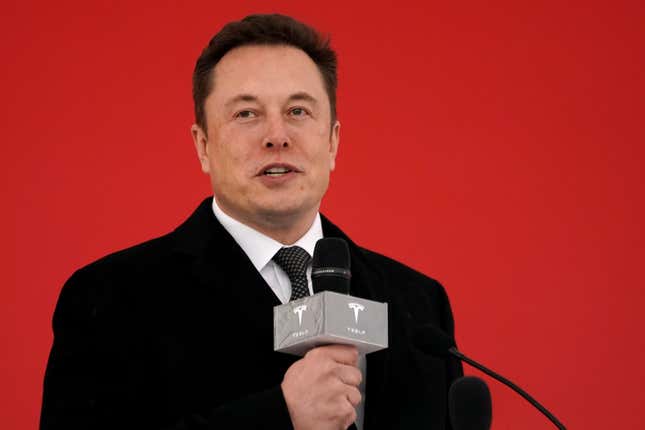 Twitter CEO Elon Musk has apparently changed the company's logo to the symbol for Dogecoin—a popular cryptocurrency—in some parts of its website. Musk announced the switch via an internet meme on his personal Twitter account.
The currency rose as much as 30% on the news, and Doge immediately began trending on the site. However, its current price (hovering just under $0.1) is well below the 2021 high of $0.64.
When asked for comment, the Twitter communications department sent an auto-response email with a smiling poop emoji.

The move comes after a series of policy shifts for the embattled social media company, including a change to its verification system that saw major accounts, like the New York Times, lose their blue checkmark.
A leaked memo written by Musk revealed that Twitter had lost half of its value in the months since he purchased it, plummeting by an estimated $20 billion.
Dogecoin had a rough 2022



Musk is being sued for allegedly manipulating Dogecoin markets 

Musk's decision comes after he asked a US judge on March 31 to throw out a $258 billion racketeering lawsuit that accuses him of running a pyramid scheme to raise the price of Dogecoin.
Investors claim that Musk artificially grew Dogecoin's price by more than 36,000% and then let it crash, in order to short the currency. The lawsuit points to tweets like "Dogecoin Rulz" and his appearance on Saturday Night Live, when he told viewers to invest in Dogecoin.
The $258 billion in damages is triple the decline in Dogecoin's value during the 13 months leading up to the lawsuit, according to court documents.
Musk's lawyers said his statements were too vague to be considered fraud.
"There is nothing unlawful about tweeting words of support for, or funny pictures about, a legitimate cryptocurrency that continues to hold a market cap of nearly $10 billion," Musk's lawyers said, according to a Reuters report. "This court should put a stop to plaintiffs' fantasy and dismiss the complaint."
Related stories

🤓 Elon Musk spent $44 billion on Twitter to get more likes
🖥️ Elon Musk still needs 10 million more Twitter Blue subscribers to pay the interest on his loans
🚗 Tesla is the latest American manufacturer to invest in Mexico