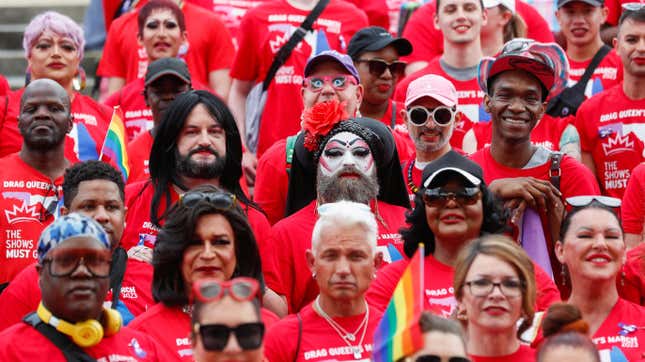 Hamburger Mary's Orlando is suing Florida and its Republican governor Ron DeSantis over a recent law that restricts drag shows.

Eric Beiley Part II: Where rates are heading
The restaurant filed a federal lawsuit filed yesterday (May 22), alleging that the new bill is depriving the business of its First Amendment rights to free expression, which in turn is resulting in losses. It has asked the court to temporarily halt the law from taking effect.
On May 17, DeSantis signed the Senate Bill 1438, titled the "Protection of Children," which grants state agencies the power to fine, revoke liquor licenses, or entirely shut down establishments if they are found to host "an adult live performance" in the presence of anyone under the age of 18. In the bill, "adult live performance" refers to "any show, exhibition, or other presentation in front of a live audience which ... depicts or simulates nudity, sexual conduct, sexual excitement, or specific sexual activities ... lewd conduct, or the lewd exposure of prosthetic or imitation genitals or breasts."
The bill's vague language is part of the lawsuit's complaint: "[the law] does not mention 'drag' by name but it is so broad as to include this art form in the state's interpretation under the newly created or amended laws in question."
The restaurant has set up a GoFundMe to raise money for its legal costs. If the funds are not used, "they will be donated to one or more of our local LGBTQ+ charities in Orlando," the restaurant wrote in a Facebook post.
One big number: Hamburger Mary's is losing business
20%: Drop in Sunday bookings in May the restaurant reported after telling customers children could no longer come to the drag shows. The restaurant, which opened in 2008 and has been hosting drag shows ever since, was forced to cancel a Sunday series of family-friendly, often Disney-themed brunches featuring drag entertainers.
Quotable: DeSantis' oppression of the LGBTQ+ community
"This bill has nothing to do with children, and everything to do with the continued oppression of the LGBTQ+ community. Anytime our legislators want to demonize a group, they say they are coming for your children. In this case, creating a false narrative that drag queens are grooming and recruiting your children with no factual basis or history to back up these accusations AT ALL! Our transgender friends are being vilified because our legislators will not take the time to understand the importance of gender affirming care for these people."—Hamburger Mary's co-owner John Paonessa's statement posted on Facebook on May 22
Florida is becoming more and more conservative
Anti-LGBTQ legislation has become a mainstay of DeSantis's administration. The so-called "Don't Say Gay" law, which bars discussion of gender and sexuality in schools until the eighth grade, has put educators at risk of violating laws for harmless movie screenings, and even put the state at loggerheads with its biggest employer, Disney.
DeSantis, who is expected to declare a presidential run, has recently signed several bills targeting LGBTQ rights. On the same day the Republican governor signed the bill restricting so-called adult performances, he also signed other anti-LGBTQ legislations including a ban on gender-affirming care for minors, restrictions on discussion of personal pronouns in schools, and curbs on bathroom usage for transgender kids.
And it's having a chilling effect. Less than 24 hours after the "Protection of Children" bill was signed, Tampa's annual Pride on the River event, scheduled for September, got canceled. Organizers of the festival featuring a diversity boat parade, a drag brunch, musical performances, art face painters and balloons for kids, are worried about possible violations and steep fines—$5,000 for the first violation, and $10,000 for subsequent ones.
Company of interest: Hyatt
In March, DeSantis's administration sought to revoke the Hyatt Regency in Miami had its liquor license revoked over "A Drag Queen Christmas" show held at the James L. Knight Center on Dec. 27. At the time, the Hyatt Regency Miami said that the James L. Knight Center programming and ticketing "is managed by a third-party operator" and that the "hotel's liquor license remains in effect and has not been revoked." There has been no update on the review of the complaint and outcome yet, but this law could change things—for the worse.
Related stories
⚠️ The NAACP issued a travel advisory against DeSantis's Florida
🗣️ Disney sues Ron DeSantis on First Amendment grounds
👮 DeSantis is threatening to build a state prison next to Walt Disney World