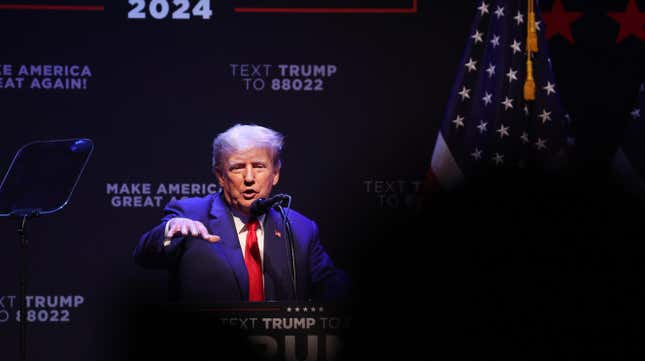 If Donald Trump's prediction pans out, he'll be arrested tomorrow (Mar. 21).
Over the weekend, the former US president wrote on his social media app, Truth Social, speculating about his upcoming arrest and rage about what he claims to be a "witch hunt" against him.
3 considerations before your company takes a stance
Citing "illegal leaks" from the Manhattan district attorney's office, Trump wrote (all caps removed to spare readers' eyes): "The far & away leading Republican candidate & former president of the United States of America, will be arrested on Tuesday of next week." The man who cried foul about rigged elections also urged his supporters to "take our nation back."
Trump attorney Susan Necheles told CBS News that the post was "based on the media reports," and not based on any notice of the arrest. "Since this is a political prosecution, the District Attorney's office has engaged in a practice of leaking everything to the press, rather than communicating with President Trump's attorneys as would be done in a normal case," Necheles said.
At the center of this case is the $130,000 hush money Trump paid to Stephanie Clifford, the adult film actress who goes by the stage name Stormy Daniels that Trump had an affair with back in 2006. Trump's lawyers maintain campaign money was not funneled to Daniels, but the district attorney is building a case that says otherwise.
If the Manhattan Districts Attorney's office presses charges, it'd be the first criminal case ever brought against a former president.
What the Federal Election Campaign Act says
The Federal Election Campaign Act, first passed in 1971, "requires candidate committees, party committees and PACs to file periodic reports disclosing the money they raise and spend." A clause states the candidate "must disclose expenditures exceeding $200 per election cycle to any individual or vendor."
A non-exhaustive timeline of the "hush money" Trump paid Daniels
October 2016: Trump's lawyer at the time, Michael Cohen, negotiates a deal to pay Daniels $130,000 in exchange for the rights to her story about the affair and a non-disclosure agreement—hush money to keep her from disclosing her affair with the Republican presidential candidate. Cohen opens a bank account for Essential Consultants and transferred $131,000 that he got from a home equity line of credit into the new account. Of this amount, he wires $130,000 to Daniels' attorney.
November 2016: A few days ahead of the presidential election, Cohen receives signed copies of the agreement between "Peggy Peterson" and "David Dennison"—pseudonyms for Daniels and Trump respectively. "Dennison" does not sign on the dotted line.
January 2017: Cohen seeks reimbursement from the Trump Organization for $180,035—the $130,000 payment to Daniels, a wiring fee, and an extra $50,000. Trump Organization executives grant him $420,000, to be paid in monthly installments for 12 months.
January 2018: The Wall Street Journal publishes an article detailing the $130,000 payment to Daniels. Cohen says Trump "vehemently denies" having an affair but does not address the payment, and also sends a statement that is apparently from "Stormy Daniels" denying stories of the affair. Days later, Trump is sworn in as the 45th US president.
February 2018: "Neither the Trump Organization nor the Trump campaign was a party to the transaction with Ms. Clifford, and neither reimbursed me for the payment, either directly or indirectly," Cohen says in a statement. "The payment to Ms. Clifford was lawful, and was not a campaign contribution or a campaign expenditure by anyone." He will recant these statements at a later date.
March 2018: Daniels, now represented by attorney Michael Avenatti, sues Trump and Essential Consultants in California, in order to nullify the nondisclosure agreement that Trump never even signed it. In the suit, she discloses a one-year long "intimate relationship" with Trump which started in 2006. She admits to accepting $130,000 from Cohen in exchange for her silence about the alleged relationship. Then, Avenatti releases emails showing Cohen used his Trump Organization email address to arrange a wire transfer connected to the agreement.
April 2018: Trump claims he was unaware of the $130,000 payment.
May 2018: Rudy Giuliani, Trump's personal attorney, admits the president reimbursed Cohen for the $130,000 payment in a Fox News TV interview. In a tweet, Trump says Cohen "received a monthly retainer, not from the campaign and having nothing to do with the campaign, from which he entered into, through reimbursement, a private contract between two parties, known as a non-disclosure agreement, or NDA."
August 2018: Cohen pleads guilty to eight federal charges, including criminal tax evasion and campaign finance violations. He says Trump told him to make the payments.Subsequently, the Manhattan District Attorney's Office opens an investigation.
December 2018: Cohen is sentenced to three years in federal prison.

July 2019: Documents from the federal probe into the payments reveal Trump was aware of money spent to buy the silence.

May 2021: The board of the Federal Election Commission closes the file on a case against the Trump campaign for violating federal law with the Daniels payment.

March 2022: The New York Times reveals that Mark Pomerantz, a former federal prosecutor who stepped down the month before, wrote in his resignation letter to Manhattan District Attorney Alvin Bragg that he believes Trump is "guilty of numerous felony violations." Pomerants said Bragg's "decision not to prosecute Donald Trump now, and on the existing record, is misguided and completely contrary to the public interest."
January 2023: The New York Times reports that Bragg has recently put together a grand jury to examine the evidence in the hush money probe.
March 2023: Kellyanne Conway, Trump's senior counselor in the White House during his presidency, meets with Manhattan prosecutors investigating the Daniels payment, as do Cohen and Daniels. The district attorney's office invites Trump to testify—his lawyer says that won't happen.
One more thing: Trump's other possible criminal cases
The former president, who announced his bid for the 2024 presidency in November last year, is under fire not just for the hush-money case when it comes to possible criminal charges. He's also the subject of...
🗳️ An investigation into meddling in the Georgia election,
🏠 A Justice department probe around storing classified documents at his Mar-a-Lago Florida home.
Related stories
🕵️ Why Mar-a-Lago is vulnerable to foreign espionage, according to ex-spies
💸 Trump has to declare any payments to Stormy Daniels today, legal experts say
📺 Rudy Giuliani's television blitz suggests two ways that Trump broke the law