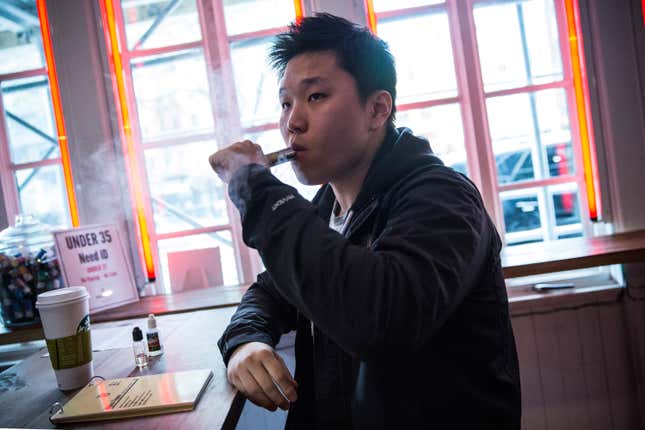 E-cigarette usage soared during the pandemic, a Centers for Disease Control and Prevention (CDC) study found, with usage notably higher among teens and young adults compared to adults.

Should you keep investing in Big Tech?
The report, published yesterday (June 22), shows that e-cigarette sales climbed 46.6% from January 2020 to December 2022. By units, it constituted an increase from 15.5 million e-cigarettes sold in January 2020 to 22.7 million in December 2022.
"The surge in total e-cigarette sales during 2020-2022 was driven by non-tobacco flavored e-cigarette sales, such as menthol, which dominates the prefilled cartridge market, and fruit and candy flavors, which lead the disposable e-cigarette market," said Dr. Fatma Romeh Ali, a lead author in the study and health economist at the CDC, in a press release.
Vaping is especially popular among young adults and adolescents. The study found in 2021, an estimated 11% of US young adults (age 18 to 24) smoked e-cigarettes, and in 2022 just over 14% of high schoolers, or 2.14 million students, used the products.
A number of US states have restricted the sale of flavored e-cigarettes to combat an epidemic of adolescent smokers. California, Maryland, Massachusetts, New Jersey, New York, Rhode Island, and Utah are among the states that have implemented bans, as of December 2022. Bans on flavored e-cigarettes have proven effective in decreasing the rate of usage among youths, according to the CDC study.
A shift in top-selling e-cigarette brands
In January 2020, the most popular e-cigarette brands, in descending order, were JUUL, Vuse, NJOY, My Blu, and Puff. That list has since reshuffled, with Vuse, known for its fruity e-liquid flavors, overtaking JUUL as the most popular e-cigarette brand as of December 2022. JUUL, Elf Bar, NJOY, and Breeze Smoke follow Vuse as the most-purchased brands.
The Food & Drug Administration moved to ban JUUL products in June 2022, an order that has been suspended as the company seeks to appeal the decision. Its products have been permitted to stay on the market during the appeal process.
Meanwhile, Elf Bar, a disposable vaping device manufactured in China, burst onto the market during the pandemic and has become a particular favorite among Gen Z smokers. The CDC issued a warning to nearly 200 retailers on June 22 in a crackdown on the illegal sale of Elf Bars and other "youth appealing" products. The brand could soon be banned in the UK.
The health risks of e-cigarettes
The majority of e-cigarettes contain nicotine, an addictive substance which has been found to be harmful to the brain development of adolescents and toxic to developing fetuses. The CDC states on its website that they are less harmful than cigarettes, but are far from safe, sometimes containing heavy metals and carcinogens, among other toxic substances.
The agency says e-cigarettes could potentially be beneficial for non-pregnant adults who are trying to quit smoking tobacco products, but are not safe for other populations such as young adults and non-smokers.
Children under five are at risk of poisoning from e-cigarettes
Another report published by the CDC today (June 23) found that the number of calls to US poison centers regarding e-cigarette exposure shot up 32% from April 2022 to March 2023, with most cases involving children under five years old ingesting, inhaling, or absorbing the e-liquid. Elf Bar was the brand associated with 5% of cases.
Related stories
😮‍💨 A brief history of e-cigarettes
🚬 How big tobacco and tech are reinventing smoking for the 21st century
😶‍🌫️ US high schoolers have less sex and do less drugs, but vape a lot more