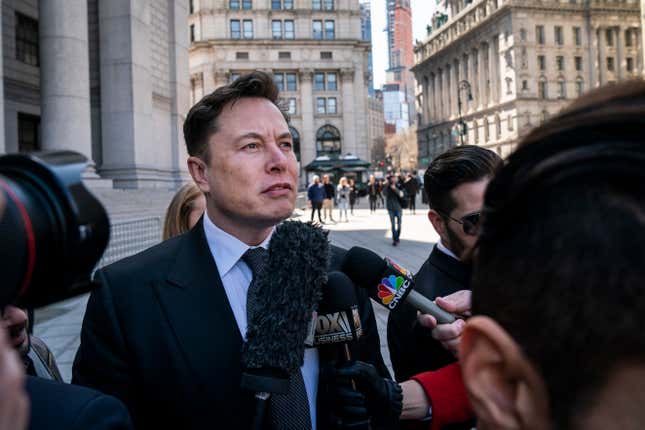 Elon Musk is facing fresh accusations of insider trading in a lawsuit filed by cryptocurrency investors, who say the Tesla CEO and Twitter owner used his influence to manipulate the price of Dogecoin.
What inspired Elon Musk's design for Tesla's Cybertruck?
The accusations, filed in Manhattan federal court, are the latest in an ongoing lawsuit that centers on Musk's decision to sell $124 million of Dogecoin in April, shortly after he changed the Twitter logo to the symbol for the cryptocurrency and sent its price up by as much as 30%.
This is the third amendment to the lawsuit, which was first filed in June 2022 and is seeking class-action status. Musk, who according to Bloomberg is the richest man in the world, asked the judge to dismiss the lawsuit in March.
Musk's lawyer, Alex Spiro, was not immediately available to comment on the lawsuit's new accusations.

Musk's "publicity stunts" are on trial
The suit centers on a "deliberate course of carnival barking, market manipulation and insider trading" allegedly engineered by Musk to artificially drive up the price of Dogecoin by more than 36,000% and then let it crash, in order to short the currency.
The lawsuit points to a tweet that included a photo of a dog smoking a cigarette and was captioned "Dogecoin Rulz," as well as Musk's appearance on Saturday Night Live, when he told viewers to invest in Dogecoin.
In their response to an earlier iteration of the lawsuit, Musk's lawyers said his statements were too vague to be considered fraud and called the lawsuit a "fantasy."
"There is nothing unlawful about tweeting words of support for, or funny pictures about, a legitimate cryptocurrency that continues to hold a market cap of nearly $10 billion," Musk's lawyers said at the time, according to a Reuters report.
Dogecoin's value whipsaws in 2023

Related stories:

Elon Musk just changed Twitter's logo to the Dogecoin symbol
Elon Musk confirmed he's building an AI to counter ChatGPT
Tesla investors are worried Elon Musk enjoys operating "above the law"